Welcome to 2022 Offseason Trade Targets, where we'll examine several teams the Toronto Maple Leafs could be interested in doing business with this summer. From minor moves to blockbuster deals, I'll cover them all as we dive into some potential trade options for general manager (GM) Kyle Dubas.
After a recent visit to the Philadelphia Flyers dressing room, where there were a trio of forward targets for Toronto to consider, we make our way south to Texas and examine some trade targets on the Dallas Stars. They have a couple of restricted free agents to sign in forward Jason Robertson and goaltender Jake Oettinger, but the team seems to be in a good financial state and has a nice mix of young and veteran talent going into 2022-23. Here are two players the Maple Leafs should have interest in acquiring:
Roope Hintz
Stars forward Roope Hintz is an underrated player who has a ton of talent and can play all over the ice. The 25-year-old is a big body at 6-foot-3 and holds an impressive skillset that allows him to play in all situations including the power play and penalty kill. That type of versatility is something the Maple Leafs could use much more of in their lineup.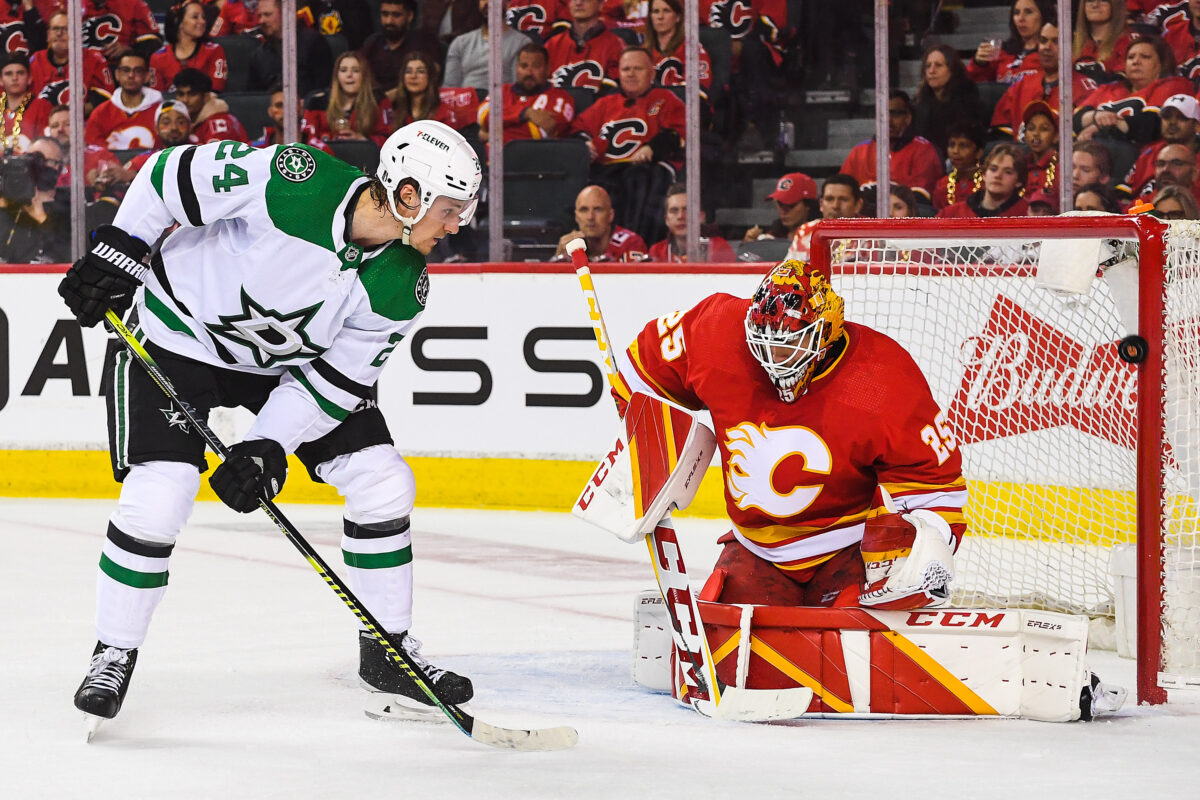 Hintz is a pending restricted free agent who is signed for next season at $3.1 million. He finished the 2021-22 season with a career-high 37 goals and 72 points in 80 games. The Finnish forward then went on to chip in with another four points in six Stanley Cup Playoff games.
Hintz would be perfect in Toronto because of the fact he can play down the middle and on the wing. He'd likely start on the second-line left wing with John Tavares and William Nylander and may be skilled enough to push Tavares to the wing. There's been a lot of rumblings about this lately among Leafs Nation as some have suggested perhaps the Maple Leafs captain should eventually transition to that position. Adding a player like Hintz could give the team that option.
Related: Maple Leafs' 2022 Offseason Trade Targets: Second-Line Left Wing
The price tag of acquiring Hintz would be very high. However, the Maple Leafs have a long list of top-end prospects and a few young roster players that the Stars could have interest in. Would Nick Robertson – the brother of Jason – Alexander Kerfoot and defenseman Rasmus Sandin be too much to give up? Hintz is the type of player who could push the Maple Leafs over the top and he's young enough at 25, to stick around long-term and be a huge part of their core. It would take an overpayment for the Stars to listen, but if there's potential, Dubas should be heavily pursuing the versatile forward.
Jani Hakanpaa
Think ex-Maple Leaf Ilya Lyubushkin but at almost half of the price, as Stars defenseman Jani Hakanpaa is as rugged as they come and loves to throw his body around. He plays a very similar style to Lyubushkin, in the sense he's physical, right-handed and there's not much else to his game.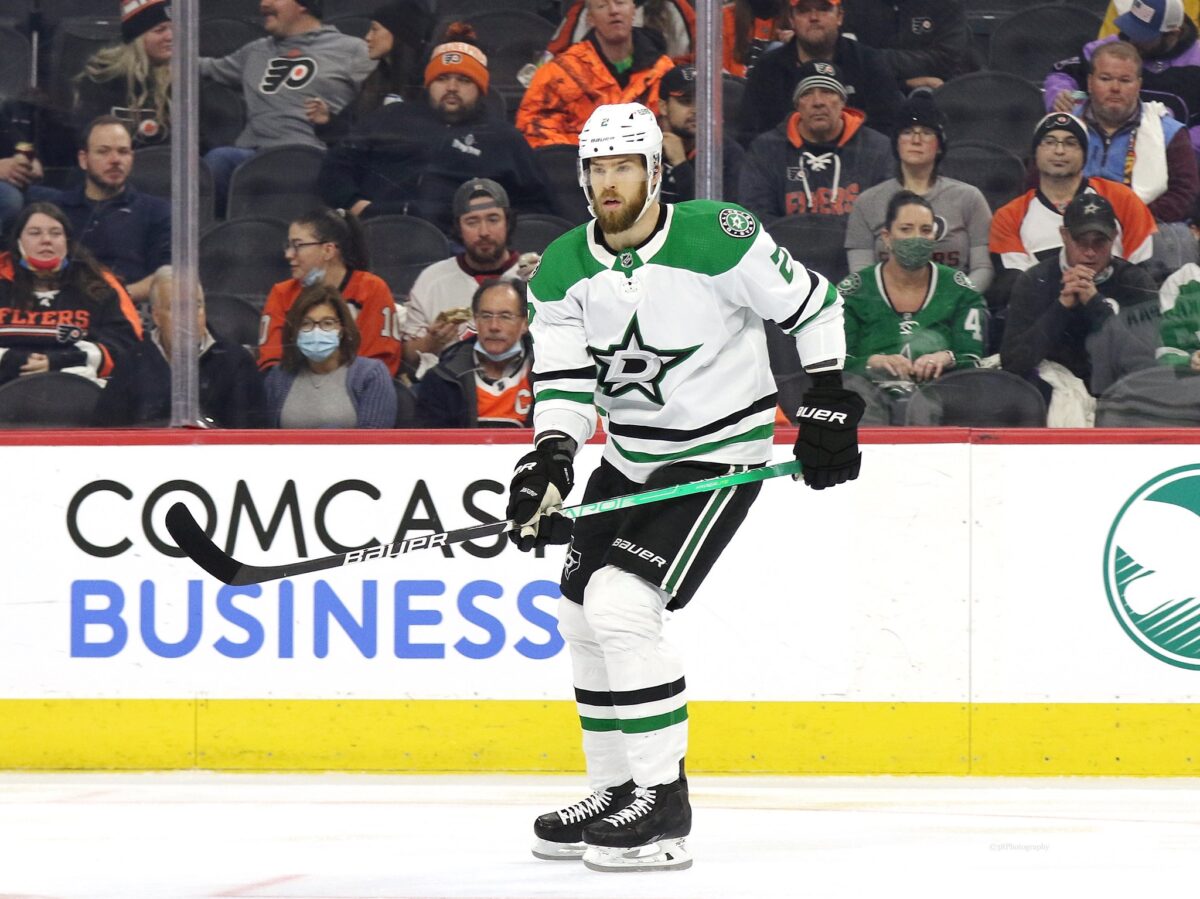 The 6-foot-5 30-year-old is under contract for the next two seasons at a very reasonable $1.5 million per season. In 2021-22 he was playing just over 16 minutes a night and in 80 appearances, chipped in with 12 points. He did however land 248 hits and blocked 112 shots for the Stars last season, two figures which would have led the Maple Leafs.
Considering the inconsistency and price tag of Justin Holl next season, Hakanpaa would be a nice replacement and someone who may flourish playing alongside Jake Muzzin in a shutdown role. The Stars just signed Colin Miller this offseason, so they've added to their depth on the right side, making a deal a little bit more likely. Again, the Stars seem like they are a status quo team at the moment and want to get the 2022-23 season going to see what they have, as offseason business in August can be hard to come by. Toronto should have the towering defenseman on their radar heading into next season as upgrading on Holl may become a priority for their hockey club.
While the likes of Tyler Seguin, Jamie Benn and even Luke Glendening would be great additions for the Maple Leafs, at this point Dubas won't be able to acquire them. Hakanpaa and Hintz on the other hand are two players who, depending on the Stars' success in 2022-23, may eventually become available. The Maple Leafs GM is in a bit of a tough spot at the moment, due to the lack of resources and the added pressure of not having a job next season as he enters the final season of his current contract. There's still plenty of time to add some more talent in Toronto, so I'm curious to see just how things are handled before training camp begins in September. If there's an offseason deal to make, Dubas may want to consider his options in Big D.
---
---