In the past nine years at the World Junior Championships (WJC), Finland, Canada, and the United States have won three gold medals and none in consecutive years. Finland won the bronze medal at the 2021 WJC. In the past 10 years, a myriad of talented Finnish players have found a home in the NHL, and if you look at the 2022 version of Team Finland, there are more on the horizon. This year's Finnish squad is again the prototypical roster fully laden with speed, agility, and skill with the ability to move the puck quickly and transition in a seemingly effortless fashion. They will once again challenge for a podium place and indeed have the tools to claim their fourth gold medal since 2014.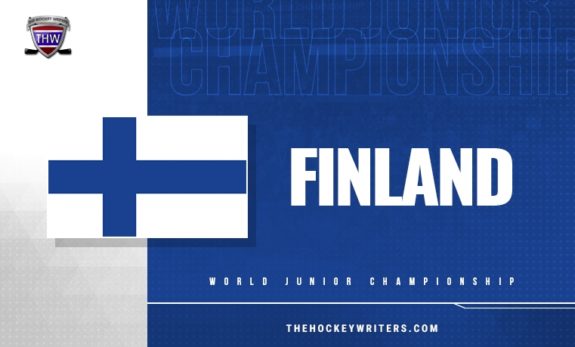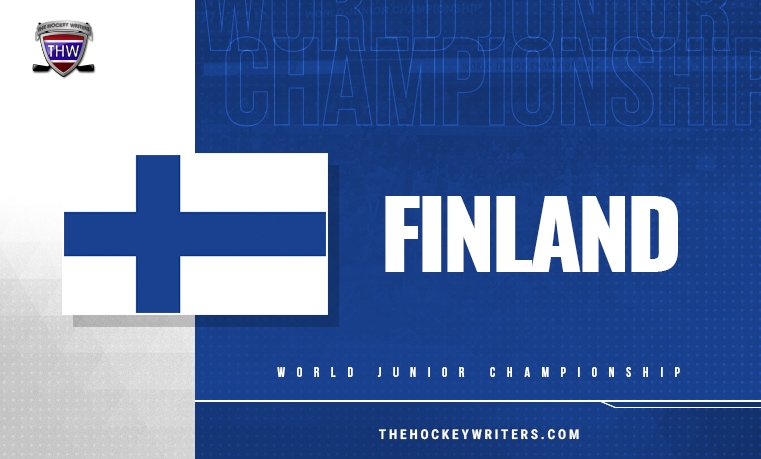 With the goal of improving on last year's bronze medal, the 2022 version of Team Finland is solid on the blue line with the return of last year's Top Defenseman at the tournament and Toronto Maple Leafs' draft pick Topi Niemelä. Also, Ottawa Senators goalie prospect Leevi Merilainen will likely start in net for his country. The Finns are considerably stronger up front compared to last year and even compared to the roster they had in December. Aatu Räty, a New York Islanders second-round selection, tested positive for Covid-19 before the December tournament, but he will join his country this time around.
Along with Niemela, Merilainen and Raty, Finland will have an impressive roster. Here are the three players you should be paying attention to throughout this year's championship. All three players are forwards and should have an impact on the success of this team and their search for another medal.
Roni Hirvonen – 2020: Toronto Maple Leafs (59th Overall)
In the 2020 Draft, the Maple Leafs selected Roni Hirvonen in the second round and acquired a 5-foot-9, 165-pound left-handed forward. However, this undersized centre, who has been used on the wing by HFK Helsinki in the Finnish Elite League (SM-Liiga), plays bigger than his frame would indicate. He is a playmaker who plays a physical game, as his numbers at the 2020 World Junior Championship indicate.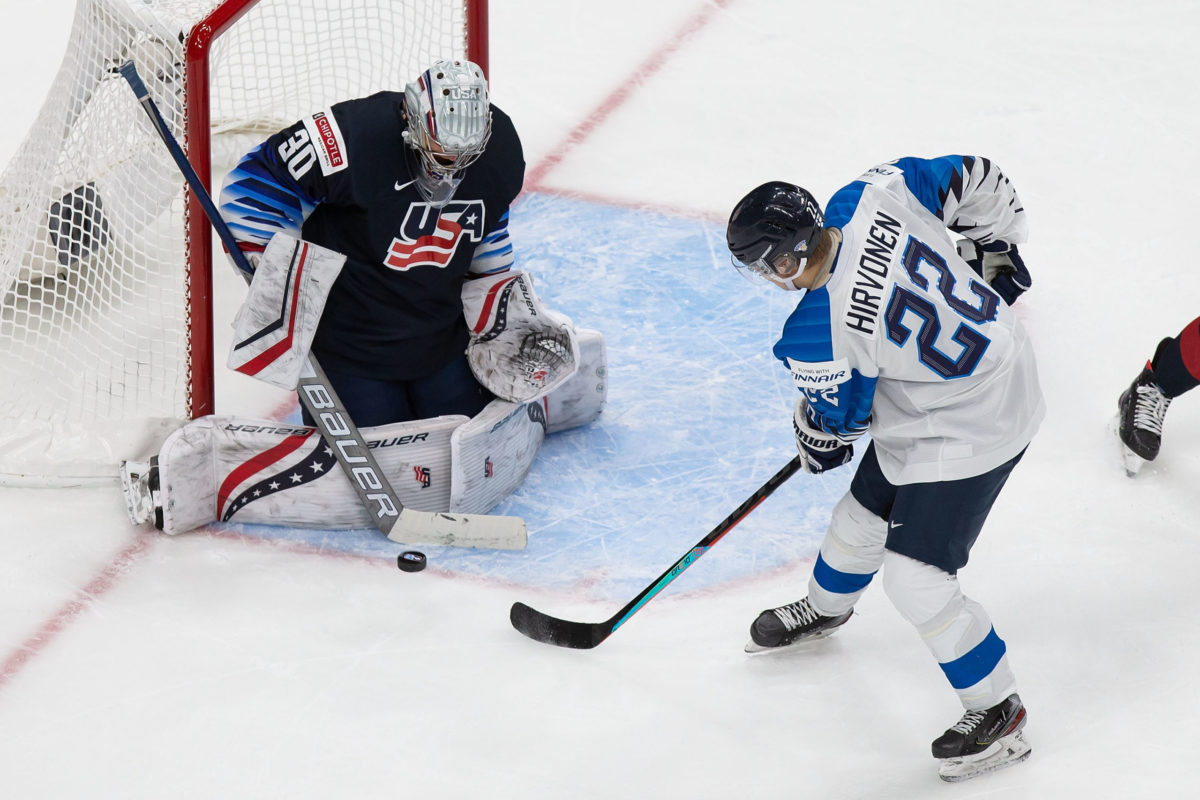 In seven games, Hirvonen had six points – two goals and four assists – combined with 18 penalty minutes. Those are impressive numbers, which indicate a high level of intensity, and his return to this year's tournament should see those numbers increase. In SM-Liiga this season, he posted 26 points on nine goals and 17 assists in 46 games.
Related Article: Maple Leafs Prospects Will Play Big Roles at 2022 World Juniors
In the upcoming tournament, Hirvonen is expected to carry his share of the scoring and power-play duties. With his physicality for a slightly smaller forward, he will be a notable player that the opposition will have to prepare for and should be among the tournament's top scorers as he looks to lead Finland to another deep run this year.
Joakim Kemell – 2022: Nashville Predators (17th Overall)
Joakim Kemell is the entire package. The 5-foot-11 highly-skilled forward was drafted by the Nashville Predators in the first round of the 2022 NHL Draft with the 17th overall pick. In 39 games for JYP in SM-Liiga this season, the 18-year-old scored 15 goals and posted 23 points. There's a chance Kemell plays on Finland's top line during the tournament.
Kemell is an open-ice threat on offence as soon as he touches the puck. He loves to rush the puck but also possesses a soft delicate passing touch and can hit the tape anywhere inside the blue line. A bigger asset is his shot, and he has been consistent at every level of play, including this past year in Liiga, where he was a regular on JYP's first power-play unit. His playmaking ability and willingness to unleash his loud one-timer make him a constant threat for goalies. He is also a trustworthy defensive player who plays the entire length of the ice and will be present in every late-game situation.
Brad Lambert – 2022: Winnipeg Jets (30th Overall)
Brad Lambert is a 6-foot, 183-pound right-handed forward who was drafted by the Winnipeg Jets with the 30th overall pick in the first round of the 2022 Draft. Lambert is headed into the tournament with a chip on his shoulder as he dropped in this year's draft. The 18-year-old is a returning player who should find himself on the scoresheet more often than the one goal and three assists he scored in last year's bronze medal run. He registered one goal and five points in the two games he played for Finland in December at the WJC.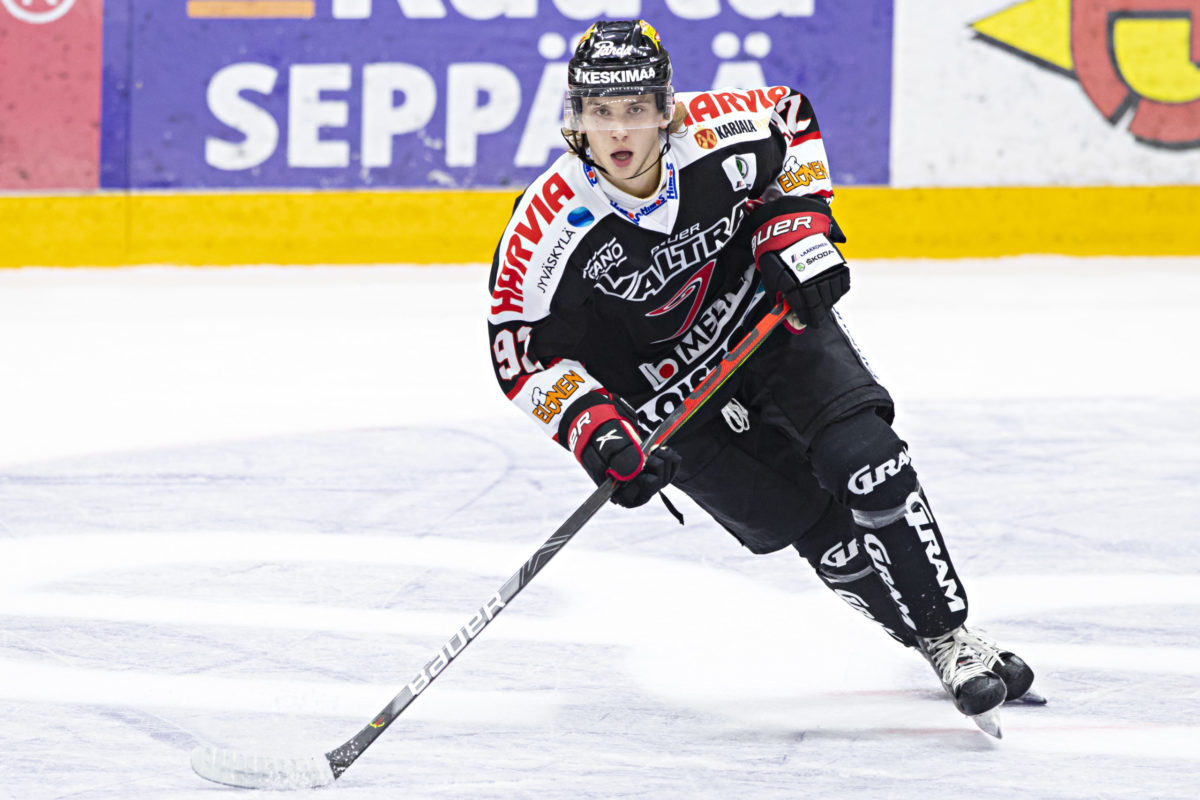 His size and versatility, combined with his ability to skate and move the puck efficiently and effectively, make him a player that will force other teams to pay serious attention. He is a dynamic player with excellent puck-handling skills and good offensive instincts who can be very dangerous if given the time and space to move.
You should see plenty of Lambert in this year's tournament as he is one of Finland's best players at the centre-ice position. He will see his fair share of power-play time and will be a constant at even strength. This kid has nothing but upside and should be a promising prospect for the Jets.
Team Finland, as one of the dominant countries at this level in the past decade, continues to look to be more than just competitive; they are looking to win. They have the horses to do that again and will be a team that should score on a regular basis. Kemell and Lambert are first-round picks, which suggests depth on a team that has been at the top of the junior hockey world for the past 10 years. These three forwards should play a key role in Finland's success this year as they look to bring a gold medal home.
Guide to the 2022 World Junior Championship
2022 World Juniors Schedule, Groups, Rosters, Predictions & More
One Player to Watch From Each Team
Breakout Candidates & Sleeper Prospects
Predictions for the 2022 World Junior Championship
Award Contenders and Predictions
2022 World Juniors: 2023 Draft-Eligible Players to Watch
6 Predictions for the 2022 World Junior Championship
---
Latest News & Highlights
---