Team Austria is again expected to be in over their heads at the World Junior Championship this month. In last year's tournament, armed with arguably the best Austrian player ever in Marco Rossi, they still finished without a win and a minus-28 goal differential; the next lowest, Switzerland, had a minus-15. Had the 2021 tournament taken place as usual, Austria would have been relegated to Division 1-A, but thanks to the global pandemic, it was far from normal, and thus, the relegation series was scrapped, giving Austria a second chance to play in the WJC.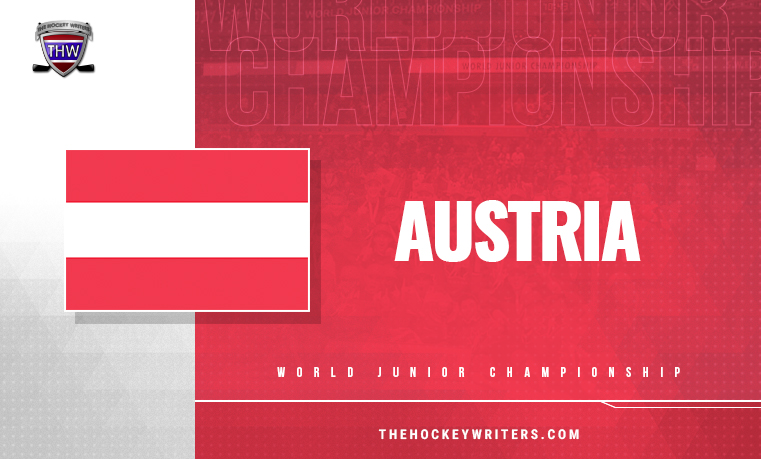 Austria is in a challenging Pool B with the United States, Sweden, Switzerland, and Germany, all of whom have more experience and talent on their rosters, a gap which will be emphasized by the absence of their recently-drafted stars Marco Kasper and Vinzenz Rohrer who were given a break after a busy 2021-22 season.
But Austria won't sit back and welcome defeat. Eight players from last year's roster are set to return to Edmonton, many of whom have been playing in Austria's top hockey leagues. Here are the ones who could end up making the biggest difference in the team's pursuit of proving they deserve to be in the top division.
Luca Auer
The biggest question for Team Austria heading into the rescheduled World Juniors is who will replace Kasper on the first line? The team has several players with experience, including Lucas Thaler, Mathias Böhm, and Leon Wallner, all of whom played in men's leagues in 2021-22. But Austria's biggest offensive threat may come from Luca Auer, an 18-year-old, 6-foot-1 forward who will be playing in his first World Junior tournament.
Related: 2022 World Juniors Draft Eligible Players to Watch
Auer has spent his entire career in Austria playing with the Red Bull Hockey Academy, a prestigious organization akin to Shattuck St. Mary's and boasts alumni such as JJ Peterka, Sampo Ranta, Julian Lutz, and even Juraj Slafkovsky, who spent part of 2018-19 with the U18 team. Yet it is Auer who holds the record for the most points for a rookie, scoring 20 goals and 48 points in 35 games. He was also the youngest player to score a goal in Austria's top league, the International Central European Hockey League (ICEHL).
While he was ranked by the NHL's Central scouting 129th among European skaters, he was passed over in the 2022 NHL Draft. However, he was picked up 25th overall in the Canadian Hockey League's (CHL) Import Draft, held roughly a week before, by the Regina Pats. It's still unconfirmed whether the talented Austrian will travel to Saskatchewan's capital for the 2022-23 season, but if he does, he'd get the opportunity to play with potential 2023 first-overall pick Connor Bedard.
Auer also has a history of rising to the occasion. In both 2020-21, he led EC Salzburg U20, the Red Bull team playing in the International Central European Young Stars League (ICEYSL), to their first championship since 2015-16, leading the playoffs with five goals and eight points. The following season with EC Salzburg of the ICEHL, he again lifted the championship trophy after appearing in two games for the team as a rookie call-up.
Not only does Auer have great offensive instincts, but he also possesses a surprisingly refined defensive game. He recorded the highest plus/minus stat, plus-37, while playing in the Alps Hockey League (AlspHL) despite being one of the youngest players in the league. Although the AlspHL is significantly weaker than other European leagues, he still showed he was a decent finisher and logged plenty of ice time in many situations. He also has a mean streak, judging by the fact that he was handed a game misconduct penalty at the U18 World Junior Division 1B for an illegal check to the head against Slovenia and led the tournament with 31 penalty minutes while also leading the team with six points. He's not a dominant power forward like Kasper, but he has a great opportunity to become a leader for Austria.
Senna Peeters
On the other end of the spectrum is Senna Peeters, who is participating in his third World Juniors and is a great candidate to don a letter on his jersey. He spent the past three seasons playing with the Quebec Major Junior Hockey League's (QMJHL) Halifax Mooseheads, putting up 36 goals and 68 points in 107 games, including a short stint in Sweden during the league's pandemic shutdown. He's not the quickest player but a very smooth skater, and at 6-foot-1 and 192-pounds, he's a strong net-front presence, which is where he scores most of his goals, picking up rebounds and deflections.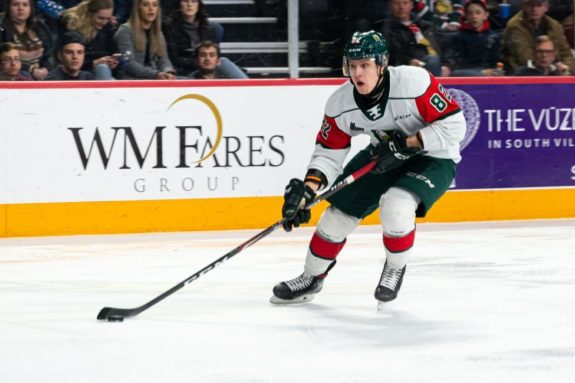 Now 20 years old and at the end of his CHL eligibility, Peeters decided to leave Halifax and return to Austria, joining HC Innsbruck of the ICEHL for 2022-23, returning home to play for the first time since 2018. It was with the Red Bull U18 team that he recorded the second-highest point total the league has ever seen, scoring 88 points in 30 games as a 16-year-old. He was also one of Austria's best players at the 2020 World Junior Division 1-A Championship. En route to winning the tournament and earning a promotion to the top division, he scored three goals and six points, the third-highest total on the team.
Peeters has been criticized for his consistency and competitiveness, which is likely why he was passed over twice in the NHL Draft despite being ranked just outside the top 100 North American skaters in 2020. But as one of Austria's most experienced players, both internationally and while facing top competition, he'll be relied on to be a dominant force for the team. His ability to chip in loose pucks and stand his ground in front of the net will be invaluable to a roster lacking strength compared to other teams in Pool B.
Sebastian Wraneschitz
I wonder if there is a goalie at the WJC who has faced more shots than Sebastian Wraneschitz did in 2021. In just three games, he faced a whopping 194 shots, turning away 173 of them and ending the tournament with a .892 save percentage – that's an average of over 64 shots per game. Only six NHL goalies have faced more shots in 60 minutes or more – none since 1991 – and only four of them had a higher save percentage than the Austrian junior.
Wraneschitz's performance captured the imagination of hockey fans all over the world. Despite Austria's 10th-place finish in Edmonton, he was an easy choice for one of the team's three Stars of the tournament, and he even caught the attention of the Western Hockey League's Victoria Royals, who signed him after selecting him in the first round of the 2021 CHL Import Draft.
The transition was a tough one for him, however, and after two games, he had an uncharacteristically low .750 save percentage (SV%) and a 10.14 goals-against average (GAA). It was later revealed that he was battling health problems, so he returned home to Vienna to recuperate. Thankfully, he was able to sort things out, and he returned to North America shortly after, joining the United States Hockey League's (USHL) Tri-City Storm, where he had a much better .907 SV% and a 2.16 GAA over 18 games.
There's no question that the 5-foot-11 Wraneschitz will return as Austria's starting goaltender this year and will likely see a similar onslaught of pucks as he did in the last tournament. But that may not bother him all that much, as he seems to be a reliable, high-volume goalie, thriving under increased workloads. He's not the flashiest, but he moves across the crease and tracks the puck well, and can make the blue-collar saves that Austria will need to stay competitive in this tournament.
Bottom Line for Austria
When Kasper was asked about Austria's chances this year, he responded confidently: "I always hope that we're gonna do better, and I think we can do better. Last year was tough for us with some players getting sick before the tournament, but I think we can do better this year, and I think we're capable as a team." However, without him and Rohrer, the outlook isn't quite as optimistic. Auer, Peeters, and Wraneschitz have shown they can play against some of the best players the tournament has to offer, and there are some other underrated talents in Lucas Thaler and Leon Wallner who will bring their all, but the rest of the roster will struggle. Without the possibility of relegation for the second year in a row, Austria's goal will simply be to try to avoid coming in last place.
Guide to the 2022 World Junior Championship
2022 World Juniors Schedule, Groups, Rosters, Predictions & More
One Player to Watch From Each Team
Breakout Candidates & Sleeper Prospects
Predictions for the 2022 World Junior Championship
Award Contenders and Predictions
2022 World Juniors: 2023 Draft-Eligible Players to Watch
6 Predictions for the 2022 World Junior Championship
---
---
---
Latest News & Highlights
---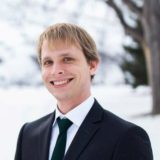 An elementary teacher by day and an avid hockey fan, Dayton joined The Hockey Writers in 2019 and currently covers the Ottawa Senators, World Juniors, and NHL Entry Draft.