If any team benefited from the lack of international promotion and relegation last year, it was Team Austria. Without a Division 1 tournament, the Austrians have been given a second chance to prove their worth and stick around in the top level of U20 hockey. They return to the World Junior Championship minus some recognizable names, but that doesn't mean they don't have some interesting players. Yes, they will be the underdogs in every game, but they will arrive in Edmonton looking to prove something to themselves and fans around the world.
Goaltenders
Leon Sommer (Black Wings Linz), Sebastian Wraneschitz (Tri-City Storm), Thomas Pfarrmaier (RB Hockey Juniors)
When you are a goaltender on a weak team, you have two choices. You can sink, no one would blame you. The team around you is struggling, and expecting the goaltender to keep them in the game would be crazy. The other option is to swim. To do something special despite the team around you. That's the route that Sebastian Wraneschitz took in the 2021 tournament and now, he comes back for a second tour of duty with the U20 team.
Wranneschitz is best remembered for a 61-save performance against Sweden and a 54-save performance against the Czech Republic, which prompted the Western Hockey League's (WHL) Victoria Royals to give him a shot. However, after two games with the Victoria Royals, he returned home to Vienna in order to get healthy. Once healthy, he returned to North America with the Tri-City Storm of the United States Hockey League. Through 18 games, he put up a very respectable .904 save percentage (SV%) and a 2.16 goals-against average (GAA).
The backup position will be contested between Leon Sommer and Thomas Pfarrmaier. Sommer played 22 games with Steel Wings Linz in the AlpsHL, where he put up a .910 SV% and a GAA of 3.16, which will likely lead to some starts with the Black Wings Linz of the ICEHL next season. He also was named to the Austrian national team, and although he didn't appear in any games, the experience will make him a solid backup option at the World Juniors.
Austria's third goaltender will be Pfarrmaier, a 19-year-old with Salzburg's Bed Bull junior team, who has often served as his team's backups. In seven games in the AlpsHL, the most he played in any league in 2021-22, he had a .897 SV% and a 2.99 GAA, including one shutout.
Defensemen
Lukas Hörl (Red Bull Juniors), Lorenz Lindner (Steel Wings Linz), Matteo Mitrovic (HTC Nordic Hockey Academy U20), Lukas Necesany (RB Hockey Juniors), David Reinbacher (EHC Kloten), Tobias Sablattnig (EC-KAC), Christoph Tialler (EC-KAC), Martin Urbanek (Villacher SV), Maximilian Preiml (EC-KAC Future Team)
It's a good thing Wranneschitz is back because the defensive core will likely be Austria's weak point. The only returnee on the roster is Lukas Necesany, who failed to score a single point in the Austrian's four games last time around. This year, they will need him to play a bigger role on the backend.
Beyond Lindner, keep an eye on 17-year-old David Reinbacher, who's spent his career so far in Switzerland with the EHC Kloten organization. In 23 games at the U20 level last season, he scored an impressive nine goals and 22 points, giving him the highest point-per-game pace of any defender with at least 10 games under their belt. He spent the rest of the season in Switzerland's Second League (SL), where he was once again one of the most productive youngsters, scoring 11 points in 27 games. Only a handful of U20 players scored more, and none were under 18 years old. The Ontario Hockey League's (OHL) Sarnia Sting liked what they saw, too, and snatched up the talented blueliner in the second round of the CHL Import Draft.
Tobias Sablattnig is another to watch, as he played the most games in Austria's top league last season of any of the defenders on the roster. He also put up the second-most points by a defender in the Alps Hockey League (AlpsHL), scoring 16 points in 37 contests. The 6-foot-3 Matteo Mitrovic was also dominant in his league, leading all defensive scoring with 42 points in 26 games, but the league he was in was admittedly weaker.
Forwards
Luca Auer (EC Salzburg), Tim Geifes (Villacher SV), Oskar Maier (EC Salzburg), Senna Peeters (HC Innsbruck), Lucas Thaler (EC Salzburg), Finn Van Ee (EC-KAC), Leon Wallner (Södertälje SK), Jonas Dobnig (New Jersey Rockets), Ian Scherzer (Rögle BK J20), Janick Wernicke (New Hampshire Jr. Monarchs), Nico Kramer (EC-KAC Future Team), Moritz Lackner (Stanstead College Varsity), Maximilian Hengelmüller (RB Hockey Juniors)
Austria has always lacked recognizable names at the World Juniors, especially compared to the Canadians, Russians, Americans, Swedes, and Finns; even the Czechs and Slovaks have a fairly well-known roster, albeit to a lesser degree. But, finally, for the first time since the departure of Marco Rossi, Austria a top prospect on their roster in Marco Kasper. That was only confirmed in July when the Detroit Red Wings selected the big power forward eighth overall. Along with OHL star Vinzenz Rohrer, the Austrian offence looked somewhat formidable.
However, fate can be cruel, and with the rescheduling of the tournament to August, Austria decided to let Kasper and Rohrer have a break after a very busy 2021-22 season. While the move is admirable and well-deserved on the players' part, it leaves their World Junior roster in a bit of a bind. Still, this is one of the best teams the small nation has ever iced. Senna Peeters will be one of the team's leaders this year after playing three seasons with the Halifax Mooseheads of the Quebec Major Junior Hockey League (QMJHL). Last season, he scored 17 points in 34 games, and in the shortened 2020-21 season, he was scoring at over a point per game clip, with 18 points in 16 games.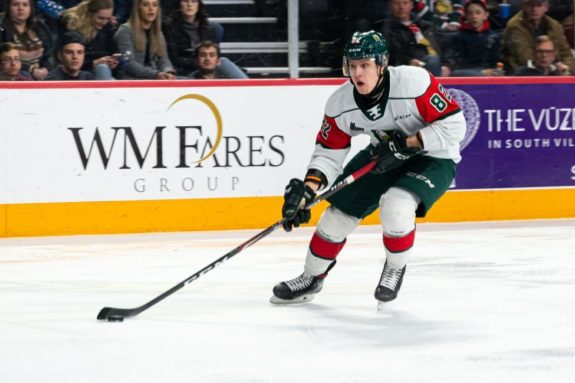 18-year-old Luca Auer is an underrated player who tore up the AlpsHL last season, scoring 20 goals and 48 points in 35 games with the Red Bull Juniors, placing him 10th in league scoring and first among all U20 players. He joined Reinbacher as one of three Austrians selected at the 2022 CHL Import Draft, going in the first round to the WHL's Regina Pats. Along with Kasper, who was picked by the OHL's Ottawa 67s, it's the most selected at the draft since 2019, when Peeters was selected alongside four other Austrians.
Related: THW's 2022 World Junior Championship Coverage
Ian Scherzer is another 17-year-old on the roster who could have an impact. At the U18 World Junior Division 1B tournament in April, he led the Austrians with three goals in five games, two of which came in their only win against Poland. Two more came from Jonas Dobnig, a Canadian-born Austrian who spent last season in North America with the New Jersey Rockets of the National Collegiate Development Conference (NCDC). In 37 games, he scored 13 points, good for 11th on the team. Tim Geifes and Moritz Lackner also spent 2021-22 in North America, and Janick Wernicke has committed to join the NCDC's New Hampshire Jr. Monarchs next season.
The Austrian forward group has a lot of potential – Leon Wallner had one of the highest point-per-game paces in Sweden's Allsvenskan last season, for example – but how the team finishes is not high on their priority list. Rohrer may have put it best back in December when he said, "When people ask me this question, even my parents and especially my teammates, you look at the results and how Austria is playing, the results aren't the best. I always think about our head coach right now, Norm Milley. He said a few days ago in the locker room, as a team, you shouldn't be looking at the results, you should be looking at what you can control."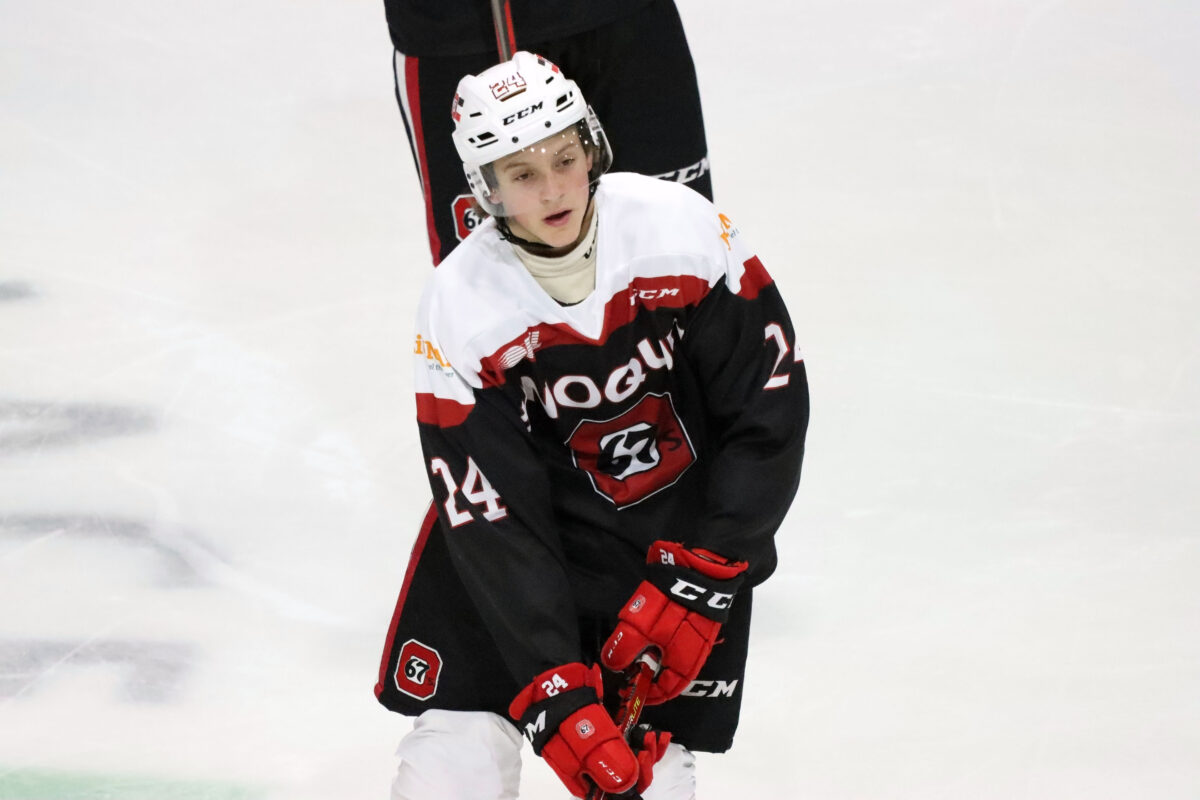 "I think that's a really big thing for us. If we always look at the results as Austria, it's maybe not the best thing to do. I think what we have to do is just focus on ourselves and believe that we can win a game, too. Focus on the process that we play as good as we can play."
Bottom Line
Austria will have their work cut out for them this year if they don't want to finish in last place. Russia's demotion and Latvia's subsequent promotion will help them, but without their big stars in Kasper and Rohrer, the team will need to bring everything they have every single game. Their national leagues are some of the weakest among the top nations in Europe, and the difference in talent can be painfully evident.
However, it's a testament to their development program that Austria is here at all. After just seven Austrians were selected in the NHL draft from 2000-2019, five have been selected in just the past two years. They'll be back at the 2023 World Juniors, too, as the IIHF removed relegation again this year after not having it in 2021. Could Austria become the next Germany, regularly providing top-notch NHL talent? There's only one way to find out, and remaining in the top division will give them a huge boost.
Guide to the 2022 World Junior Championship
2022 World Juniors Schedule, Groups, Rosters, Predictions & More
One Player to Watch From Each Team
Breakout Candidates & Sleeper Prospects
Predictions for the 2022 World Junior Championship
Award Contenders and Predictions
2022 World Juniors: 2023 Draft-Eligible Players to Watch
6 Predictions for the 2022 World Junior Championship
---
---