It's always disappointing when a nation's best players aren't able to compete at the World Juniors. This year, Germany will be without Tim Stützle, who will remain with the Ottawa Senators, as well as, John Peterka and Lukas Reichel, who excelled in the American Hockey League (AHL) this season. All three are eligible to compete, and many expected them – or at least two of them – to anchor Germany's top line in 2022 after they were some of the most exciting players on the ice in 2021.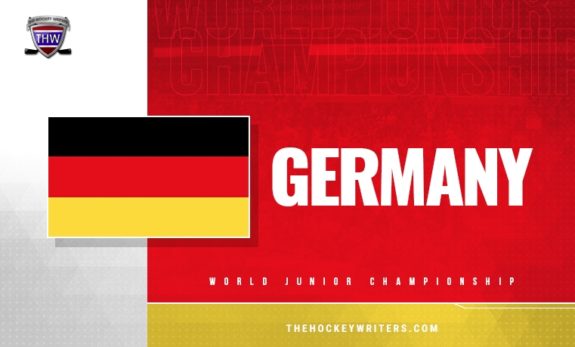 However, when one player leaves, another has to come in and take his place, and with so much turnover from 2021, the competition is wide open this year, giving several players opportunities to thrive that never would have otherwise. Once again, this will be a team to watch as they go up against historically tougher teams like the United States and Sweden in Pool B, but it will also be interesting to see if any of their talented 19 and 20-year-olds can catch the eyes of the international hockey community.
Luca Hauf
The Germans don't have the most skill this year, but what they do have is experience. Much of the roster has played together internationally or in club teams for the past two seasons, developing chemistry that other nations wish they could have. That usually means that younger prospects like Julian Lutz, a talented 18-year-old and recent second-round pick by the Arizona Coyotes, are left to wait for their turn. But every now and then, the Germans will buck the trend and bring a youngster along. Stützle, Reichel, and Peterka all made their World Junior debuts at 18 years old, and this year, Luca Hauf will follow them as the youngest player on the roster.
Although passed over in the 2022 NHL Draft, Hauf gained some attention as a possible late-round pick thanks to his defensive intelligence. There's very little he does poorly, employing a high work ethic on all ends of the ice. However, he has more than just good positioning; when in possession of the puck, it's virtually impossible to shake him off of it. Playing in Germany's third-tier league (Oberliga) at 17 years old, he scored an impressive 14 goals and 31 points in 37 games, which earned him a call-up to the Deutsche Eishockey Liga (DEL) debut for a two-games stint with the Krefeld Pinguine. North American fans noticed him at the 2022 U18 World Juniors, where he led the Germans with three goals in two games, despite being outmatched in nearly every game.
Hauf took another big step forward in 2021-22, especially with his offensive game. In just three games in Germany's U20 league, he scored an astounding four goals and 14 points. Cleary too good for the competition there, he returned to the Oberliga, where he finished second in scoring with 32 points, despite playing half the number of games as the leader. The Western Hockey League's (WHL) Edmonton Oil Kings used their first Canadian Hockey League (CHL) Import pick last season to select him, making him the first German selected by the franchise. There likely isn't a better team he could join in the league, as the Oil Kings recently won the WHL's Ed Chynoweth Cup and advanced to the Memorial Cup tournament.
With the experience on Germany's roster, it's unlikely Hauf will play top-line minutes, instead placed in a more defensive role and tasked with shutting down the likes of the United States' Matt Coronato and Frank Nazar, as well as Sweden's Liam Ohgren and Oskar Olausson. It's a tall order for the 5-foot-11 winger, but if anyone can handle it, it'll be him.
Alexander Blank
One of the biggest surprises with Germany's roster announcement was that Florian Elias would not return for a third tournament, which leaves a big gap on the top line. That leaves the Germans looking for support from the rest of their team, and although they don't have many other big-name prospects, they have plenty of underrated talent dotting their lineup. The team has several returning players, including Joshua Samenski, Justin Volek, and Markus Schweiger, but their best option for offence may come from newcomer Alexander Blank.
Related: 2022 Guide to the World Juniors
Blank is a bit of an unknown outside of Germany and arguably a bit of a late-bloomer. Before last season, he had never been selected to a German national team. But in 2020-21, something clicked, and he's been on fire ever since. After spending most of his early career in Austria and the lower tiers of Germany, he made his DEL debut with the Krefeld Pinguine and put up an impressive six goals and 13 points in 36 games. His pace of 0.36 points per game may not seem all that high, but it's one of the best seasons ever recorded by an 18-year-old in the league.
It was no surprise that Blank was nominated for the 2021 DEL Rookie of the Year award, and though he lost out to Elias, it hasn't slowed him down one bit. He was unquestionably the best U20 player in the DEL this season, with 16 points in 48 games, doubling the player in second place. His lack of international experience didn't hurt him back in December either, as he scored two goals and three points in two games, leading the team in both categories. So, while Germany may lack a big-name prospect, they seem to be in capable hands with their newest star.
Luca Münzenberger
When the Edmonton Oilers selected Luca Münzenberger in the third round last year, there were more than a few eyebrows raised. The 6-foot-2 defender was barely ranked by any major sources, leading many scouts to view him as a late-round pick, and yet the Oilers grabbed him 90th overall. His stats weren't all that inspiring, either; he played just six games in the DEL U20 league, putting up a goal and two assists. The season before, he had 18 points in 33 games.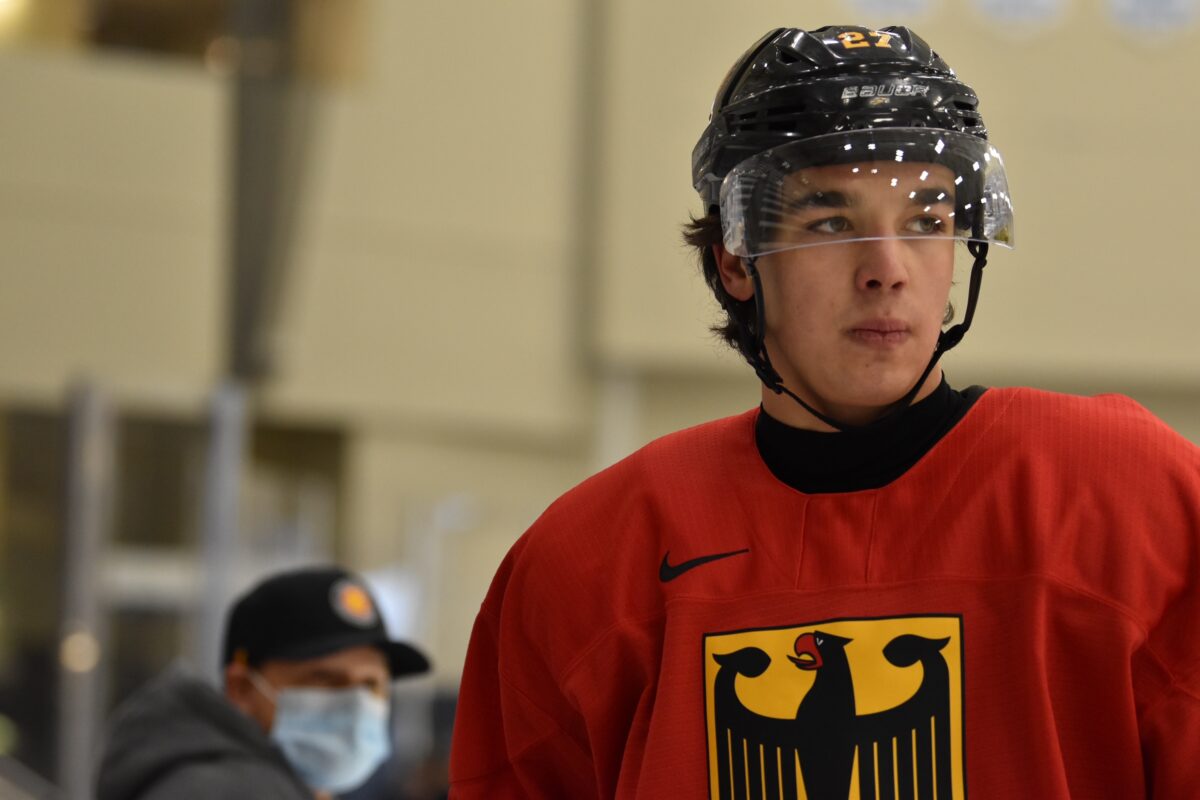 However, the Oilers saw something special in the German teenager, and now much of the world is seeing it, too. Münzenberger decided to join the University of Vermont for the 2021-22 season, taking the huge leap and leaving his home country to play in North America. As a freshman, he's demonstrated some incredible defensive instincts and tenacity when it comes to shutting down opponents. Vermont head coach Todd Woodcraft called his game "ultra-competitive," while others have described him as a bit of a throwback defender thanks to his mean and physical style.
While Münzenberger won't wow you with his offensive prowess, he's far from a slouch with the puck. As a freshman with the University of Vermont this season, he's put up two assists in 15 games, which puts him at the same pace as fellow freshman Tristan Broz, a 2021 second-round pick of the Pittsburgh Penguins, who has just two assists with the University of Minnesota after scoring 51 points in 54 games in the United States Hockey League in 2020-21. The German has a great shot, great mobility and agility, and can play effectively on both the power play and penalty kill. He'll be a leader for Germany this year, giving them stability on the blue line like Moritz Seider or Christian Ehrhoff before him.
Bottom Line
The Germans don't have the same star power as last year, but that doesn't mean they'll be pushovers. Once again, their roster is packed full of players who regularly play in top professional leagues across Europe, giving them what it takes to handle the powerhouses of Pool B in the United States and Sweden. Plus, they have seven players returning to Edmonton after helping the team accomplish their best tournament finish in 2021. They'll still need to get a bit lucky to improve on their 6th place finish from last year, but with talents like Hauf, Blank, and Münzenberger, they'll have the right pieces in place to make an impact at the World Juniors.
Guide to the 2022 World Junior Championship
2022 World Juniors Schedule, Groups, Rosters, Predictions & More
One Player to Watch From Each Team
Breakout Candidates & Sleeper Prospects
Predictions for the 2022 World Junior Championship
Award Contenders and Predictions
2022 World Juniors: 2023 Draft-Eligible Players to Watch
6 Predictions for the 2022 World Junior Championship
---
---
---
Latest News & Highlights
---