The puck drops on the 2022 World Junior Championship this week, beginning on Aug. 9 and finishing up on Aug. 20, as Team USA has made some adjustments to the roster that was set to take the ice before the tournament was canceled due to COVID-19 in December. With the list of 25 highly-skilled players finally announced, here is a look at the top five players to watch at this year's tournament.
Luke Hughes, Defenseman 
Luke Hughes will be a strong candidate for the top defensive pairing this year. He was drafted fourth overall by the New Jersey Devils in 2021, and there's a good reason for it. Following his draft year, he had a fantastic rookie season for the University of Michigan Wolverines as he potted 17 goals and 39 points with a plus-26 rating in 41 games. He's a dynamic player on the back end who will likely be leading the United States defensive corps in scoring as he did the Wolverines.
He was part of a Wolverines power play that converted at 27 percent, with three of his goals coming with the man-advantage. He will be a key cog in Team USA's power play and his skating and passing abilities will be essential to helping the team break out of their own zone. Given the months of extra time to train due to the tournament being pushed to August, expect to frequently hear his name the deeper they go into the tournament.
Logan Cooley, Center
Logan Cooley will look to provide the same offensive spark that he brought to the United States National Team Development Program (USNTDP). The Arizona Coyotes snagged him at third overall, showing that they liked him even more than Canadian Shane Wright, who dropped to fourth. It seems the sky is the limit for the 5-foot-10 center, who is expected to be a top producer for the United States at this tournament.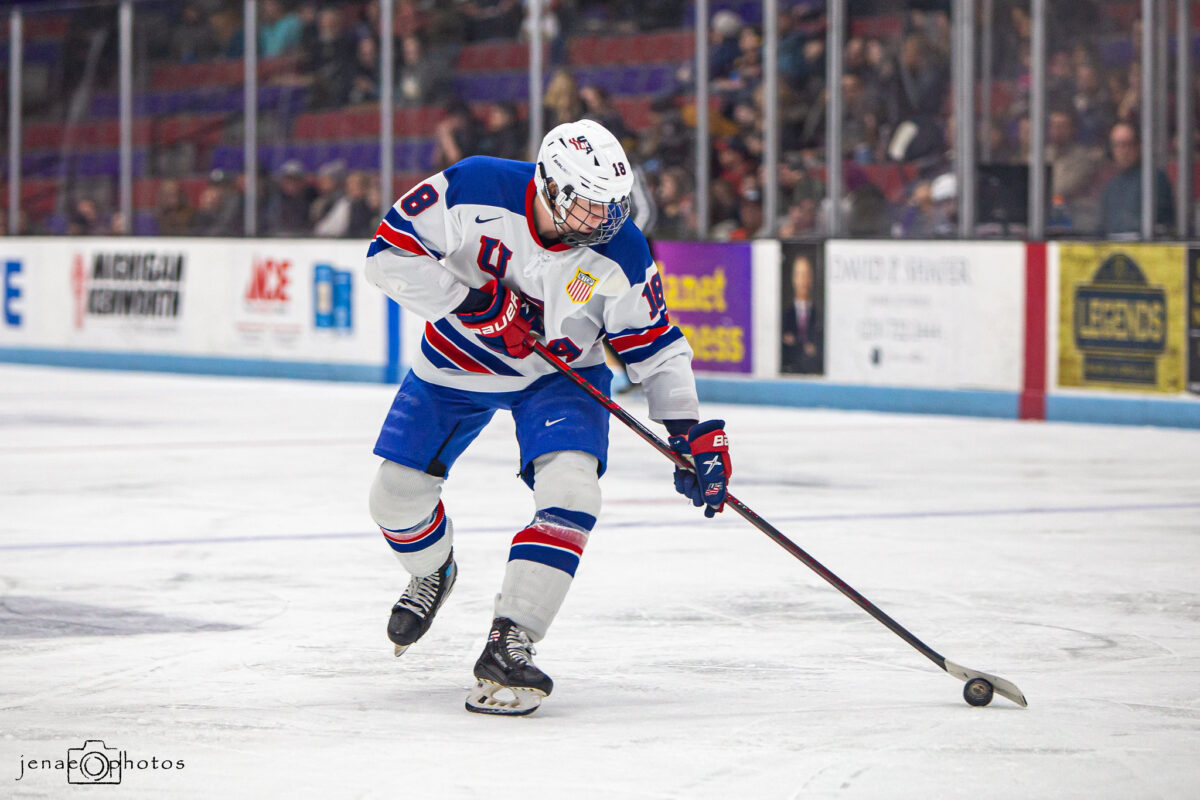 In 24 United States Hockey League (USHL) games, he scored 36 points, which is added to the 75 points in 51 games for the program and 10 more in six games at the U18 Worlds. Additionally, he tallied an assist in his lone game before the tournament's cancellation last winter. That's a solid past year of hockey for the 18-year-old. It's safe to say that the University of Minnesota commit has the potential to take over this tournament to silence any who doubted his selection at third overall.
Brett Berard, Winger
Brett Berard, a returning member from the 2021 WJC gold-winning team, is coming off a strong year for Providence College and will be looking to help his nation repeat in 2022. He was named a New England Division I All-Star following an 18-goal, 38-point season for the Friars. He scored a goal and five points when the United States won gold, though in his lone game before the cancellation, he didn't tally any points.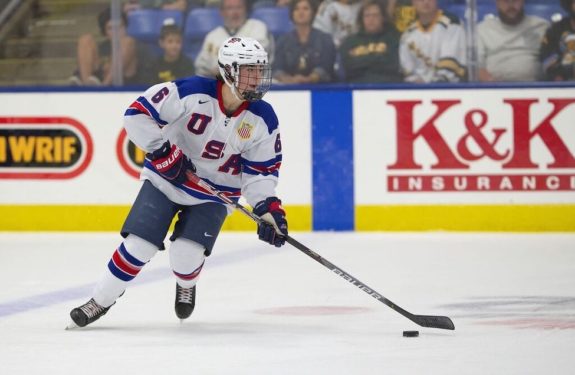 Berard is a bit smaller at 5-foot-9, but the 134th-overall pick in 2020 is a great skater with quick hands who can be a leader for the Americans on the forecheck. His experience as not just a returning member, but as a champion, is going to be huge for Team USA as they move forward in the tournament.
Matthew Knies, Winger
Matthew Knies could have a massive tournament for Team USA, as he's coming off a season with the University of Minnesota where he scored 15 goals and 33 points in 33 games. However, that's not all the hockey he's played this year. He suited up for Team USA at the Olympics and scored a goal and an assist in four games, and a goal at the WJC prior to its cancellation.
Knies is a player who's just about ready to jump to the NHL, and his Olympic experience is definitely going to help both with that and in this tournament. He sees the ice well which aids in his strong passing ability. As a result, he could find a home for himself on the penalty kill and could be a great setup man on the power play too.
Sasha Pastujov, Winger
Sasha Pastujov dominated the Ontario Hockey League (OHL) last season, scoring 34 goals and 76 points in 65 games for the Guelph Storm. The winger has the balanced ability to find teammates with his passing and finish chances when he's in a spot to shoot. He has done nothing but impress thus far in his young career. From the USHL to the OHL, he's seen consistent offensive success.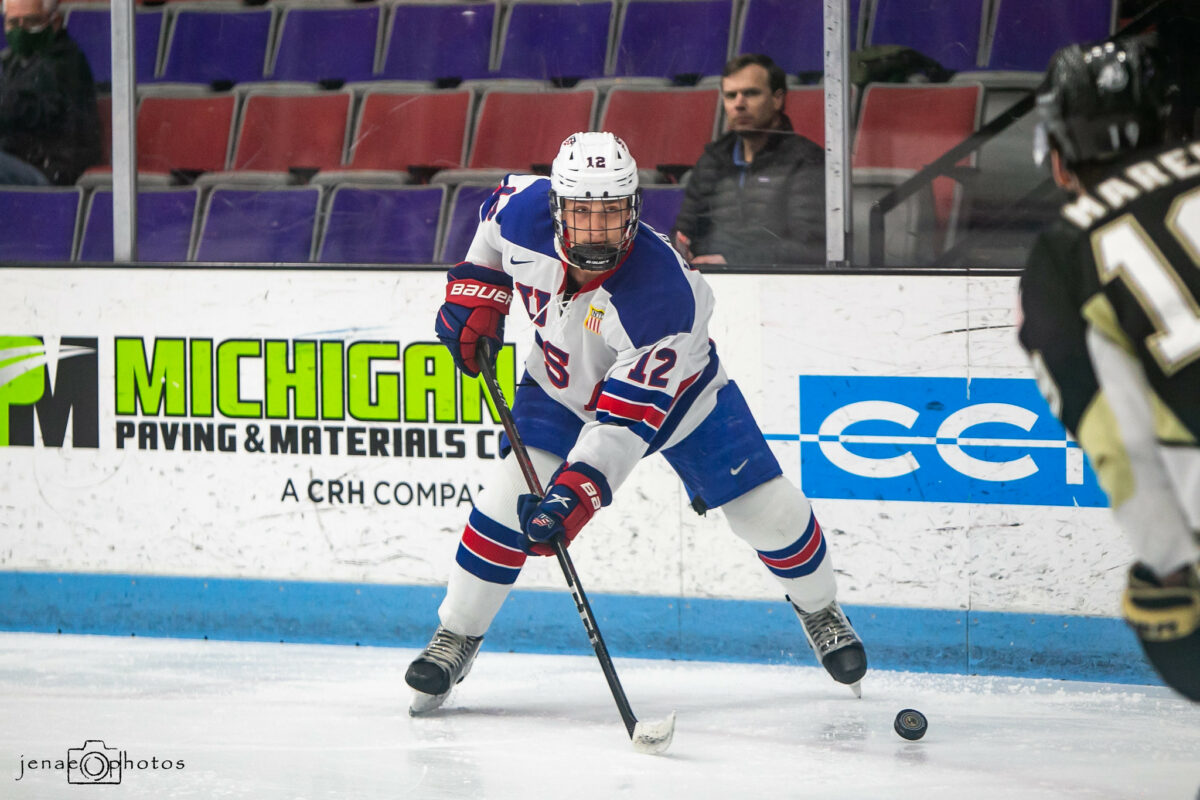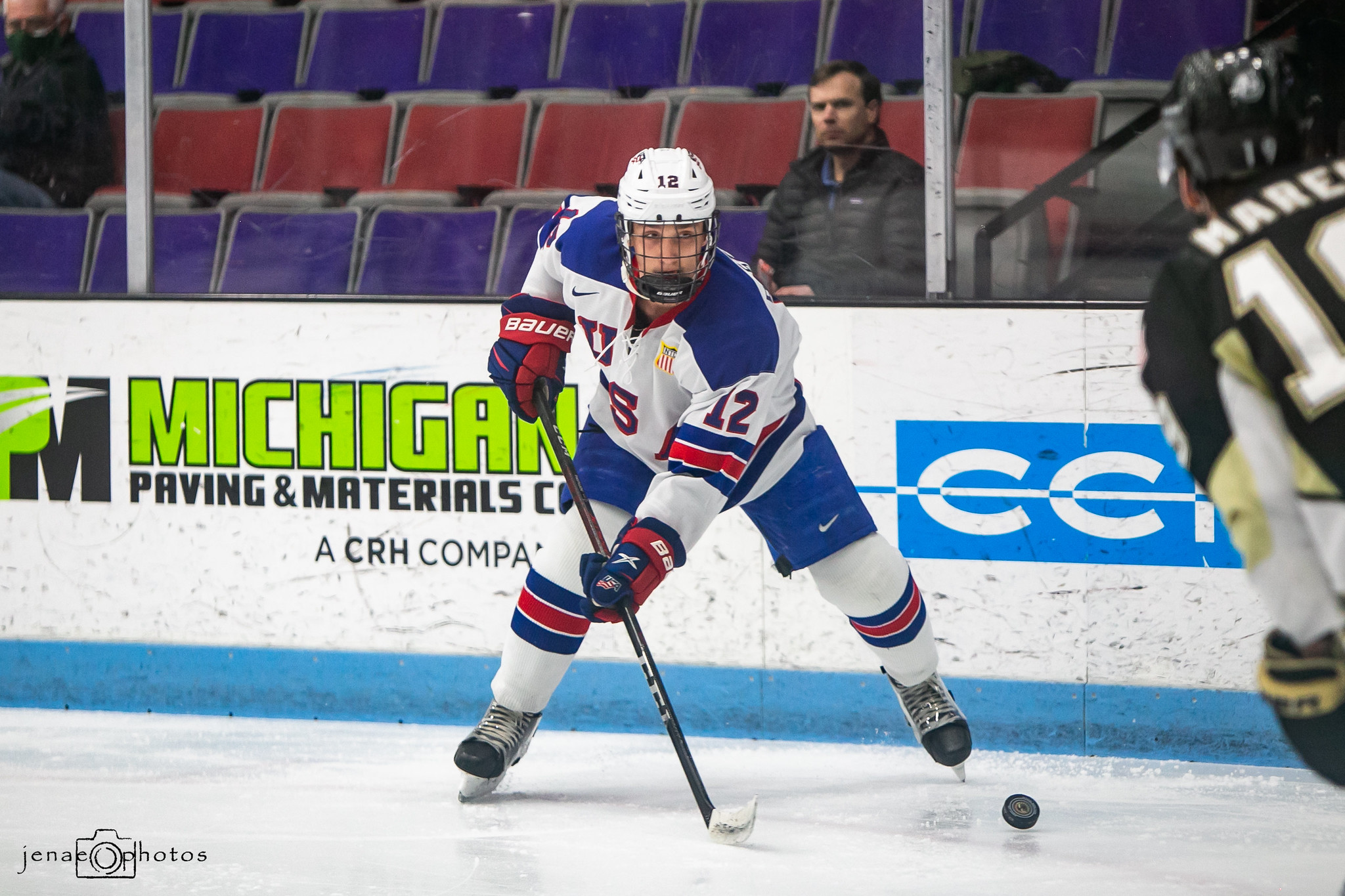 Pastujov will have some big shoes to fill this year as fellow Anaheim Ducks draft pick and rising NHL star Trevor Zegras was the team's best offensive player at last year's tournament. He will get the chance to prove his ability, likely finding himself on the top line throughout the tournament for Team USA.
Related: 2022 Guide To the World Junior Championship
There you have it, the top players to watch for Team USA at the 2022 World Junior Championship. This team is loaded with talent as they look to go back-to-back as gold medal winners. 
Guide to the 2022 World Junior Championship
2022 World Juniors Schedule, Groups, Rosters, Predictions & More
One Player to Watch From Each Team
Breakout Candidates & Sleeper Prospects
Predictions for the 2022 World Junior Championship
Award Contenders and Predictions
2022 World Juniors: 2023 Draft-Eligible Players to Watch
6 Predictions for the 2022 World Junior Championship

---
Latest News & Highlight
---