Team Slovakia was hit hard by the World Junior Championship's shift in schedule to August with standouts like Juraj Slafkovsky, Martin Chromiak, and Simon Nemec unable to participate. Slovakia is always an underdog in international tournaments, and missing some of their best players will make this a real uphill battle.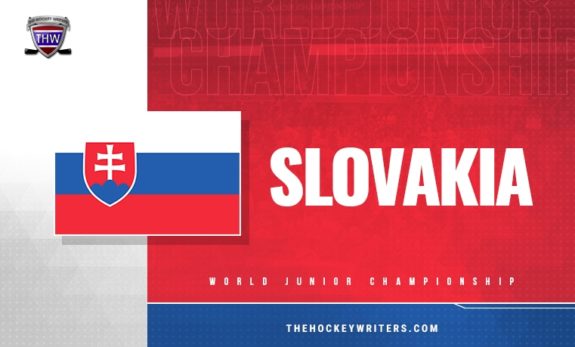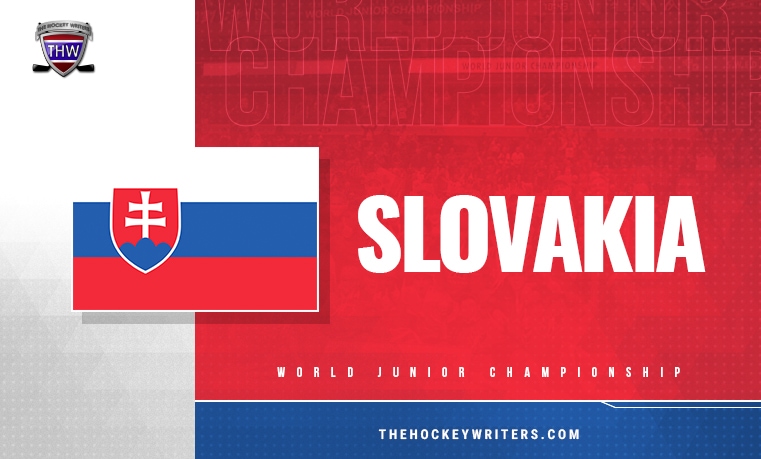 The Slovakian team will face tough competition in Group A. Canada, Finland, and Czechia all have more proven rosters filled with players who were drafted into the NHL. They will need some unlikely heroes to step up if they have any hope of making noise in this tournament.
Goaltenders
Patrik Andrisik (Jungadler Mannheim U20), Tomas Bolo (St. Cloud Norsemen), Simon Latkoczy (Madison Capitals),
Simon Latkoczy should return as the starter. He played in both of Slovakia's games in the canceled December tournament. He was solid in both games, despite the losses, posting a .927 save percentage (SV%) and 2.56 goals-against average (GAA), but the University of Nebraska-Omaha commit will have his work cut out for him in Edmonton.
Last season, Latkoczy posted a .887 SV% for the Madison Capitals and a 3.31 GAA. He improved in the postseason, with a .911 SV% and 2.58 GAA in 14 games.
Tomos Bolo should be Latkoczy's backup after a strong season for the St. Cloud Norsemen. He provides solid depth option for his team, but it's unlikely he gets into any meaningful games unless something goes wrong with Latkoczy.
Patrik Andrisik comes into the tournament after being held off the December roster and should act as the third goalie. I'd be surprised if he sees any game action, but he had an impressive 12-5-0 record in the German Development under-20 league.
Defensemen
Denis Bakala (HC Presov), Simon Groch (HC Olomuc), Viliam Kmec (Prince George Cougars), David Natny (HC Presov), Rayen Petrovicky (TUTO Hockey U20), Maxim Strbak (Jokerit U20), Adam Stripal (HK Dukla Michalovce), Boris Zabka (HC Slovan Bratislava)
Losing Nemec is huge for Slovakia. He was by far the best defenseman on the roster in December. Losing Samuel Knazko is also a blow, as he was a leader and a solid blueliner. This group is missing talent on the back end, with zero drafted defensemen and just one 2023-eligible prospect.
That prospect is Maxim Strbak, a University of Vermont commit who put together a strong under-20 season in Finland and was impressive for the Slovak under-18 team last season. Expectations shouldn't be too high, however, as he isn't the type of 17-year-old to dominate this tournament, but he should inject some skill into this group.
Rayen Petrovicky will captain Team Slovakia, bringing a veteran presence on the back end as a 20-year-old. The rangy defenseman will have to step up in Nemec's absence and take on a big role.
Despite their lack of star talent on the blue line, the team does possess a fair amount of size, something they can, hopefully, use to their advantage. If not, this will be a long tournament for this group, as teams like Canada and Finland may run through them.
Forwards
Jakub Demek (Edmonton Oil Kings), Dalibor Dvorsky (AIK), Roman Faith (Bratislava Capitals), Samuel Honzek (Vancouver Giants), Maros Jedlicka (HKM Zvolen), Matej Kaslik (Chicoutimi Sagueneens), Lubomir Kupco (Des Moines Buccaneers), Martin Misiak(HC Nove Zamky), Oleksij Myklukha (Rouyn-Noranda Huskies), Libor Nemec (Lukko U20), Servac Petrovsky (Owen Sound Attack), Peter Repcik (Cape Breton Eagles), Oliver Stumpel (Corpus Christi IceRays), Adam Sykora (HK Nitra)
Without standouts, Slafkovsky, Chromiak, or Filip Mesar, Slovakia will be looking to New York Rangers' second-round pick Adam Sykora to step up. Sykora brings a high compete level, great skating, and excellent stickhandling to the table and is more than capable of putting together a strong tournament. He does work better as a complementary player instead of a play-driver, but there's enough talent there for him to thrive in an elevated role.
While Sykora is likely Slovakia's best player, no one is more intriguing than the 2023 draft-eligible Dalibor Dvorsky. Some have referred to him as the next best player after the big three prospects for 2023, and he sits near the top of what is widely considered an incredible draft class. Dvorsky had the most points for an under-17 player in the J20 Nationell last season and earned himself 17 games in the Allsvenskan, showcasing why there's so much hype about him. A complete package at center, it will be interesting to see how he performs compared to fellow 2023 draft-standout Connor Bedard.
Jakub Demek should also impress. The Vegas Golden Knights 2021 fourth-round pick finished with 20 goals and 54 points in 55 games in the Western Hockey League (WHL) last season. Hopefully, the 6-foot-4 winger can bring that offensive firepower to a team that needs it.
Related: Team Slovakia Players to Watch at the World Juniors 2022
Alternate captain Roman Faith will also be important in his second tournament. In 2021, he had a goal and assist, which, unfortunately, tied for the team's third-leading scorer. In the top Slovakian league this season, he has a goal and three points in eight games.
Last year's top-scoring forward, Michal Mrazik, will hopefully improve on his three points in five games. He tallied six goals and 10 points in 25 games in Slovakia's top league last season.
Servac Petrovsky, a sixth-round pick by the Minnesota Wild, was a productive player in the Ontario Hockey League (OHL). After coming over to North America, he produced 54 points in 65 games for the Owen Sound Attack.
Which Slovak are you most excited to see in this year's World Junior Championship? Let me know in the comment section below!
Guide to the 2022 World Junior Championship
2022 World Juniors Schedule, Groups, Rosters, Predictions & More
One Player to Watch From Each Team
Breakout Candidates & Sleeper Prospects
Predictions for the 2022 World Junior Championship
Award Contenders and Predictions
2022 World Juniors: 2023 Draft-Eligible Players to Watch
6 Predictions for the 2022 World Junior Championship
---
---
---
Latest News & Highlights
---