Christopher Ralph is a hockey writer with a focus on prospects and the entry draft, as well as the Leafs' correspondent here at THW.
"Full Potential" Prospect Profile: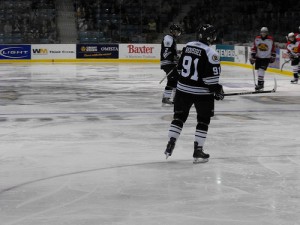 Please "Click Here" for "Notes Up Front" and the "Legend" for various topics covered below, as well as a running live updated NHL 2009 Draft rankings.
22. Charles-Oliver Roussel – St-Eustache, PQ – 6'1″ – 200 lbs – QMJHL – Shawinigan – D
One-Timer: One of the youngest players eligle for this draft (If he was born three days later, he'd be in the 2010 draft instead). The two-way blueliner is extremely poised and very versatile. Whether you need him to man the powerplay, shut-down the opposing key players, or play a nasty physical game – Roussel will be making the NHL team's scouting department who decides to select look very good! C.O. had 44 points in 68 regular season games and was 9th in QMJHL with a plus 31 ratings. He followed that up with a monster playoffs – 18 points in 21 games! He is very good skater and possesses a cannon of a shot. I have this kid ranked higher than probably any rankings you find, but if he falls to the 2nd round, as he likely will, I envision Shea Weber Part Deux.
Red Line Report had this to say about his performance in the Top Prospects game: "Played a very steady and efficient game at both ends.  Laid on the biggest open ice hit of the night when he caught Ferraro crossing across the grain and laid him out with a shoulder.  Frequently showed his ability to take the puck and move up on the rush and even lead the break.  Strong skater with the puck on his stick and always has his head up looking for a play.  Has the smarts to read the attack and diagnose developing plays, and the muscle to move guys out in the crease.  Strong 1-on-1 play.  Has a very heavy point shot and will be a triggerman on the PP."
NHL Player(s) Comparison: Shea Weber, Dion Phaneuf
Scouting Combine Performance: C.O. finished 10th in the "Hand-Eye Coordination" event, tied for 1st in the "Jump Mode Power Factor" section, and 9th in "Right Hand Grip".
International Tournaments: NHL.com highlights: "Roussel's 2008-09 season was highlighted by a selection to the Second All-Star Team, the 2009 CHL Top Prospects Game and the 2008 Canada/Russia Challenge."
ETA = 3 years
Risk-Reward Analysis: Risk = 2/5   Reward = 4.5
NHL Potential: #2 or #3 two-way physical defenseman
Fantasy Hockey Potential: Offensive = 8/10   Defensive = 8.5/10
Other Rankings:
ISS: 41
CSB: 36-NA
TSN: not ranked
THN:  35
Video Links:
httpv://www.youtube.com/watch?v=apHUXqxvjog
This document is the intellectual property of Christopher Ralph and cannot be used or duplicated in anyway without expressed written consent. Any use of this document without the expressed written consent of Christopher Ralph will result in public exposure and legal prosecution.