The Buffalo Sabres compiled an impressive group of prospects during their rebuilding years.
From the rebuild through the present day, general manager Tim Murray has adjusted the roster through trades and free agency. Through this change, opportunities have emerged for Buffalo's young talent to earn a spot with the team. To date, leading the way on this front are forwards Jack Eichel, Sam Reinhart and defenseman Rasmus Ristolainen who have secured regular roles with the club.
As the 2016-17 season progresses, more of the Sabres' young talent will find their way to the big club when opportunity knocks. With Eichel and Evander Kane missing time due to injury, there already have been opportunities for Buffalo's young talent this season. Three prospects Sabres fans should put on their watchlist are forwards Nicholas Baptiste, Alexander Nylander, and Justin Bailey.
Related – 2006-07 Buffalo Sabres: Where Are They Now?
Nicholas Baptiste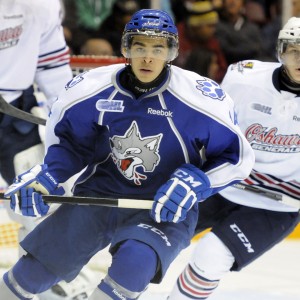 Sabres' forward Nicholas Baptiste played in the Ontario Hockey League for the Sudbury Wolves during the 2011-12 season. Baptiste played in Sudbury for parts of four seasons. He served as an assistant captain in 2013-14 and as the club's captain during the 2014-15 season.
The Wolves traded Baptiste to the Erie Otters during the 2014-15 season which afforded the youngster a chance to play alongside forward Connor McDavid. In 248 career games with Sudbury and Erie, Baptiste scored 106 goals and 228 points.
Buffalo selected Baptiste in the third round of the 2013 NHL Entry Draft. He spent last season with the Rochester Americans in the American Hockey League where he scored 13 goals and 28 points in 62 games.
Baptiste works hard on the ice, is a solid skater and has shown he can be a strong contributor on offense. He scored his first NHL goal in the Sabres' recent tilt against the Vancouver Canucks. The 21-year-old continues to work on his game in Rochester in preparation for his next NHL opportunity in Buffalo.
I'm sure Nicholas Baptiste will return to Sabres someday, but if not he'll probably go down as only NHL player with 1 goal and no shots. pic.twitter.com/m14UOCYkDx

— John Vogl (@BuffaloVogl) October 23, 2016
Alexander Nylander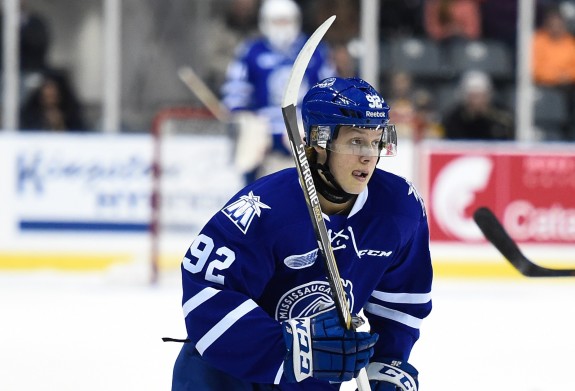 Alexander Nylander refined his hockey skill set while playing in Sweden. He spent time during the 2014-15 season with AIK of the SuperElit league. Nylander scored 15 goals and 40 points in 42 games with AIK.
Last season, Nylander played in the OHL with the Mississauga Steelheads. He had a strong season with the Steelheads tallying 28 goals and 75 points in 57 games. Nylander's 75 points led all rookies in the OHL last season and he received rookie of the year honors for his efforts.
GOAL: Here's Alexander Nylander's sick penalty shot goal. 4-2 Blue lead. pic.twitter.com/DvduvEP03Q

— TOM MARTIN (@LetItFlyTom) July 9, 2016
Buffalo drafted Nylander in the first round of the 2016 NHL Entry Draft with the eighth overall selection. The draft took place in Buffalo and Nylander was introduced to Sabres fans at a party outside the arena shortly after he was drafted. Nylander has a lot of speed and is very skilled with the puck. The 18-year-old is awaiting his first call-up to the Sabres but in the meantime he will continue to develop in Rochester this season.
Related – Top 5 Sam Reinhart Goals in 2015-16
Justin Bailey
Last but certainly not least, Justin Bailey is another Sabres prospect who is working hard to earn a regular role in Buffalo. Bailey is a native of Williamsville, N.Y. which is a suburb of Buffalo. He is also the son of former Buffalo Bills linebacker Carlton Bailey.
Bailey spent much of his OHL career with the Kitchener Rangers. He played for the Rangers beginning in the 2012-13 season and in 2014-15, Bailey served as an assistant captain for Kitchener. However, he finished the 2014-15 season with the Sault Ste. Marie Greyhounds.
Congratulations Justin Bailey. 20 goals as an AHL rookie is a big deal. Amerks lead Monsters 2-1. #Sabres

— Kris Baker (@SabresProspects) April 10, 2016
During his OHL career, Bailey scored 75 goals and 148 points in 168 games. He spent eight games with the Sabres last season but he is still in search of his first NHL point. Drafted by the Sabres in the second round of the 2013 NHL Entry Draft, Bailey found success with Rochester last season. The 21-year-old scored 20 goals and 45 points in 70 games. He was named the Amerks' rookie of the year last season. Bailey is a fast skater, has a powerful shot, and he is eager for another chance to play in front of his hometown crowd in Buffalo this season.
Tim joined The Hockey Writers in July 2013. He began his tenure with THW by covering the Minnesota Wild and he now writes on the Buffalo Sabres. Tim completed his undergraduate and graduate work at the University at Buffalo. In addition, he is a published historian and a Baltimore Orioles Contributing Writer for LegendsOnDeck.com. Tim's work for THW has been featured on sites such as Yahoo.com. Follow him on Twitter @TOHockeyTHW