Almost a month ago, the Boston Bruins found themselves in dire straits.
Prior to their November 19 clash against the Minnesota Wild, they were four points out of a wild card spot and just a point clear of last-place Toronto in the Atlantic Division. Goaltender Tuukka Rask had been struggling while the Bruins relied heavily on their road form (6-2-0) and backup Jonas Gustavsson to keep their heads above water. Causeway Street was filled with uncertainty and worry.
Now, things are looking much more promising around the TD Garden. Boston has caught fire with an 8-1-2 record in their last 11 games, vaulting them into third place in the Atlantic Division with two games in hand on second-place Detroit and three on first-place Montreal. Gloom and doom has (at least for now) been placed with cautious optimism as the streaky Bruins are riding their strongest wave of momentum so far this season.
Winning The Special Teams Battle
Remember when the Black and Gold had the worst penalty kill through the first six weeks of the regular season? Well, that was then and this is now.
Boston's penalty kill has been nothing short of spectacular lately. They've been perfect on the PK in nine of their last 11 games and have allowed just three power play goals to opponents in their last 38 opportunities (92.1%). The presence of captain Zdeno Chara has made a significant impact as he has been a shorthanded minute muncher for the B's this season. The 38-year-old defenseman leads the Bruins in shorthanded time-on-ice and is eighth overall in the NHL so far this year (97:51).
http://gty.im/499994860
They've also shown they aren't afraid to go on the offensive as well. Boston has managed to score three shorthanded goals in their last nine games. Brad Marchand has two of them thanks to a goal in Toronto and a penalty shot marker against Calgary that should have been a game-winner were it not for Jiri Hudler's last-second heroics. Loui Eriksson lays claim to the third shorthanded goal scored in Montreal last Wednesday, which effectively ignited the fire for a 3-1 comeback victory over the Canadiens.
As for the power play, they have cooled off a little bit. The Bruins have only generated 24 opportunities on the man advantage in their last 11 games and have five goals to show for it. Star center Patrice Bergeron has been a force on Boston's power play this season and has played a part in all five of their markers while up a man during this most recent stretch. The reigning Selke Trophy winner has scored one of those goals and assisted on the other four.
The Bruins have the fewest power play chances in the League (78) yet they lead in PPG's (24) and efficiency (30.8%). They have truly made their opponents pay for taking bad penalties this season and show no signs of stopping.
63, 37 and 21
Three of Boston's best forwards this season have continued to be key cogs in their offensive machine during the last month.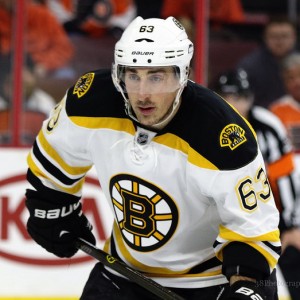 The aforementioned Bergeron has been on a tear scoring 13 points (four goals, nine assists) in the club's last 11 games, including two assists in Saturday's 3-1 victory over the Florida Panthers. The lifelong Bruin has mostly been known as one of the League's best defensive forwards over the last several years but is as good in the offensive zone this year. His 15 power-play points is tied for the League-lead with the NHL's top scorer in Patrick Kane.
Marchand has burned out the bulbs in the goal light as well. The pesky winger has found the back of the net eight times in his last 11 games including the two shorthanded markers in Toronto and Calgary. He leads the Bruins with 14 goals on the season and is on track for his fifth 20-goal campaign in six full seasons. Marchand has been a model of consistency in his young career and could challenge the 30-goal plateau for the first time.
Eriksson has been another major player up front for Boston. The first-line winger is in the midst of his best season with the Bruins with 11 points (five goals, six assists) in his last 11 games. The highlight of his 2015-16 campaign so far has been his natural hat trick against the Wild back on November 19. His renaissance this season will leave the Bruins with a big decision to make as Eriksson is slated to hit the open market at season's end.
What Time Is It?
"Tuukka Time" is coming back to Boston.
http://gty.im/501163926
The 28-year-old netminder, who was the subject of mock cheers in his own building earlier this season, is coming on strong. He's 6-0-2 in his last eight appearances with a goals-against of 1.53 and .948 save percentage with two shutouts.
Rask has stolen his fair share of games over the course of the last few weeks. A 39-save performance in Toronto enabled the Bruins to steal two points in the shootout. His 24-saves in relief of an ineffective Gustavsson in Calgary enabled the B's to snag a point after struggling early on.
His best performance came in the face of some serious adversity against a team that has owned him in his career. An impressive 32-save performance in Montreal was highlighted by 25 saves in the first 40 minutes. When the rest of the Bruins failed to generate any offensive flow and were hemmed in by the Habs, Rask needed to be their best player and steal a game his team didn't deserve to win.
Sure enough, he was. The Finn kept his team in the game long enough for them to steal two points. It's game like these that make Rask one of the more elite goaltenders in the game. Right now, he's playing like one.