The length of the NHL preseason has always been a topic of debate throughout the NHL. Owners, coaches and even players believe the preseason is far too long and the idea of a preseason injury in a game that means nothing more than a try-out or tune up is a very realistic fear for many members of the team — fantasy hockey player owners.
As the preseason closed out last Sunday, so had many fantasy drafts, meaning many fantasy rosters had been made and were ready for the year to start.  These same owners had their fingers crossed that their top players made it out of the final preseason games healthy and ready to start the 2016-17 season. Below I break down a few fantasy draft picks that will be starting the year in the unfortunate "IR" slot for teams, and the players on the same teams who will benefit from their superstar's absence.
Sid the 'Not So Much' Kid… Anymore
When it was announced this past Monday that Sidney Crosby was diagnosed with a concussion, the whole hockey world, especially fantasy owners, felt a huge wave of disappointment fall over them as arguably the league's top player will be out indefinitely yet again with a concussion. Many people still remember Sid's previous concussion issues, which saw him play a total of 63 games across a two year 164 game stretch from 2011 to the end of 2013 and even had some fans thinking he would never return to the sport again.
Related – Sidney Crosby's concussion history makes latest one more troubling
Who Steps In
The obvious front-runner to be a fantasy beneficiary is veteran all-star Evgeni Malkin. In 2011-12, during one of Crosby's extended absences, Malkin managed to put together his first 50/50 season while leading the league in both points (109) and goals (50) on way to winning both the Hart and Ted Lindsay Award that season. At the age of 30, Malkin is sure to start the year as a number one fantasy option now that the Penguins are being led by his scoring touch much like the 2011-12 season.
With Malkin sliding into the team's top unit, there is still a large gap to be filled in the Penguins top six, and this is where you can expect to find your Crosby replacement.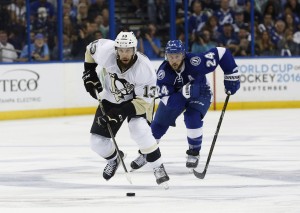 Nick Bonino will look to take an extended, unfamiliar offensive role with the team in Sid's absence. After a mediocre 29 point season a year ago, Bonino should become a lot more heavily relied upon playing alongside familiar wingers in Carl Hagelin, and Phil Kessel.  This uptick in ice time, especially in offensive situations should lead to an overall point boost for the defensive minded Bonino, and depending on the extent of Crosby's concussion, could make Bonino a very effective waiver wire pickup in many fantasy leagues for an extended period of time. As of right now, Bonino is slotted in on the Penguins first power play, a position which automatically boosts his fantasy value due to the overall talent surrounding him in the likes of Letang, Malkin, and Kessel.
Jonathan Huber-No
A week ago it was announced Jonathan Huberdeau would miss up to three to four months with a leg injury to start the 2016-17 season.
Related – Panthers' Huberdeau out 3-4 months after suffering ankle injury against Devils
Who Steps In
The Panthers traded veteran stay-at-home defenseman Erik Gudbranson in the offseason to the Vancouver Canucks for young prospect Jared McCann in hopes of bolstering their already impressive offence. Little did they know they may have been trading for a first-line replacement left winger in McCann, who comes into the 2016-17 season fresh off of a rookie year which saw him accumulate 18 points across a 69 game spread. With the loss of Huberdeau, the Panthers will be looking for any type of offensive spark to jump start their offense and McCann may offer just what they need.
If anything McCann should earn himself some power play time in Huberdeau's absence which at the least warrants him a second look when looking for a replacement. Harvey Fialkov of the Sun Sentinel reports if anything "With Huberdeau out it may allow McCann to move up to the third line to take Marchessault spot." McCann and the Panthers hope his solid junior numbers which saw him put up 34 goals and 37 assists in his final year with the Sault Ste. Marie Greyhounds will translate into his professional game and therefore relevant fantasy numbers. Keep an eye on McCann and where he is placed in the talented Panthers lineup as the year and your fantasy season get under way.
Another player to keep an eye on while filling in for injured Panthers will be second-year pro Jonathan Marchessault. Marchessault was moved onto the first line for the Panther's season opener next to Aleksander Barkov, and Jaromir Jagr. He finds himself in a very nice position for success and if he can stick on the top unit will warrant a pick-up in almost all fantasy leagues. He proved last year with 18 points through 45 games that he is ready to succeed; all he needs is the chance and appropriate minutes. This very well may be that chance.
Keep an eye on the two left wingers out in Florida, as they try to find internal solutions for their injury woes.
A Classic Case of Schwartz
If you drafted Jaden Schwartz in the early round of your fantasy draft you almost had to assume at some point he would be occupying your IR spot throughout the fantasy season. Since joining the league in 2011-12 Schwartz has never managed to put together a full 82-game season, and starting this year with an injured elbow will ensure he does not reach that feat yet again.
Related – St. Louis Blues Jaden Schwartz Injured, Fans Meltdown
Who Steps In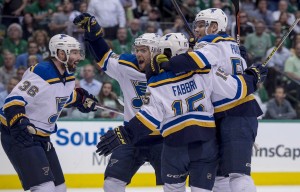 The loss of a first line left winger can cause a whole assortment of problems for any fantasy team. Luckily the St.Louis Blues have a very talented, and extremely fantasy relevant Robby Fabbri waiting to step in and take Schwartz's lost minutes. In 2015-16, Fabbri's rookie season, he managed to amass a solid 18 goals, 19 assists and 37 points all while averaging a mere 13:19 average time-on-ice. Barring a sophomore slump, Fabbri will likely be stepping onto the top line as well as the top power play unit for the time being. Fantasy owners can expect his time on ice average to soar up to the higher teens with an obvious uptick in overall points as well as power play points. Fabbri is an excellent selection to be replacing Schwartz and is currently only owned in  just above 56% of Yahoo Fantasy Leagues (as of October 10th) meaning if you're in a shallower league he may be an easy, relevant replacement pickup, or a great trade target if you're in a deeper league. Fabbri showed last year he had all the tools to one day become an NHL superstar, Schwartz's injury may just be speeding up that process.