Last year, the Canucks were lambasted for exposing and losing a young player on the waiver wire.
When general manager Jim Benning did the same thing on Wednesday, there was barely more than an eyebrow raised.
On Wednesday, the Canucks announced that they were placing 24-year-old forward Emerson Etem on waivers. Benning decided to give up on the young winger after acquiring him in a January trade for Nicklas Jensen and a sixth-round draft pick.
Related – Emerson Etem Remains a Wild Card
Even though Etem had a disappointing camp, it would have been a bit surprising to see all 30 NHL teams pass on him considering he was once a highly-touted prospect. Surely enough, the Anaheim Ducks snagged Etem off of waivers, bringing the winger full-circle after he was drafted by the organization in 2010.
Jim Benning on Emerson Etem: "I talked to a few teams. I couldn't make a trade or get an assett, so we put him on waivers." #Canucks

— Canucks Now (@CanucksNow) October 13, 2016
The main reason why the Canucks let go of Etem was because they decided to sign Jack Skille to a one-year, one-way contract worth $700,000. Skille impressed the Canucks management in the preseason with his strong skating, nose for the net and willingness to finish his checks. He comes to Vancouver after playing in a career-high 74 games with the Colorado Avalanche last season.
Skille wasn't part of the 12-man forward group during the Canucks practice on Thursday, although head coach Willie Desjardins said he was given the day off to find a new home in Vancouver. Fair enough, but he will likely slip down the depth chart even further when Anton Rodin returns from injury.
Although losing Etem won't have fans ripping their hair out, was it really worth it to sign Skille at the expense of losing Etem?
Once upon a time, the Ducks had Emerson Etem. Then, they had Carl Hagelin. Then, they had David Perron. Now, they have Emerson Etem again.

— Felix Sicard (@Felix_Sicard) October 13, 2016
Too Much Preseason Emphasis
With fans eager to get the regular season underway, often we get too excited when the preseason begins. Of course, we all can't wait for the real thing, but often there is too much of an emphasis on preseason performance.
As far as the preseason went, Skille outperformed Etem. Although neither player registered a point during the preseason, Skille had an extra gear in his stride and drove to the net more than Etem. Etem's preseason showing reminded fans of what Sven Baertschi looked like last year before he broke out. Baertschi continually played on the perimeter, before he realized that you need to go to the net in order to score.
However, it's easy to forget that Etem was one of the best Canucks during the last few games of the regular season. Etem scored four goals in five games, and also got the shootout winner against Edmonton in the season finale. It looked like Etem was making a statement that he wanted to be a bigger part of the Canucks moving forward.
with Etem to ANA, adds to conversation about #Canucks organizational depth. One less potential call-up from Utica

— Jeff Paterson (@patersonjeff) October 13, 2016
Obviously, that didn't occur due to his poor training camp. However, it's hard to blame the guy after he just welcomed the birth of his first child during the preseason. Some guys can play through moments like that on adrenaline. Jannik Hansen famously scored against the Calgary Flames not even 24 hours after his wife gave birth to twins.
Despite Etem's poor preseason, his strong regular season finish should have given him some breathing room. After all, he did tally 12 points in 39 games as a Canuck, whereas Skille has 14 points in 74 games with Colorado last season.
Roster Battles Lead to Tough Decisions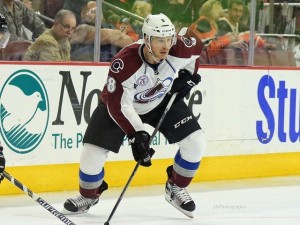 If there is a silver lining in the release of Etem, it's that he lost his job due to the intensity of Canucks training camp. In what was one of the most eventful Canucks preseasons in recent memory, Etem was outperformed by players such as Brendan Gaunce, Anton Rodin, Markus Granlund and the aforementioned Skille.
Benning did a good job of bringing into players on PTO's who pushed the younger players during the preseason and forced them to be better. Most of the young players were able to elevate their game. Unfortunately for Etem, he was the odd man out.
While the roster decision to release Etem may be questionable, it was probably the best-case scenario for the Long Beach, California native after being waived. Just after the birth of his son, he can return to his hometown instead of traveling across the continent to play for the Utica Comets.
While being closer to home may be comforting, this is likely the last chance for Etem to land an NHL job.