The writing was on the wall for Nicklas Jensen as far back as last season.
In a somewhat unsurprising move from a Canucks standpoint, Vancouver traded 2011 first-round pick Jensen and a 2017 sixth-round selection to the New York Rangers for Emerson Etem.
It's a trade that gives a fresh start for both former 29th overall picks (Etem in 2010, Jensen in 2011) who were struggling with their respective organizations. For Etem, he joins a Canucks team which is now brimming with ex-Medicine Hat Tigers who used to be coached by Willie Desjardins. Etem, Linden Vey, and Hunter Shinkaruk all spent time with the Tigers under Desjardins' tutelage.
Benning: (Etem) gets to the net. He was a prolific junior scorer. I was excited because he'll add speed to the group

— TSN Radio Vancouver (@TSN1040) January 8, 2016
The addition of Etem should be an immediate upgrade to the Canucks bottom-six. With older, slow wingers such as Chris Higgins and Brandon Prust on the Canucks roster, Etem's speed will be a welcome sight. He should slot into the Canucks bottom-six smoothly, although the Canucks are hoping he finds his top-six potential. Here's hoping he can recapture some of his success that he had playing for Desjardins in the WHL, even if that has not worked out so far for Linden Vey.
Jensen Had Fallen Out Of Favour
Mike Gillis and the Canucks scouting team had high hopes that Nicklas Jensen would turn into a speedy top-six winger with size and scoring ability when they selected him in 2011.
He earned himself some recognition before the draft in both the CHL and international competition. He represented Denmark in the World Juniors on two occasions, registering 10 points in 10 games. More impressively, he scored 13 goals in 5 games for Denmark at the U-18 World Juniors.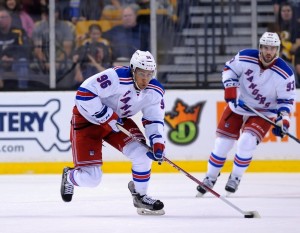 Some interesting notes from his scouting report include a comparison to Rick Nash, who could be Jensen's teammate if he earns a call up from Hartford. What was also mentioned in the scouting report was the potential for Jensen to become a bust based on the inconsistencies with his play.
Those inconsistencies have contributed to Jensen's plummeting stock as he was never able to solidify his game in the AHL. Here's what Benning had to say about Jensen during the offseason, in an interview with The Vancouver Sun.
"He's in danger of falling in between (roles)," Benning said. "He's not the natural goal-scorer to play in the top six, and he has to round out his game better to play in the bottom six. The details in his game have to improve."
With four goals and 12 points in 27 AHL games, clearly Jensen had not done enough to earn some consideration for a call-up anytime soon. After the trade, Benning said on TSN 1040 that "we've had some players that maybe have passed him on the depth chart."
Most notably, two of those players are first-round picks who were selected after Jensen. 2012 first-round pick Brendan Gaunce and 2013 first-round pick Hunter Shinkaruk have swiftly passed him on the organizational depth chart with their impressive AHL campaigns.
Hunter Shinkaruk named to @theAHL All-Star Classic in Syracuse.

Release: https://t.co/XK54zI2I65 pic.twitter.com/eUiz2yjhwW

— Utica Comets (@UticaComets) January 7, 2016
Jensen had clearly fallen out of favour in the organization, and kudos to Canucks general manager Jim Benning for acquiring Etem in return for a diminishing asset. Jensen also would have required waivers next season, and the Canucks did not want to lose him for nothing.
Maybe Jensen will revitalize his career with the Rangers, but it was quickly becoming clear that he was not going to turn it around with the Canucks.