Please "Click Here" for "Notes Up Front" and the "Legend" for various topics covered below in my "Live Updated" NHL 2011 Draft Preview article.
Nicklas Jensen
Date of Birth: March 6, 1993
Hometown: Herning, DEN
Ht: 6-2 Wt: 187
Shoots: Left
Position: Left Wing /Right Wing
NHL Draft Eligibility: 2011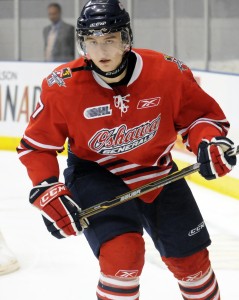 One Timer:
Nicklas Jensen may become the best Danish hockey player ever.  The 6-foot-3-inch winger has been trending in the right direction but has yet to receive the recognition he deserves.  Jensen plays a strong north south style of game and projects to become a solid complementary player in the NHL.  The Danish hockey players have started to become more common around the NHL as players like Jannik Hansen, Frans Nielsen, Mikkel Boedker and Lars Eller attempt to establish themselves as everyday NHLers.  Like Boedker (8th) and Eller (13th) before him,  Nicklas Jensen is looking to become the third Danish player to be selected in the first round and he has the potential to become the best ever.
Jensen has a sizeable frame and the natural hockey qualities that scouts look for – soft hands, great shot, and a good hockey sense. Jensen lacks that elite top end speed but is capable of finding time and space with his slick hands and elusive playing style.  It took Nicklas a while to adjust to the CHL game but he eventually impressed when he notched 11 goals and 8 assists in just twelve January games.  The former Rookie of the Year in the top Danish League projects to become a top-6 scoring forward with 30+ goal scoring upside.  However, the inconsistencies in his game are alarming and there is a "bust" potential if Nicklas cannot find a way onto scoresheets more regularily.  His pro-calibre shot and intriguing offensive potential will surely make him a first round selection but his all-too-common disappearing acts could find him sliding further than his talent warrants.
Top Prospects Game
Jensen skated for Team Cherry in the Top Prospects Game but failed to register any points on the game sheet.
Statistics:

Scout's Honour:
-NHL Central Scouting's Chris Edwards,
"Nicklas has adjusted very well to the OHL. His puck-handling and play-making ability are excellent. He has an excellent wrist shot that he gets off quickly."
– Oshawa Generals GM and coach Chris DePiero,
"He's starting to take off, certainly after Christmas, after he returned from the World Junior B pool and spending some time at home, since he's been back he's been on fire. It's renewed confidence for him. He's proving that the accolades coming his way are well deserved. They feed off each other (Lucas Lessio, Andy Andreoff and Nicklas Jensen). It's not the pretty passing plays, it's the little touch passes. They utilize their size and their quickness. Their puck protection is excellent. … They have a chemistry, the three of them. It's been kind of neat."
– Kirk Luedeke of B2011DW,
"He's a long strider who covers a lot of ground with a powerful push, but needs to keep the feet moving. He can really rip it, too- scores more than a few goals from the outside with laser release and ability to pick corners. So, while he brings some real impressive talents and abilities to the mix, Jensen has to keep his compete levels at a higher level. How far will he drop in the draft? Our guess is not too far past 20 if at all because he is such a talented player that a team is likely going to believe they can reach and keep motivated…If Boone Jenner's motor was installed inside this kid, he'd be a top-three pick- no kidding. Big upside with this one, but some bust potential as well."
– HockeyProspect.com's 2011 NHL Draft Guide
Bio/Interview(s)/Link(s):
True Hockey – Featuring Oshawa's Nicklas Jensen 
Yahoo! Sports – Draft tracker: 5 questions with Nicklas Jensen, Oshawa Generals
2011 Draft Class:  Nicklas Jensen
THN:  Nicklas Jensen
Dan Sallows – Player Profile: Nicklas D. Jensen
International Tournaments:
2009-10:  Jensen competed for Denmark on both the Under-18 and Under-20 teams.  In five games at the U-18 (D-1A) Tournament, Jensen tallied 13 goals and 2 assists for 15 points.  At the U-20 (D-1A) Tournament, Nicklas notched 3 goals and added 2 assist in five games en route to being named Team Denmark's Top Player.
 2010-11:  Jensen again represented Demark at the Under-18 Tournment (D-1B) scoring 2 goals and 3 assists in five games as his team went on to win Gold.
ETA: 3 years
Risk-Reward Analysis:
Risk: 2.5/5 Reward: 4/5
NHL Potential:
Top 6 Scoring Line Winger or Bust (30+ G, 30 A)
Strengths:
*See "One Timer" section above
– Fantastic release and wrist shot
– Strong playmaking abilities
– Tremendous finishing ability
– NHL Size
Flaws/Aspects He Needs to Work On:
– Improve on his overall strength
– Needs to bring his 'A' game more consistently
– Continue to add bulk to his frame
 – Improve on utilizing his large frame for puck protection
Fantasy Hockey Potential:
Offensive: 8.0/10 Defensive: 7.0/10
NHL Player Comparison:
Rick Nash
Video(s):
Off the Iron (Interesting Notes):
– Jensen won the 2009-10 Rookie of the Year honours in Denmark's top league after recording 26 points in 34 games (12-14–26).
– Jensen was chosen eighth overall at the 2010 CHL Import Draft by the OHL's Oshawa Generals.

– Ottawa Senator Peter Regin is Jensen's childhood hero and hails from his hometown.
– In my mock draft, Nicklas Jensen is projected to go 21st to the Ottawa Senators
Brendan Ross is THW's Detroit Red Wings' writer and also specializes in prospect and fantasy writings. Twitter: @rossyyoungblood
THW's The Next Ones prospect profile template design architect: Chris Ralph
This document is the intellectual property of Brendan Ross and cannot be used or duplicated in any way without expressed written consent. Any use of this document without the expressed written consent of Brendan Ross will result in public exposure and legal prosecution.
My passion for the game has led me to writing about hockey, specifically dealing with the future of hockey and it's prospects.
You can find more of my work at DobberProspects.com, TheHockeyGuys.net and OHLWriters.com
Outside of the rink, I enjoy spending time with my friends, golfing, kayaking and fishing as well as competing in several of my own hockey leagues.
If you so do choose, please feel free to follow my thoughts and work on twitter @RossyYoungblood