By Angie Lewis and Keara Dowd
Keara begins…
At first thought, it is easy to dismiss the Jaromir Jagr to Washington talks as unfounded rumors.  It's easy to think that it would be a terrible idea for the Caps to consider taking the Czech star back ten years after he first joined the team.  It's easy to think he has nothing left, and that signing him would be an even bigger mistake than the first contract turned out to be.
Go a little deeper, and becomes clear that not every aspect of a potential deal between Jagr and the Caps would be bad.  There are some pros to signing the former NHL star, however faded that star may seem.
Pros:
First, he is still Jaromir Jagr.  The Stanley Cup, Art Ross, Hart, and Lester Pearson Awards all have his name engraved on them.  He scored 646 goals and 1,599 points over the course of his NHL career.  He's no hockey slouch.
During the Olympics, Jagr showed that he still has a spark.  He scored two goals and an assist in 5 games for the Czech Republic, and he was the flag bearer for his country during the Opening Ceremonies.
There is reason to believe that this time around would be different for Jagr and the Caps.  First reason being, it's a completely different team.  Few people in the whole organization were there when they first signed Jagr, a decision Ted Leonsis considers to be his biggest blunder as owner of the Caps. However, the problem then was that Jagr was signed to be the superstar.  He was signed to be "the guy", when that isn't his game.  He proved in Pittsburgh that he is better as a complementary player to a superstar, and now that the Caps have Alex Ovechkin, it could be a great combination if the two could garner some chemistry.
Jagr's age will be a factor, as will whatever price he is expecting from teams.  However, with the salary cap raised to about $64 million, the Caps will have about $13 million to spend. If Jagr doesn't get greedy, it might be time to do some experimenting.  Hey, the last time they took a chance on an aging star, Sergei Fedorov scored the game-winning goal to eliminate the Rangers in Game 7 of the 2009 Eastern Conference Quarterfinals.
It would be risky, but the Caps can afford that risk for the right price.  The last experience with Jagr can't be used as an indicator of what this time around would be.  It is a different team with different players in a different situation.  If Jagr has more left in the tank, his complementary skillset as a potential top-6 forward could be exactly what the Capitals need to take it to the next level.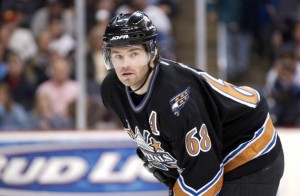 Then Angie steps in…
The Washington Capitals' situation is not the same as it was about ten years ago when Jaromir Jagr was brought to the team. The team is finally a playoff contender year-in and year-out. As Keara said, Jagr is not a stand-alone type of player, unlike what the Caps previously thought when they traded for him in 2001. With Jagr being a complementary player, I can see how a stint in Washington would go differently than his first go-around with the Caps. However, different does not equal better.
Cons:
First, Jagr may be a complementary player, but the Caps have a lot of players that can contribute alongside top scorer Alex Ovechkin's lead. With the possibility of the Caps bringing back Jason Arnott and Brooks Laich, and keeping the regulars Nicklas Backstrom and Alex Semin among others, the list goes on of players who can be considered "complementary" players in Washington. Considering the depth in that role then, how "complementary" is Jagr willing to be? He was once a high-producing star. Is he willing to diminish that role even more than would naturally occur?
Alone, the Capitals have $13 million in cap room left heading into free agency, and that is with the expected cap expansion. But the Caps have many more players to pursue when regarding free agents (Arnott, Laich, Karl Alzner, Semyon Varlamov, Boyd Gordon and maybe a new addition). The veteran scoring assistance that Jagr will supposedly take on can be taken over by Jason Arnott, who did a fairly good job in that position last season. My prognosis is that Arnott will be cheaper than Jagr, and be more of the kind of player Washington can utilize for more than an end-of-the-season push.
With Jagr's price tag being such a huge factor in whether to sign him, an important thing to consider when thinking about bringing Jagr back to the Capitals is the risk involved. For instance, his age is an issue. Yes, Jagr may have been an impact player when he played in the Olympics and other international stages, but the NHL is the true test of one's talent. Jagr may have been one of the premier scorers internationally, but will he be able to sustain that production in the NHL regarding the constant wear and tear. Jagr also has never been the best defensive forward in the league. While Washington may return to a more balanced style of hockey next season, a player with more two-way upside should be more of a priority.
There are younger players who can fit into Jagr's role where if the Caps are not 2011-2012 Stanley Cup winners, it won't hurt so much because their price is lower and/or they bring more to the table like a better defensive game or can be more physical, which I think is something Washington needs to add to their arsenal.
As a long-time hockey enthusiast, I would actually like to see Jagr back in the NHL. However, Jagr in Washington would disrupt the flow of where the Caps are trying to go with this team, and would only be justified as a desperate move if no one else wants to sign in DC. Not to mention Jagr's reception in DC if he returns may not be so warm.
Angie represented The Hockey Writers at the 2011 NHL Winter Classic and is credentialed for Washington Capitals home games. She is a NHL Contributor for SB Nation's "NHL Scores & More" and covers high school hockey for The Washington Post. Angie attended American University where she studied broadcast journalism.