Time for our weekly check-in on the players whose ownership has changed the most in the last week to find steals and deals for your fantasy hockey team.
RISERS
The 39-year-old captain became the franchise's all-time leading goal-scorer recently in a deluge of goals that has come out of nowhere. Even having missed nine games, he's on pace to set a career-high with 39 games.
That's a bit of an illusion. Of his 15 goals on the season, nine have come over the last eight games in four multi-goal games. This is called being streaky. If you saw him score a hat trick and thought, Eh. Why not? I'm rostering Ryan Kessler, and that's as ridiculous as his contract, why not just see what happens with Doan?, well, good for you. You got four goals in four games making a wish on a falling star.
But don't count on this to continue.
He's averaging over four shots a game in the last eight games. He's averaged two per game the rest of the season. Last year? Just over two per game. Season before? Just under two-and-a-half. He's not Alex Ovechkin. This is a crazy, fantastic streak.
This rise is a combination of a couple things. He rose higher than expected during Patrick Kane's point streak, benefitting in a big way from that run. Then he went on an eight-game stretch without a single point. With a higher than expected ownership, he was able to fall a long, long way. Now that his production has rebounded, it gives his ownership a lot of room to grow and more owners hopes that he'll produce at a high level.
He's been decent over the last stretch, posting four goals and an assist in eight games. Is it real? Yeah. It probably is. He's a good player and around a half point per game pace doesn't seem at all unlikely for him. You just have to be ok with the streakiness. All players are streaky and when you're hoping for something around a 40-point season there are going to be slumps.
Notable Riser: Nick Leddy (+21.7%)
After the strongest offensive season of his career, his first with the Isles, Leddy hasn't been able to produce as consistently this year. He scored 10 goals in 71 games last season. This season, he tallied his first goal of the year last week in his 39th game.
But there's a combination of things coming together to make Leddy a player on the rise and it's not just striking the donut from the goals column.
That goal came in game four of a five-game point streak. He was already logging big minutes consistently and was the lone defenseman on the Islanders top power play unit for the bulk of the season, including being on the ice for 53.46% of the Islanders power play time over the last 10 games. The potential has been there and it's easy to see how owners would start to believe he was finally delivering.
Another big factor, is the possibility of an increased role over the next month. Johnny Boychuk has been placed on injured reserve and is expected to miss four-to-six weeks. It doesn't directly impact Leddy's role, but a lack of defensive depth in Brooklyn may mean that the team has to lean on Leddy and his defensive partner Travis Hamonic even more than before.
FALLERS
As mentioned above, Boychuk is on IR. He isn't an offensive juggernaut and was scoring slightly behind his career-high pace from last year, when he became a focal point of the Islanders blue line instead of a piece of a much deeper Bruins blue line.
With just 14 points on the year, there are a lot of other defensemen who have put up more points and are likely available in your league. The loss of Boychuk shouldn't topple any fantasy dynasties. In fact, in most formats, he's probably not worth rostering through the injury.
Available in lots of leagues (either below 70% or very good player available in more leagues than they should be): Dennis Wideman, Tyler Meyers, Jared Spurgeon, Marc-Edouard Vlasic, Ryan Ellis, Mike Green and Nick Leddy.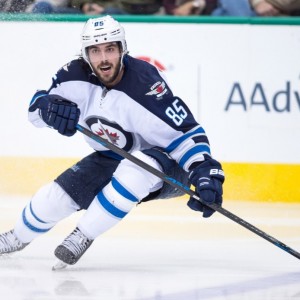 I've already said it once here, but all scorers are streaky. That's playing out more than you might expect for a 40-point guy like Perreault. He not only scores in streaks, but he has seven multipoint games on the season. He's scored 17 of his 27 points in multipoint nights, meaning that 63% of his points have come in just 17% of his games.
It shouldn't be surprising that he just went through a six-game pointless stretch. In his last 10 games, he has just two goals and no assists with a minus-2 rating.
But that shouldn't blind you to what you're rostering with Perreault, because the points add up just the same. If you were happy rostering him based on how many point he contributed last year, then there's no reason to give up now. He's on pace for a career-high 54 points.
Notable Faller: Joel Ward (-19.4%)
We talked about Ward in a previous column, and, like with Doan, I warned that you should start from a position of skepticism any time a player in the back half of his career is on pace to set career-high totals in points.
In the first 15 games of the season, Ward had eight goals and 14 points. That should sound some alarms.
The torrid pace didn't last. With a goal on Thursday, he snapped a nine-game goal drought. He's still on pace to score 24 goals, tying a career-high, and 55 points, which would clear a career-high by six points. Yet, I remain skeptical that he's going to get there, despite a hot start to the season.
Over the last handful of games we've seen something much closer to the pace we should expect from Ward. The hot start to the season is just a bonus if you rostered him early.