The Detroit Red Wings struggled to a 0-2-0 start to begin the 2016-17 season, and it looked like it could be the start of a long season.
However, the Red Wings have rattled off four wins in a row, looking like the Red Wings teams of the late 2000s in two of those wins.
The defense looked shaky in the Red Wings' first two losses, but it has improved tenfold in the past two games, and Detroit got quality goaltending in the first two wins when the defense was struggling.
Defense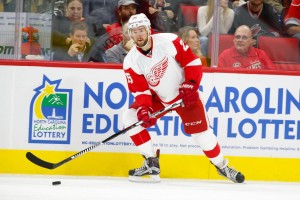 After facing a 132-91 shot attempts deficit through two games, according to Corsica, it looked like the Red Wings would live and die by their goaltending. Petr Mrazek managed to keep his team in the game for both of those losses, but there was only so much he could do while the defense in front of him constantly hung him out to dry.
In their past two wins, against Nashville and San Jose, the defense went from a liability to a bright spot. The Red Wings had 119 shot attempts to their opponents' 101, a vast improvement from the first two games.
Ryan Sproul has been solid since being inserted into the lineup two games ago. He has two assists in two games and leads the team in score-adjusted Corsi for percentage at 59.80. Of course, two games is a small sample size, and I don't expect him to lead the team for much longer.
Mike Green is tied for the team lead in points with seven and is making an impact on the power play with four goals and one assist. According to Natural Stat Trick, he's averaging 3:37 of ice time on the power play, a far cry from last year's 2:43.
It's not rocket science — the Red Wings limited their opponents' shot attempts while generating more offense of their own. Spending more time in the offensive zone is the best way to limit your opponents' offense.
Goaltending
Speaking of living and dying by the goaltending, the Red Wings heavily relied on Jimmy Howard to secure their second win of the season, a 2-1 victory against the New York Rangers. Mrazek clearly is the No. 1 goalie and the Red Wings' goalie of the future, but Howard showed he still has the ability to steal a game when the offense is struggling.
Howard picked up his second win Saturday against the Sharks, and while he didn't have to be as spectacular as he did in the win against the Rangers, he still made a couple of key saves to preserve the shutout.
Howard leads the league with a 0.976 five on five save percentage, but of course, he has played in two games, while most starters have played in three or four. Howard also has a perfect 1.000 high-danger save percentage.
Mrazek has been solid as well, with a 0.953 five on five save percentage through four games, which is fifth best in the league.
---
Complete Red Wings Coverage From THW
---
Players Adjusting to Roles
At the end of last season, Red Wings coach Jeff Blashill acknowledged some of the older veterans had too much to handle in regards to their ice time.
He told MLive.com's Ansar Khan:
One thing that we want to do is help our guys get better. That doesn't always mean production-wise. Sometimes it has to do with minutes; there's only so many to go around, and that can affect a lot of things including production. But part of what we want do is help our guys get better and making sure that we get better as a team through the course of the year.
Niklas Kronwall, Henrik Zetterberg and Jonathan Ericsson were the three that have had to endure the most from an injury standpoint, and it has affected their production during the past few years.
https://twitter.com/iyer_prashanth/status/790005540374081536
Winging It In Motown's Prashanth Iyer noticed the improved play of Ericsson, and below is the play he is referencing.
So far this season, the reduction in ice time has helped Ericsson tremendously. He has a relative Corsi for percentage of 9.09, which trails Ouellet's 13.57 for all Red Wings defensemen. Last season, Ericsson averaged 18:31 minutes per game, and this season, he averages 17:04.
Zetterberg also has seen a reduction in minutes (19:24 last year to 17:55 this season). He has three assists in six games and the reduced minutes should prevent a second-half falloff.
There still are 76 more games to be played, but the Red Wings have shown improvement early.