Two games into the 2016-17 season, and it's apparent where the Detroit Red Wings' deficiencies lie: defense.
General Manager Ken Holland wasn't able to upgrade the defensive corps this offseason, and it has shown early, as the Red Wings fell to 0-2-0 after Saturday night's 4-1 loss to the Florida Panthers.
The Red Wings have been outshot at five on five by a 102-77 margin (132-91 in all situations), according to Corsica, which is a 43.02 five on five Corsi For percentage. That percentage puts them at 28th in the league ahead of Winnipeg and Edmonton with most teams playing two games. This is a far cry from a team that, in the past, has prided itself on puck possession and overwhelming its opponents with sustained offensive pressure.
Too Many Defensive Breakdowns
This season, it's been one defensive breakdown after another. Take the Panthers' third goal for instance:
As you can see, Mike Green gives Danny DeKeyser support as DeKeyser gets tied up with Florida's Jaromir Jagr, which would be fine if there was a defender in front of the net, but there wasn't. Petr Mrazek stopped Aleksander Barkov once, but with no help in front, Barkov got a second chance and beat Mrazek for the late 3-1 lead.
Look at the amount of space between the Red Wings defenders and eventual goal scorer, Barkov (16). It's an inexcusable breakdown, especially for a professional hockey team, and it's something the Red Wings will have to correct, or it will be a long season in Detroit.
Coach Jeff Blashill told MLive.com's Ansar Khan after the game:
We can't keep giving up free opportunities like that. It's nonsensical. That put us on our heels. I thought then we played to not give up chances and when you do that you're tentative and we weren't quick enough on pucks. Their second guy beat our second guy to too many pucks, so we didn't spend any time in their zone.
Mrazek a Bright Spot
While the defense has left a lot to be desired, Petr Mrazek has been the team's lone bright spot. Despite losing his first two games this season, Mrazek has given his team a chance to win each game. He has had to make one spectacular save after another because his defense constantly hangs him out to dry.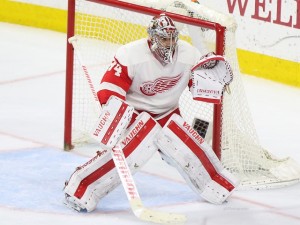 A big question mark coming into the season was if Mrazek could handle taking the reins and securing himself as the Red Wings' goalie of the future. It's just two games in, but it appears Mrazek is well on his way toward supplanting himself as the No. 1 goalie. He has a 91.8 five on five save percentage, which is phenomenal considering he has seen 102 five on five shot attempts already, tying him for second most behind Marc-Andre Fleury.
It's good to see Mrazek in the zone and making the big saves, but the Red Wings can't rely on him to bail them out of every game this season. He will have bad games and bad stretches, and if the defense hasn't corrected its fundamental errors, Detroit will be on the wrong end of its fair share of blowouts.
Obviously, it's too early for Red Wings fans to panic. Two games does not define a season, and they'll have plenty of time to fix the defensive miscues, but it isn't the start the Red Wings were hoping for.