Keeping eight defensemen on the roster at the end of training camp may come back to benefit the New York Rangers' defensive core after all. Shortly after they fell to the Blues by a score of 3-2 in St. Louis, the Rangers twitter account announced that defenseman Dan Girardi was injured during the game.
While many teams would worry about one of their top-four defensemen being hurt, it may open up some doors and potentially give Alain Vigneault more ideas as to what direction he wants to head in during the season with the defensive core.
"He's got a hip flexor. We'll know the severity of it tomorrow. At this time I'd say he's a little bit more than day to day." -AV on Girardi

— New York Rangers (@NYRangers) October 16, 2016
Girardi Injury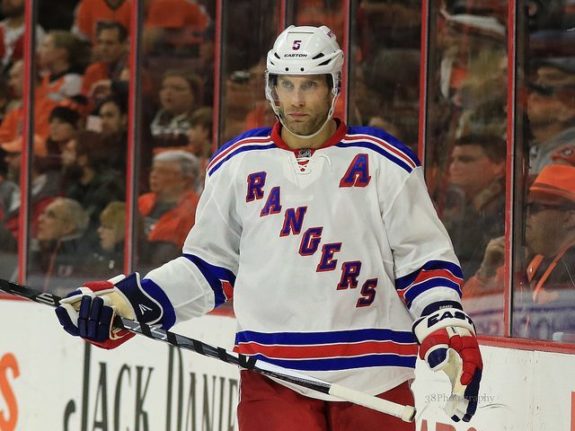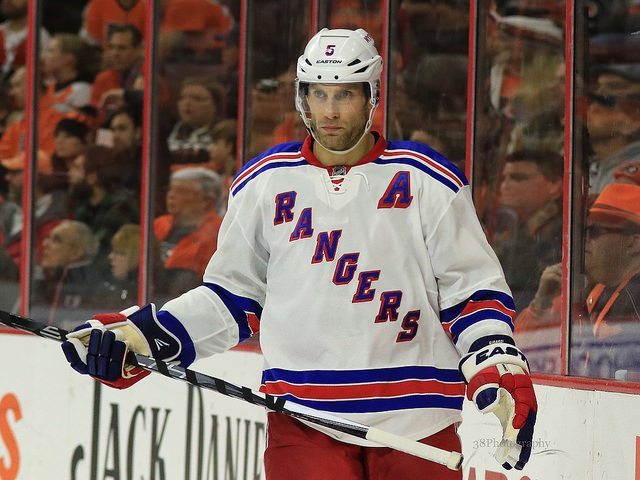 With Girardi just getting back into playing shape, an injury of this manner is common. The severity of the injury is unknown, but hip flexors can be nagging injuries. This is the last thing that Girardi needs at this point in his career, already criticized by by the entire Rangers' fanbase as is.
Over the next few days, news about the injury Girardi sustained will likely come out. He isn't an awful defenseman when he's completely healthy but nobody really knows if Girardi has been healthy as of late because he's been constantly injured over the past few seasons. This has held him back and has led to much concern over whether he's still a serviceable defenseman.
The injury bug has already plagued the Rangers roster, especially early this year with Kevin Klein having a back strain and now Girardi with a hip flexor. Klein will soon begin skating on his own and will likely not be ready for action within the next few days. Obviously, nobody wants to see Klein force himself back and end up with a bigger problem. That means that Dylan McIlrath will need to step up and fill in for the next week or more while Girardi and Klein get back to full health.
McIlrath Provides Great Depth
While Dylan McIlrath isn't a superstar, he can provide a physical aspect to the defensive core that may work to the strengths of the Rangers' roster. He has been known to use his body to take players out of the play. Ryan McDonagh and Marc Staal also use their bodies to neutralize plays but there's no comparison to McIlrath's willingness to throw a bodycheck to change the pace of the game and potentially turn the tides of close ones. This is extremely important because McIlrath can take the pressure off the rest of the defense.
Not only does McIlrath play a strong physical game, he's a fairly strong shot in the offensive zone along with playing a generally effective two-way game. This opportunity will likely lead to a great opportunity for him to make a name for himself and potentially earn a starting spot for the rest of the season in a lineup that's all but set, on a team that's looking to get past their defensive shortcomings to make the playoffs again.
Will McIlrath Perform Better Than Girardi?
This is a loaded question. A truthful assessment of what Rangers fans have this year would indicate that Girardi, throughout the preseason and the start of the season, has struggled. Girardi struggling leads to McDonagh or whoever he is paired with having their skill level brought down and in turn takes away from the full potential they bring to the team.
Girardi has done all he can for the Rangers. If he keeps costing the Rangers goals because of his poor performance defensively, the Rangers cannot keep playing him as a top defenseman, especially if he's playing hurt like he may have been against the St. Louis Blues. Girardi made multiple mistakes, including the one above where he was caught up the ice and Vladimir Tarasenko scored on a breakaway just over a minute into the game. That can't happen if the Rangers expect to compete for the Stanley Cup this year.