Let me start by saying, while I suggested some strong fantasy performers yesterday, I gambled on the incorrect team and pointed my arrows in the wrong direction. The Edmonton Oilers got trounced in a 6-2 drubbing by the Buffalo Sabres. I fared ok with my fantasy picks, but because Buffalo got so many points, I didn't do as well as I should have. It was a small win when I should have had a much better result.
Yesterday's Results
I went heavy on the Oilers. They were riding a two-game streak, rested and playing at home. They were facing a Buffalo team that was plagued with injuries. Edmonton was 2-0 against Buffalo last season and 5-1 over the last three seasons against the Sabres. This is a game the Oilers should have won. They simply took the game for granted and thought it would be an easy two points, which it wasn't.
Overall my picks performed well. Leon Draisaitl had an assist and six shots on goal, Lee Stempniak had an assist, Milan Lucic had a goal and Cam Fowler a goal and an assist. Rasmus Ristolainen was awesome with three assists, four blocked shots and two shots on goal. The problem was Connor McDavid was held pointless and Cam Talbot made all my fantasy worries regarding him a reality. He was a bad choice for a goaltender with a performance he'd soon like to forget.
Related: Fantasy Daily Cheat Sheet: Oct. 16, 2016
Tonight's Games
Colorado at Pittsburgh
San Jose at the New York Rangers
Ottawa at Detroit
Boston at Winnipeg
Centers
Joe Colborne ($3300-$5000)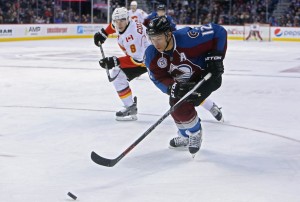 I don't expect Colborne to have a repeat performance from his last game where he scored a hat trick against the Stars, but if he's going for $3300 on DraftKings, he's a great pick at this price. You can see the difference in salaries, so it makes sense to take him while he's a bargain and hope he has another strong performance. Even a few shots on net, an assist or a lucky bounce is helpful and enough to make Colborne worth the pick.
Logan Couture ($6600-$7000)
Couture has points in two straight games and he's playing a team in New York that is coming off a loss. Yes, the Rangers are at home, but the Sharks are coming to New York after a win in Columbus where the Sharks had 38 shots on goal. Couture will see first unit power play time and the Sharks are playing a goalie who let in three goals on 18 shots.
San Jose is always a tough team to play against and Couture is set to have a 60-plus point season if he can stay healthy. He'd be a fair value for your fantasy team.
Wingers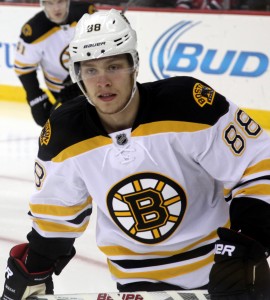 David Pastrnak ($5300-$5700)
Pastrnak is on fire for the Bruins and still a bargain for fantasy players. Pastrnak scored his third goal of the season in Saturday's 4-1 loss to the Maple Leafs and he's poised for a breakout season.
He has gotten off to a white-hot start with five points in his first two games and he'll be on the first unit power play while playing alongside Brad Marchand. The biggest factor if you weren't sold on him as a pick is that he has 14 shots on net in two games and at this pace, he'll score like crazy. Take him while he's hot and inexpensive.
Brad Marchand ($7300-$7600)
Sometimes it makes sense to take linemates. I'll take Pastrnak, so as a result, I'll also take Brad Marchand. Marchand has six points in two games and coming off a season where he netted more goals (37) than all but two left wingers.  A five-point performance — which is what he got in his first game of this season — is enough reason to take him even if he wasn't on Pastrnak's line. Marchand's has gotten in the habit of increasing his shot output, and Thursday he promisingly continued that trend — he fired seven pucks on net.
Marchand came back down to earth in the Bruins loss to the Leafs on Saturday, but his shot output won't keep him down for long. He should bounce back against the Jets who have allowed eight goals in two games and 58 shots against.
Defensemen
Mike Green ($4800-$4900)
Green is a good selection based on the amount of ice time he's received in two games this season. Against the Panthers, he played over 26 minutes and while he didn't score, got some fantasy points on shots and blocks which are important too. He had two assists in game one and he's primarily an offensive-minded player, so he could do well against the Senators at home.
Goaltender
Martin Jones ($7800-$9000)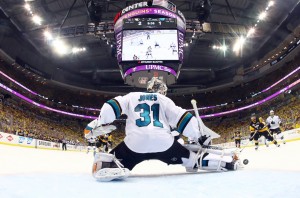 Jones made 26 saves on 28 shots in Saturday's 3-2 win over the Blue Jackets. He's let in only three goals in two games and has a save percentage of .940. He's as good a pick as any for your fantasy team and the Sharks are pretty much even odds with the Rangers. I like Jones as the play here because if he can keep making saves, he'll be doing so against a Rangers team that has fired 74 shots against their opponents in two games. That's huge points for a goalie if he can keep the opposition to two or less goals.
Value Pick
Danny DeKeyser ($3300-$4100)
DeKeyser is playing alongside Mike Green as the Red Wings top-pair defensive unit and he has a goal already on the season. Defensemen are often good to get a couple points whether they score or not, so it's a safe bet that DeKeyser will pay off here.