MINNEAPOLIS – Despite some tense moments, the Gophers women's team took home a pair of wins against the University of Minnesota Duluth Bulldogs over the weekend. The Gophers owned a cumulative shot lead of 86-40, but only eeked out a 4-3 win Friday and needed overtime to seal the deal Saturday. Both games were nail-biters in spite of it being a lopsided affair in terms of possession. And that's a bit emblematic of how things have gone so far for Minnesota early in the season.
The Gophers still rank among the nation's best, but the frequent dominance of past years isn't what we're seeing so far. In each of their last three games, goaltender Sidney Peters has ceded a goal in the first five minutes of the game, putting the team behind the eight ball before a flow has even truly been established.
However, it's not just a goaltending issue. The Gophers have made first periods tight on a regular basis, hitting the ice a little slow and not playing the same game they've shown in later frames. Despite a 5-1-0 record overall, they have an even goal differential in first periods, with things getting progressively better in each successive period. They're a plus-3 in second periods and a plus-5 in thirds. Shot differentials play out similarly. They're plus-12 in first periods, plus-36 in second periods and plus-30 in thirds.
"It's getting a little frustrating," said head coach Brad Frost after Friday's game. "We talked about that. That's two games in a row when we've given up an early goal. We just really feel like our team is sulking a little bit, so we got after them and said 'no more.' No matter what happens, we've got to respond."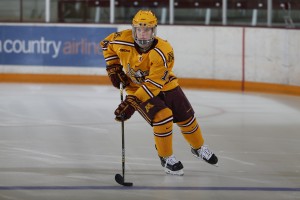 It's an odd combination of things for the Gophers. The offense has had a tough time making shots go for one reason or another. The power play hasn't been taking advantage of opportunities. And Peters is still getting used to a new role with the team, despite this being her fourth year with the program. She hasn't had the kind of workload she's facing now, or dealt with the sometimes difficult mental space of being the goaltender on a team that can dominate possession for long stretches. Saturday's game saw the Gophers outshoot the Bulldogs 45-17, giving Peters the tough task of staying locked into the game despite long fallow periods punctuated with a shot off the rush.
"[Slow starts are] definitely one thing we need to key in on," said sophomore forward Sarah Potomak. "That's something we're all well-aware of." It was especially difficult Saturday, coming out of the first period down 2-1 despite outshooting Duluth 19-6. There's an element of not having the bounces go their way, but it's become a story on a loop. Too many goals against early and the offense being unable to make the pucks go at the other end.
"It's just a mindset," Potomak said. "It all starts with the first line and builds each shift."
Top Line Changes
It was Potomak who would prove to be the hero in both contests. The sophomore put up the tying and game-winning goals in Friday's win. On Saturday, with the game frustratingly close, Potomak potted the overtime winner just moments before the end of the extra frame.
Her game was one thing trending in the right direction for the Gophers during their second in-conference series of the season. The Gophers need her to be one of their leading scorers and she got off to something of a slow start.
The line structure through the season's opening games pushed for scoring depth. In the absence of that top line that can rip through just about any team with Hannah Brandt and/or Amanda Kessel, the Gophers were looking to bury competition by rolling line after line of offense. Only, it wasn't working that way.
This is how @GopherWHockey finished off a sweep of UMD this evening. @sarahpotomak9 with the game winner in OT! pic.twitter.com/klOS4gA7Kl

— FOX 9 Sports (@Fox9Sports) October 16, 2016
Potomak had been moved to center, a position she's played with the national team, but never with the Gophers. While she plays a defensively sound game, the offense lagged in her new role in Minneapolis.
For the series against Duluth, Frost moved Potomak back to wing and put her alongside Dani Cameranesi and Kelly Pannek on the team's top line. It makes their depth chart top heavy. They sacrifice some depth, but that top line delivered opportune moments all weekend. Pannek finished the series with a goal and two assists, Cameranesi had an assist and a team-leading 13 shots, while Potomak led the team with three goals.
"I just really felt like we needed to get some scoring, from [Potomak] in particular," Frost said of the line shuffle. "The first few games we were more of a balanced lineup. We tried to get our top players together there with Pannek, Potomak and Cameranesi and it seemed to pay off."
With that goal, @KPan19 achieves her 100th career point as a #Gopher! pic.twitter.com/itKBEmpM0j

— Minnesota Women's Hockey (@GopherWHockey) October 15, 2016
Power Play Turnaround
The other positive for the Gophers was the power play. They entered the series with a 10% success rate on the power play this season and only one goal. They got opportunities in a chippy match, putting up four power play goals with a 44.4% success rate, bringing the power play to 26.3% on the season.
Things were simplified some, with the team's top line and top defensive pairing of Lee Stecklein and Megan Wolfe serving frequently as the top unit. They ran an umbrella that had Duluth scrambling to keep up with some great passing. Earlier in the year, particularly in the series against Lindenwood, the Gophers pushed hard for the perfect shot down low, making one too many passes and not challenging goaltenders often enough. With Duluth scrambling, the Gophers looked more ready to get the shot to the net as an instinct.
It worked.
Last night @pattimarshall16 scored her first career goal as a Gopher – on the power play. 😍💯 pic.twitter.com/HOxEQqKWP5

— Minnesota Women's Hockey (@GopherWHockey) October 15, 2016
The frustration at slow starts and early goals against continue, but the Gophers again managed to rebound and there are positive signs from the development of Peters's game in net. The slow starts should pass. And they've no doubt been exacerbated by running into two outstanding goaltenders in Bemidji's Brittni Mowat (.927 save percentage) and Duluth's Maddie Rooney (.932).
"It's hockey. If you think you're going to play perfect or that everything is going to go perfectly, you're wrong," said Frost. "Our team right now is trying to find who they are and I think this was a step in the right direction for them."