Winnipeg Jets General Manager Kevin Cheveldayoff made his biggest trade deadline move over the weekend when he traded Andrew Ladd to the Chicago Blackhawks. Ladd was the only captain the Jets had ever had, and though the move was expected, it was huge for the organization. The move has been debated some, but most believe that the trade was good for the Jets, and the return was pretty close to the best they could do.
Just because the big move has been made however, does not mean that the Jets are done. With the deadline now under 24 hours away, Cheveldayoff and the Jets are still working the phones, and still trying to improve their team. Though they do not appear to be one of the main players heading into the deadline, there may be some talks surrounding a few of the Jets players. Lets take a look at three Winnipeg Jets that may still be on their way out-of-town before the deadline.
---
Mark Stuart
Stuart has been a reliable figure on the Jets blue line since day one in Winnipeg. Part of this organization since the Atlanta days, Stuart was part of the trade that also brought Blake Wheeler to the Thrashers and later to Winnipeg. Stuart is a big body and plays a mean style. He is not a top pairing defenseman, but the veteran blue liner has value to a team in need of a little grit heading into the playoffs. For the Jets however, Stuart has become an expendable piece. An ageing player on one of the youngest teams in the league, and a guy who is still making a decent pay check on a very expensive defensive core that has not exactly lived up to their bill. Stuart still has a couple of years left on his current deal and the Jets may want to free up that space for some youth and continue the rebuild.
Stuart is currently out of the lineup due to a broken hand he suffered on February 13th. Though this may scare off some, Stuart should be only a couple of weeks from returning, and would still be an asset heading into the playoff run. Cheveldayoff may explore his options on a possible return for the veteran defenseman.
---
Tobias Enstrom
Another Jets defenseman that has heard his name come up in rumors has been Toby Enstrom. Another Jet who has been with the team since the relocation, Enstrom may have also become a valuable trade asset for Cheveldayoff and the Jets. Enstrom is locked up until 2017/18 and is making  5.75 million dollars a year. Before the recent Byfuglien contract, Enstrom was by far the highest paid Jets defender. Enstrom is a solid puck mover and is a team high +/- 14, bringing a lot of value to a possible trade suitor. The Swedish defenseman has been criticised for his physical play, or lack thereof, but as a second pairing guy he may really help a contender. If a trade could be completed, the Jets would open a large amount of cap space going forward and change the look of their blue line considerably. The fact that Enstrom is more than just a rental may also help the Jets get a top price for the 31-year-old.
---
Ondrej Pavelec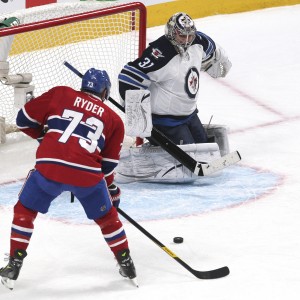 The third Jet that may come up in trade talks tomorrow is their goaltender Ondrej Pavelec. Pavelec has been the started for this franchise since the Atlanta days, but has had his spot grabbed for on multiple occasions. Last year it was Michael Hutchinson who made a run at the starters job. This year, after a Pavelec injury, it was Connor Hellebuyck who made a play for the number one spot. It seems clear this franchise is banking on one of, if not both Hellebuyck and Eric Comrie to one day carry this team. The question is, are either of those two ready now. If the Jets think they are, you may see Pavelec come up in a trade tomorrow. Still with a couple of years on his contract, Pavelec presents a really good back-up option to any team looking to shore up their goaltending. It is all about the price on trade deadline day, and if Cheveldayoff gets a good enough offer, don't expect anyone to be safe.
Born and raised Winnipeg sports fan and contributor with The Hockey Writers.