With the NHL draft just weeks away and free agency less than a month from now, fans and teams alike are starting to put together their wish lists for players hitting the market — whether that's through a trade or a signing. Now begins the time to change a team's complexion from a playoff contender to a Stanley Cup contender.
After a surprise playoff berth, the Philadelphia Flyers may want to take the next step in their development and to help that, GM Ron Hextall and company may look into the trade block or free agent market.
Making any move will be a cautious decision based on the price – whether dollar wise or asset wise through a trade. But there are a few players the Flyers shouldn't be interested in. Below is three of them.
Jacob Trouba
The Winnipeg Jets' defenseman seems to be the name that is popping up the most in trade rumors as June begins. The 22-year-old is set to be a restricted free agent this summer and should see a big jump in his $823,000 salary.
But Winnipeg just handed a big contract to Dustin Byfuglien. That coupled with the weak Canadian dollar may force the team to keep salary low over the next couple of years.
On paper, Philadelphia seems like a good partner for Winnipeg. The Flyers have a few young, established defensemen, and certainly no number ones on the current roster, and cheap prospects that could help a team in the next few seasons.
However, selling futures for Trouba now would not be the right move. The American defenseman was reportedly looking for a $7 million per year deal, despite never improving on his numbers since his rookie season and only showing flashes of potential as a top-pair blueliner.
The Flyers have defensemen in the system that have as much potential as Trouba and even if Trouba is a proven commodity, Philly would probably rather hold onto their youngsters.
Besides that, the Colorado Avalance were rumored to have offered Matt Duchene for Trouba. Imagine what the Flyers would have to give up to beat that.
Mikkel Boedker
The Flyers need, at the bare minimum, one more top six forward, preferably a winger. Boedker is a skilled, speedy winger and only 26-years-old. Seems like a match made in heaven, right?
Not exactly. The Danish winger is a largely perimeter player and needs to play on the power play to accumulate points. Three of his 17 goals and 16 of his 34 assists came on the man advantage.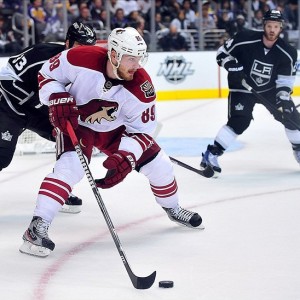 There isn't much room on Philly's first power play unit, which means Boedker would have to slide down to the second where there is less skilled players and much less time. He couldn't expect to get the 2:47 average power play time that he did last season.
Boedker didn't sign a contract worth around $5 million a year to stay with the Arizona Coyotes a few months ago and it's hard to see him letting go of a higher price with free agency looming.
Realistically, Boedker wouldn't be the absolute worst for the Flyers, but at over $5 million a year, Philly would probably like someone who can contribute more in different situations.
David Backes
The St. Louis Blues captain could hit free agency for the first time in his career and should have plenty of suitors. He can play center or right wing, the power play and penalty kill, and provide a large dose of leadership.
With a young lineup, the Flyers could use some leadership, especially among the forwards where R.J. Umberger and Pierre Edouard Bellemare are the only ones over 30. But there lies the problem with Backes – he just turned 32.
Of course, that's not terribly old, but with an NHL that's changing toward younger players, it will probably leave some teams hesitant to sign Backes, especially to a long-term deal. The American also plays a rough game that doesn't lend itself to a long career.
Backes is also the type of player, and at the point of his career, where a team will sign him to put them over the hump. A team like the Dallas Stars may want his gritty leadership for the third line. A Flyers team whose window doesn't open until a few years from now doesn't need to spend money on Backes right now.
The Flyers could make some moves to improve their team this season. The above trio would probably help, but not at the cost it would take to get them.
Wes Herrmann graduated from Penn State with a bachelor's degree in journalism in 2014. He used to write hockey for Cardiac Cane and Broad Street Buzz and has loved the game since birth. Follow him on Twitter at @Wes_Herrm or contact him at wherrmann421@gmail.com