At this point in the offseason, Joe Thornton has yet to decide on whether or not he will be calling it a career. Look, there's certainly a good chance that we could see the 43-year-old center hang up the skates. Thornton has a truly outstanding NHL resume and has accomplished a lot during his career. Yet, he also has not won a Stanley Cup. The desire to change that could be enough for the future Hall of Famer to play one last season. If he does, here are three teams who could make sense for the 1997 first-overall pick to sign with.
Toronto Maple Leafs
I could see a reunion between Thornton and the Toronto Maple Leafs making sense. He proved to be a decent depth forward during the 2020-21 season with the club, as he had five goals and recorded 20 points in 44 games. Although he struggled this past season with the Florida Panthers, perhaps heading back to Toronto could help spark him to produce at his previous pace again.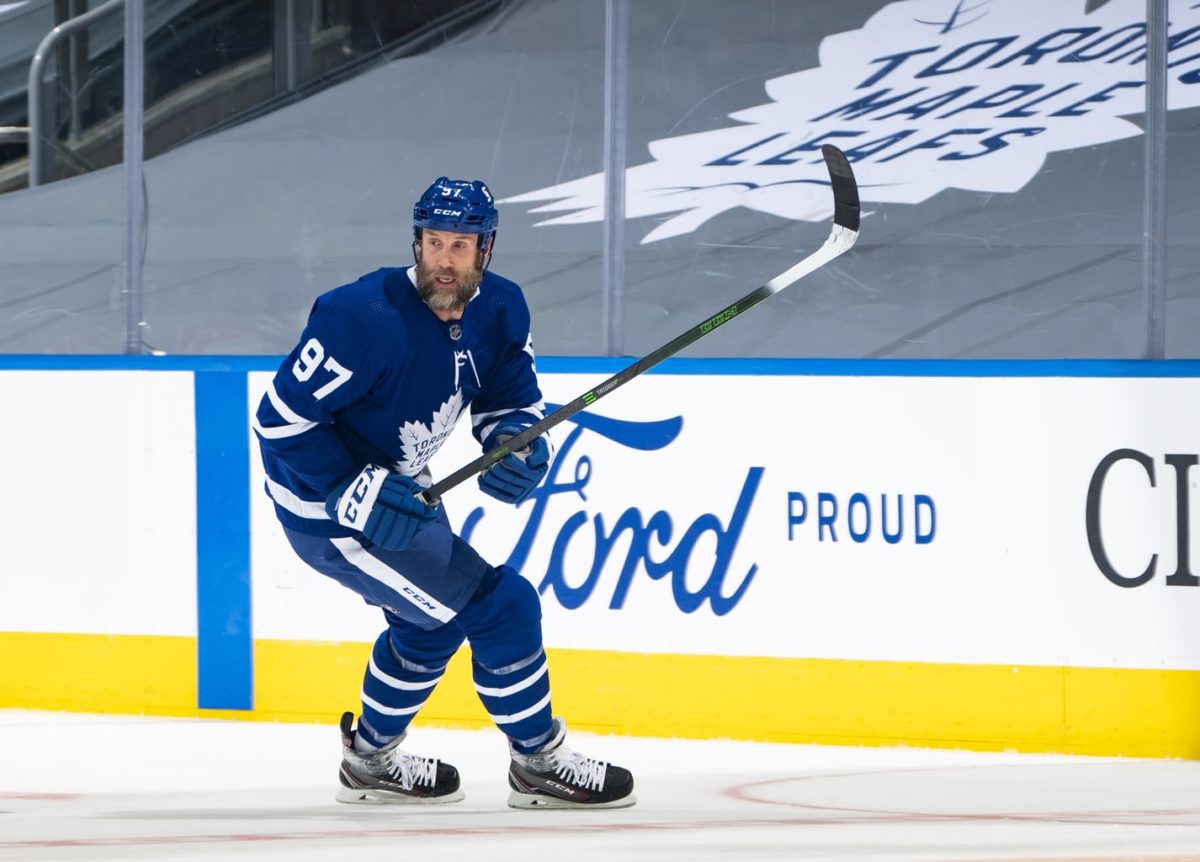 It also wouldn't hurt for the Maple Leafs to bring in another veteran before the start of this season. Longtime NHL center Jason Spezza elected to retire this offseason, so Thornton could be a solid replacement to provide more leadership and experience in the locker room. With that, it is well-known that he has a very close friendship with Auston Matthews, so it's hard to believe that the superstar center would be against the idea of Thornton returning to Toronto for one last season.
2021-22 NHL MVP Auston Matthews & Jumbo Joe in the building! 🏒

There's still time to order the #UFC276 main card: https://t.co/05E97fg9UG pic.twitter.com/UMWmmZQkcb

— UFC Canada (@UFC_CA) July 3, 2022
Yet, finding a way to fit Thornton onto their roster would require them to make some roster moves. At this juncture of the offseason, the Maple Leafs are roughly $1.5 million over the salary cap and also need to re-sign restricted free agent (RFA) Rasmus Sandin. As a result of this, players like Alexander Kerfoot ($3.5 million cap hit) and Justin Holl ($2 million cap hit) have been viewed as potential trade candidates. If at least one of the pair is moved to re-sign Sandin, there would also likely still be enough cap space available to get Thornton signed to a league-minimum deal. Thus, this could be an intriguing avenue worth exploring.
Colorado Avalanche
If Thornton wants to win a Stanley Cup, why wouldn't he be open to joining the Colorado Avalanche? They are the reigning champions, after all, and are heading into the 2022-23 season with the expectation of repeating. They also are one of the rare contenders that have a decent amount of cap space to work with, so general manager (GM) Chris MacFarland would have zero trouble affording Thornton if he wanted to sign him.
Related: Top 5 Moments of Joe Thornton's Career
It wouldn't hurt the Avalanche to add to their forward depth, too. During this offseason, they notably lost Andre Burakovsky through free agency to the Seattle Kraken. Nazem Kadri's future in Colorado is also hard to determine, as he is still an unrestricted free agent (UFA) at the time of this writing. Although Thornton would not be able to replace the offensive production that Burakovsky and Kadri (if he signs elsewhere) provided at this point in his career, he still has the potential to be a decent secondary scorer for them.
When looking at the Avalanche's lineup, it's fair to say that Thornton could compete for a spot in their bottom six. Yet, he also could be a serviceable 13th forward if signed. This is the role he had with the Panthers this past season, so it isn't unfamiliar territory for the veteran. At the end of the day, signing with the Avalanche may be Thornton's best chance of winning a Stanley Cup, so let's see if he ends up there.
Edmonton Oilers
The Edmonton Oilers have had themselves a big offseason, but GM Ken Holland may not be done making moves. With how often injuries occur, it would be wise for him to sign another depth forward before the 2022-23 season begins. With the Oilers looking to take that next step and compete for a Stanley Cup, Thornton and his 24 years of NHL experience could grab Holland's attention.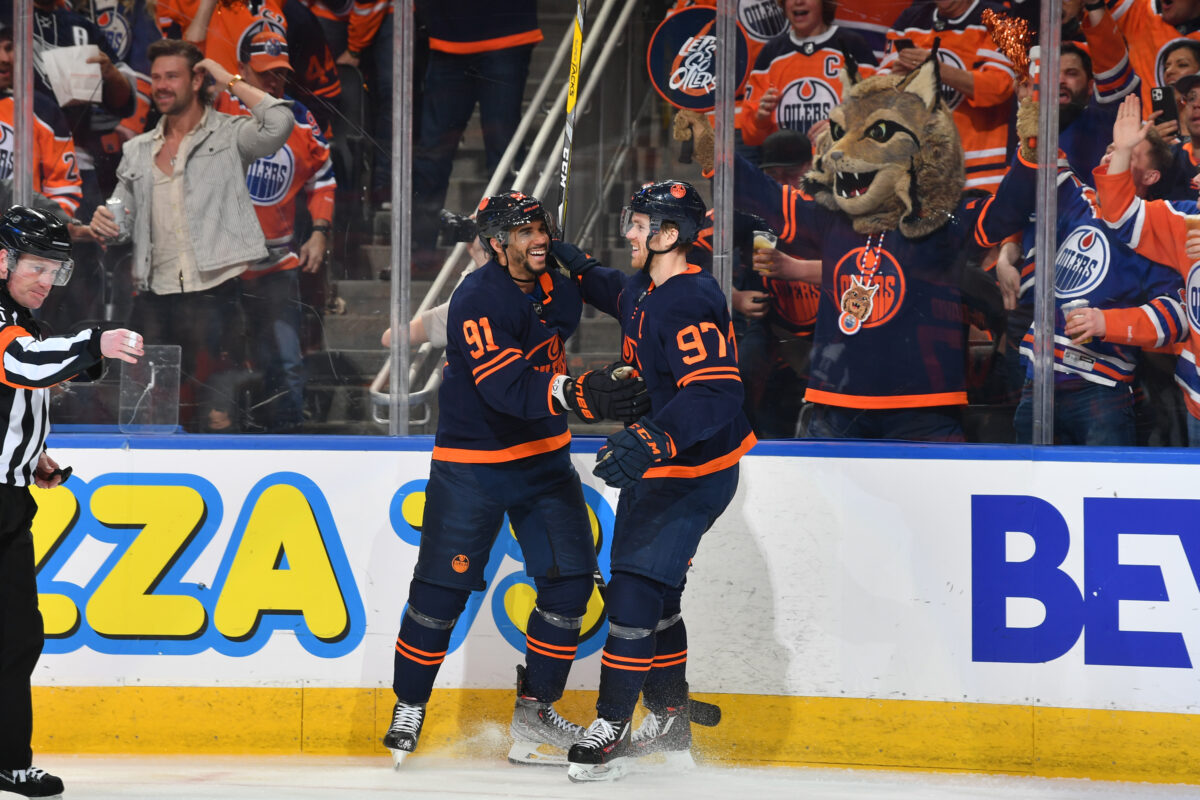 Although Thornton is no longer a point-per-game player, he still has the potential to be a decent playmaker at this stage in his career. With the Oilers being an offense-first style of team, this could make him a good fit within their system. Over the last few seasons, the Oilers have also received criticism for their depth down the middle. Therefore, it wouldn't be too out of the question to see them add a player like Thornton to their forward group as another option.
The Oilers are expected to use long-term injury reserve (LTIR) to become cap compliant this upcoming season. This and potentially moving a player like Warren Foegele ($2.75 million cap hit) could open up the possibility of signing Thornton to a league-minimum contract. Much like the Maple Leafs and Avalanche, the Oilers are viewed as legitimate contenders and have the potential of providing him with his first Stanley Cup.
No matter what Thornton decides as his next move, the 43-year-old has had himself a spectacular career. In 1,714 games between the Boston Bruins, San Jose Sharks, Maple Leafs, and Panthers, he has 430 goals, 1,109 assists, and 1,539 points. With that, he is also a six-time All-Star and won both the Art Ross Trophy and Hart Memorial Trophy in 2006. Truthfully, I'd be ecstatic to see him push for the Stanley Cup one last time, but if this is the end, he deserves nothing but immense praise from all hockey fans.
---
---