Heading into the 2015-16 season, the Pittsburgh Penguins will be facing large expectations, as they do each year. However, a key piece of their roster has a contract which expires at the end of the year. Brandon Sutter is the 3rd line center for the Penguins, and he plays a vital role in the team's success throughout the entire season. Pittsburgh's front office will be forced to make a tough decision to either try and re-sign him to an extension, or let him walk during free agency. In my opinion, re-signing him should be an absolute no brainer for more than one reason. Without Sutter, the Penguins would suffer dearly. Here are the three main reasons why the Penguins absolutely need to keep Sutter.
1: Plays Valuable Minutes in All Situations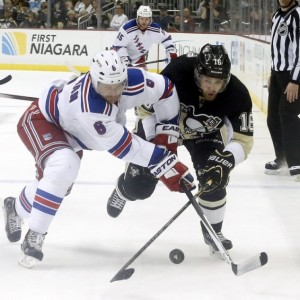 Brandon Sutter played the second most minutes for the Penguins in 2014-15, behind only Sidney Crosby. The former 11th overall pick has phenomenal success on special teams, especially on the penalty kill. He averages over two minutes of shorthanded time and a minute and a half of power play time each game. He led the Penguins to the 3rd best penalty kill in the league, holding off 84.8% of all penalties. Not only does he kill them, but he turns them into scoring chances too. Sutter was tied second in the NHL in shorthanded goals with four, just one goal behind Tyler Toffoli. Often playing the second unit, Sutter was fifth on the Penguins with three power play goals.
There's no doubt, Sutter plays all situations of the game very well. He racks up valuable minutes that are harder to fill than ever. There aren't many players in the league that play well on both special team units anymore.
2: A Rare Depth Scorer in Their Lineup
The one knock on the Penguins' extremely offensive lineup is their lack of scoring depth. Sure, they have an incredible top-six in Crosby, Malkin, Hornqvist, Kunitz, Perron and now, Kessel. But you need to have players who can score regularly throughout at least three lines. That's where Sutter proves his worth again.
Despite being a third-line player, Sutter still had the fourth most goals scored on the team with 21. Having depth scoring is important for so many reasons, from providing better line match-ups for the top six, to allowing the coach to confidently roll all four lines. Sutter will again be the Penguins third line center this season, and will need to score 20 goals for the team to have a successful season. For the 26-year-old, that is a very realistic goal, as he seems to be coming into his prime years and is playing with confidence.
3: A Key Face-off Player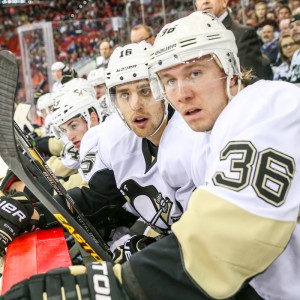 Although Sutter is Pittsburgh's third line center, he is often the one taking key face-offs when Crosby isn't, taking 1359 over the course of the season. He also had the second best face-off winning percentage on the team, behind only Marcel Goc. Again, with special teams, Sutter was second in power play face-off wins and first on the penalty kill.
When the game was on the line in the final few minutes, it was Sutter taking the draw more often than not. With the NHL relying on analytics more each year now, face-offs are becoming more important than ever, as it proves to be a key component to boasting strong puck possession numbers. Of course, face-offs are key to setting up a power play without wasting any time. On the other hand, Sutter winning a face-off can also result in about 20 seconds of a penalty being killed. The more you analyze it, the more you realize how important it is to win as many face-offs as possible, and Sutter is becoming one of the best.
---
Of course, Pittsburgh will need to see how Sutter plays this season before deciding what kind of contract to offer him, but they definitely need to offer him one. If they had to re-sign him today, a three-year contract worth $11.25 million seems very fair for both parties, leaving the Penguins with a $3.75 million cap hit for Sutter.
Do you think the Penguins should re-sign Sutter, or let him walk? Let us know in the comments below!