With the infusion of veterans to an already talented, youthful team, the 2015-16 Detroit Red Wings have lots of potential to perform well. Taking a look at the roster, here are some Red Wings who have the potential to have the best season of their career.
Teemu Pulkkinen
Current career highs: 5G, 3A, 8PTS
Okay, this one may be a gimme. Pulkkinen played in 31 games last season for the Red Wings, all of which came in 2015 after Johan Franzen went down with a concussion. It took Pulkkinen six games to net a point, but it came in a game where he played a season low 7:25 TOI. Pulkkinen wasn't the most consistent scorer during his NHL tenure, however, all but one of his goals came at even strength. While the Wings used him on the point on the power play because of his booming shot but he paid more dividends in 5-on-5 situations. He played most of the season with Weiss and Andersson on the fourth line, and managed to notch the same points as Andersson in less than half the games (37 games less).
When Pulkkinen spent time in the AHL last season, he absolutely ran the league. The 23-year-old Fin had 34 goals and 61 points in 46 games for the Griffins, and still won the AHL's Willie Marshall Award for the league's top scorer, despite only playing 46 games in the AHL. Pulkkinen's AHL goal per game total was 0.74, which is insane. He also had an eight game goal streak, which lead the league, where he put up 13 points over those eight games. His AHL points per game went from 0.83 in his rookie season to 1.32 this past season. Pulkinnen has outgrown the AHL, and is primed and ready to take on a much bigger role in Detroit. 
Assuming Pulkkinen makes it off of the fourth line, and still gets powerplay time, it's nearly a no-brainer than he breaks his career high of eight points in a season. If Pulkkinen plays on the third line with Sheahan as his centreman, there is a strong chance that their combined talent elevates them both.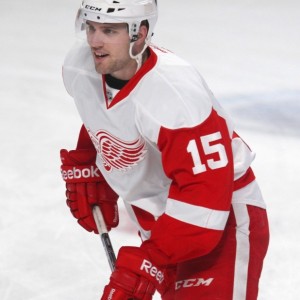 Riley Sheahan
Current career highs: 13G, 23A, 36PTS
Speaking of Sheahan, I think this is the year that he truly breaks out.
Sheahan has impressed ever since making the jump to the NHL full-time back in 2013-2014. His hands are something to behold, and his hard work made him a Mike Babcock favourite, which will no doubt translate to love from first year head coach Jeff Blashill.
While the Red Wings aren't ready to make Sheahan a full-time second line centre, they are quite comfortable with him stepping into that role when needed. Whenever Zetterberg and Datsyuk played on a line together last year, Sheahan made the jump to 2C. With Datsyuk not starting the season on the ice, that moves Richards to the #1 centre position, and bumps Sheahan to #2 until the Magic Man returns. The potential of Sheahan playing with the likes of Nyquist, Tatar, Helm, Abdelkader, Pulkkinen, etc. makes him a very attractive target for besting his career high.
With a very quick release, some quick feet, doubling the amount of shots that he took last season, his average TOI going up by a full minute, and some fantastic potential line mates, Sheahan could easily hit 20 goals and 40 points.
Danny Dekeyser
Current career highs: 4G, 29A, 31PTS
It's surprising to think that Dekeyser wasn't a Red Wings draft pick, and wasn't developed in Grand Rapids considering how solid of a defenceman he is. The Red Wings plucked Dekeyser out of Western Michigan University in 2012-2013 and he immediately played for the big club at 23-years-old.
His first nearly-full season in the NHL saw him put up 4 goals, 19 assists and 23 points as a rookie defenceman. While his offensive game translated well to the NHL, his defensive prowess was noticed as well. In his last two seasons, Dekeyser was plus-10, and plus-11 respectively. with an 8.3 CorsiRel/60 last season. His points per game went up last season (0.39) as did his goals for while on the ice (73), and Dekeyser is still only 25 years old.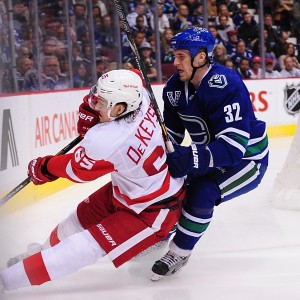 Among defensemen under 26, Dekeyser was 15th in points, 13th in average TOI, ninth in assists and eight in defensive point shares (stats from http://www.hockey-reference.com/). This stat line is very impressive considering the name Dekeyser is mentioned among the likes of Subban, Doughty or Karlsson. While Dekeyser's numbers aren't nearly as flashy, for what it's worth, Dekeyser had a better plus/minus than both Karlsson and Doughty last season.
With the addition of Mike Green, who Dekeyser is slated to play on a pairing with, the potential for Dekeyser to best his career high is very good. The idea of having Dekeyser and Green's offensive prowess patrolling the Red Wings blue line is a tantalizing thought. Both players see the ice very well, both players have a great shot and both players can play defence. Both Blashill and Holland are excited about this pairing, and Red Wings fans should rejoice with them.