Saturday, the University of North Dakota was shutout for the fifth time during the 2016-17 season. With a series split, UND falls to 16-14-3, 9-12-1 NCHC.
Here's how things shook out this past weekend: St. Cloud State was swept by Denver, and UND split their series with the Mavericks. Surprisingly, this past weekend's split didn't ruin UND's chances of securing a home playoff series.
UND's task is much more difficult this weekend. Getting swept or splitting their series with the RedHawks this isn't an option. With one weekend to go in the regular season, here are three things from series between the Mavericks and the Hawks.
UND Controls its Own Destiny
If UND doesn't finish in fourth place, it will be the first time they haven't hosted a conference playoff series since the 2001-02 season. Ironically, that was the last time they failed to make the conference championship and the NCAA tourney.
The Fighting Hawks control their own destiny, but their room for error is very small. They need to sweep the Miami RedHawks if they want to host a playoff series.  That might not be as daunting of a task as it seems. The RedHawks haven't won in six games and are 4-8-2 in 2017. Unfortunately, the Fighting Hawks record isn't much better — they're 6-8-0 in 2017.
Also, UND needs help from the other teams in the Pairwise Ranking if they want to make the NCAA tourney. At the present time, they are sitting in 16th.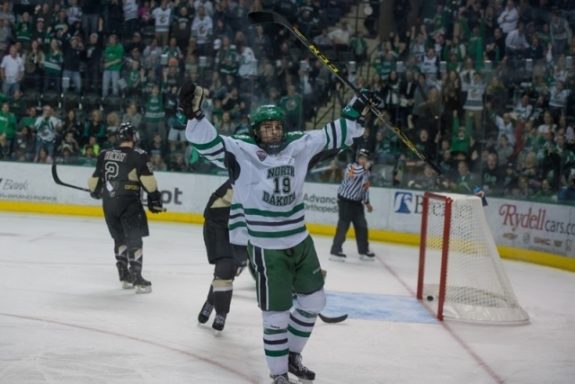 The time for talking is over. Now would be a good time for the Hawks to kick it into gear if they want to make the Frozen Faceoff and the NCAA tourney. There are four guaranteed games remaining, so time is winding down.
"I don't know about time running out," head coach Brad Berry said. "I know it is winding down in games…  we've been doing well on the road. We just have to make sure we play well as a team from the drop of the puck."
With their season on the line, UND needed to show more urgency and for some reason, they didn't. If they want to keep playing in March, they're going to need to figure out how to play more consistent and for a full 60 minutes.
"We talked about it all day," coach Berry said. "We got in here at 10 in the morning and through the whole day preparing for meetings and things like that, we talked about the urgency and taking another step forward, home ice, Pairwise and everything.
"It's not about pressure. We're all about big games and playing in them and knowing what the impact of the games are."
Saturday's loss didn't sit well with the players.
"It's tough to swallow," senior captain Gage Ausmus said. "That's hockey. Every team is different. Right now, every guy in the locker room needs to realize what is on the line and what's at stake here."
Don't Blame Cam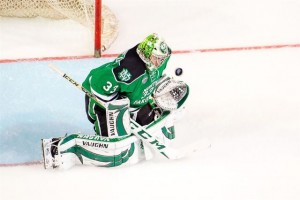 Last season, UND goalie Cam Johnson went 24-4-2, 1.66 GAA, .935 save percentage. Johnson garnered All-American honors and was a finalist for the Mike Richter award. The 2016-17 season has gone a little differently.
Make no mistake about it, Johnson's numbers have fallen off this season. Johnson will be the first one to admit that, but he's not the problem.
In 30 games, Johnson is 15-11-3, 2.36 GAA and .907 save percentage.  Again, I've said this many times, Johnson isn't the reason this team is struggling. This is a team effort, folks. There's plenty of blame to go around.
If you don't believe me go back and re-watch Friday's game. Johnson made 21 saves in the second period alone. Friday's game could have gone either way. Defensive breakdowns and untimely odd-man rushes have been the downfall of this team.
You cannot continue to let your goaltender face multiple grade-A opportunities and expect them to bail out the forwards and defensemen all of the time. Eventually, they're going to need to be more responsible play in the defensive zone. Again, this is a team effort.
Couldn't Break Through on Saturday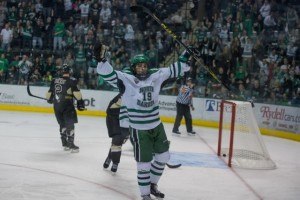 We can complain about the goaltending until we're blue in the face but it's only a small part of UND's problems. The Hawks need to score goals if they want to win hockey games and extend their season. The magic number is four — when UND scores four or more goals, they're 11-0-1.
In 33 games this season, UND has scored 111 goals. In three prior games against the UNO Mavericks, UND has scored 22 goals. Meaning, almost 20 percent of their goals have come against the Mavericks.
Going into Saturday's game, you would've liked the Hawks chances. The Mavericks have the worst defense in the NCHC giving up 113 goals. After scoring 22 goals in the prior three games, a shutout was a puzzling result. Mavericks goalie Evan Weninger was a brick wall stopping all 22 shots that he faced to record his second shutout of the season.
As I mentioned earlier, during the 2016-17 season, UND has been shutout 5 times. Checking the team's media guide, that's a record — during the 1967-68 season, UND was shutout four times.