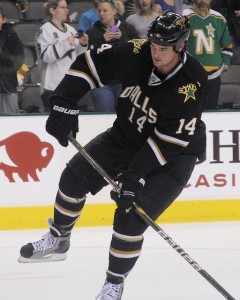 As the calendar turns to March many National Hockey League teams are looking at themselves in the mirror and wondering if they should book tee times for next month.  It is a stressful time for many as the races in both conferences are tight.  In each conference there is some teams who know they are in and the next month they will be making the final preparations for the playoffs.  On the other hand there is sixteen teams that are fighting for their playoff lives on a nightly basis.  With so many games turning into three point games the opportunities for these teams to move up are becoming more and more difficult.  Here is a look at the Western Conference races, and who I think will get in and who I think will fall short.
Western Conference
Lets start at the top with the teams that are all but officially in.  The Vancouver Canucks, Detroit Red Wings, Nashville Predators, Chicago Blackhawks and the surprising St. Louis Blues are all in.  The two teams that know that they will not be in and are already looking toward next season are the Columbus Blue Jackets, and the young Edmonton Oilers who currently have the NHL's worst road record.  That leaves three available playoff spots for eight hockey teams.  The following teams are in that fight, San Jose Sharks, Phoenix Coyotes, Minnesota Wild, Calgary Flames, Colorado Avalanche, Anaheim Ducks, Dallas Stars and the Los Angeles Kings.  Who will be in and who will be out?
OUT –
Minnesota Wild – This team is in a free fall.  I do not see any hope for this team right now.  Injuries have hurt this team, with players such as Bouchard, Latendresse, and team captain Koivu out the final stretch drive will be trying.  The lack of scoring in Minnesota, and recent defensive let downs will spoil this teams early season success and hopes.
Calgary Flames –  I really cannot figure this team out.  One day I think they are cup contenders and the next day I think that there is no hope for this team.  Just like last year I believe that this team will fall short.  Difficulties scoring and lack of player consistency has cost this team numerous critical points.  Mikka Kiprusoff cannot do it all.  Although sometimes it looks he will pull this team through their struggles, I just do not think it will be enough.
Colorado Avalanche – The Avalanche are a young team and are still a few years away from developing into a true playoff contender.  At times they look like they are going to get over the hump, but frequent losing streaks have slowed this team down and kept them below the eighth playoff spot.  I do not think that this team is prepared to make a strong run this year.
Anaheim Ducks – The best way to sum this up is a little too late.  Let's face it this team is good, and powerful.  The Ducks started the year off in a terrible way.  After a coaching change things slowly changed, and in recent months the Ducks have been unstoppable.  With players such as Getzlaf, Ryan, and Perry the Ducks have fought back to a 500 record but are still seven points out of the playoffs.  The real problem is that they have to jump four teams to get that final eighth spot, and that is very difficult with so many three point games.
Los Angeles Kings – The Kings on paper look like they have it all, and now with the addition of Jeff Carter it looks like they will have a shot.  The truth is this team can't score and having Carter will not totally solve this problem.  They have Kopitar, Brown, Penner and Richards and cannot score, adding another scorer will not guarantee success.  This team has been in shambles all year.  The addition of Sutter behind the bench is a positive, but I think the Kings will fall short of that last playoff spot and end up ninth.
IN –
San Jose Sharks – This team is not accustomed  to a late season struggle.  They have been Pacific Division champions, and cup contenders for numerous years now.  Well that really did not get them anywhere, so maybe struggling their way to the playoffs will result in a powerful playoff run.  Although they have struggled as of late, dropping their last two games.  In a tight race this has ended them in the final playoff spot.  The defensive strength of this team and a strong forward core group, the Sharks will push their way into the playoffs.  I actually think that they will end up winning the Pacific again this year, but not without a struggle from Phoenix, and Dallas
Phoenix Coyotes – The Coyotes always seem to find a way.  With constant talk of them leaving Phoenix the team continues to find a way to set the off ice troubles to the side and just win games.  The Coyotes are well coached, and have a roster full of hard workers who follow their system very well.  I look for them to have some struggles down the stretch, but like last year this team will find a way to make it in.
Dallas Stars – With wins in their last two Dallas finds themselves in first place in the Pacific.  The Stars are a very tough team to play against, with Ott up front and Souray on the blueline.  The Stars have struggled this year to keep the puck out of the net, but with Jamie Benn and Lou Eriksson up front scoring this team has found a way to pull through.  The Dallas Stars will fill that final eighth spot in the Western Conference.
The playoff races are very tight this year.  Every night teams are jumping in and out of the playoffs.  Every game matters, now its time to see what teams will produce and make it into the playoffs.