The occurrence of moves has slowed down to a crawl this offseason indicating teams have their rosters largely in place. Last season, there were only 25 signings and six trades between Aug. 21 and the beginning of the season, so the depth charts you see now are, for the most part, how you will see the rosters at the beginning of the season on Oct. 6. But even if the rosters are set, that does not mean there are no questions to begin the season.
Here is one major question mark for each team to begin the season. This is not to provide answers, that will be done by these players over the course of the 2011-12 season, but to let you know what to watch out for. This is just the Eastern Conference, check back for the Western Conference in a few days.
Atlantic Division
New Jersey Devils – Can anyone coach the Devils besides Jacques Lemaire?
Peter DeBoer is once again working on a rebuilding team with a weak defense and an aging Martin Brodeur. DeBoer cannot expect a run like the Devils had in the second half last season, but he certainly won't be as bad as John MacLean. While the playoff aren't a certainty anymore, that road will start with consistent coaching and if DeBoer can keep them competitive this year, he may be the first Devils coach to stay on more than two full seasons since Lemaire's first stint as coach. They got their other big question mark out of the way, for the moment anyway, when they signed Zach Parise on July 29.
New York Islanders – How will Al Montoya fare over a full season?
Al Montoya gave the Islanders hope in net they have yet to receive from the ever-in-doubt Rick DiPietro after being acquired from Phoenix last season. Montoya certainly showed plenty of promise, going 9-5-5 with a .921 save percentage and 2.39 goals-against average in 20 appearances, but he will need to post those numbers again over 55+ games if these young Islanders are going to start working their way out of the NHL basement.
New York Rangers – Which Marian Gaborik will show up?
The easy answer is Gaborik will once again reach 40 goals as he will surely be motivated by having a bona fide, number-one center for the first time in his career in Brad Richards. But in order to do that, he will need to rebound from his worst goals-per-game rating since the lockout and stay healthy to play in enough games to be effective; he has missed at least 20 games in three of the past five seasons. If all things fall into place, a healthy, motivated Gaborik could threaten 50 goals this season.
Philadelphia Flyers – Did GM Paul Holmgren commit too much to Ilya Bryzgalov?
The Flyers believe they found their answer in net in Bryzgalov, and they'd better after locking him up for nine years. Holmgren got rid of franchise centers Mike Richards and Jeff Carter in part to bring in Bryzgalov and Jaromir Jagr, but at least if the Jagr experiment fails it's over after a year. Aside from his six-game winning streak in the 2006 playoffs, he is 6-13, with a .908 save percentage and 3.09 goals-against average in the post season. So will he benefit from playing on a contender and not having to face Detroit in the first round or will he become a more current version of Roman Cechmanek?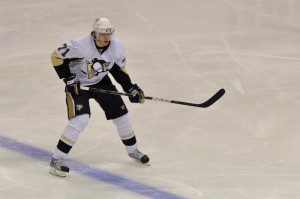 Pittsburgh Penguins – How healthy is Evgeni Malkin?
The obvious, and overall more important question, is how healthy is Sidney Crosby? But his status is known in that it's, well, unknown. There is still no time table for his return, so the Penguins have to look at the season as if he won't be playing anytime soon. That means Malkin will carry the offense. He has been working hard all summer to recover from knee surgery so he should be ready and playing without the support of Crosby shouldn't be a problem. Malkin had one of his best stretches in 2007-08 when Crosby missed 21 games with a high-ankle sprain, scoring 14 goals and 36 points in that span.
Northeast Division
Boston Bruins – Can Tim Thomas repeat his magical year?
The Bruins are strong throughout the lineup, but Tim Thomas is the key to their success and that has not changed. He set an NHL record with a .938 save percentage last season and won the Conn Smyth Trophy with a .937 save percentage in the playoffs. Their road to a repeat starts with Thomas. Asking him to duplicate perhaps the finest season ever by a goaltender in the modern age is unfair, but he should still be one of the top goalies in the league. His yoga training should go a long way towards preventing any major injury.
Buffalo Sabres – How does Derek Roy respond to a major knee injury?
Roy was back on point per game pace last season before suffering a quad injury 35 games in. He returned in time to play Game 7 against the Flyers, registering one assist and a minus-2 in 20:01. The Sabres didn't have the best offense in the league, but they aren't that bad last season either. Tyler Ennis now has a full season under his belt and Ville Leino is going to be more consistent than Tim Connolly. If Roy can maintain a point per game again and help Thomas Vanek hit 40 goals again, Buffalo can have its scariest attack since Daniel Briere and Chris Drury led the charge.
Montreal Canadiens – Can Andre Markov make a full recovery?
P.K. Subban provides a lot of padding, but Montreal needs Markov to have a healthy season. Having played only 52 games the past two seasons, the Canadiens have been missing a big part of their attack. If he continues to spend time on injured reserve, there will once again be a shortage of NHL-caliber defenders in Montreal; the blueline is thin enough as it is. Markov is an elite scorer, underrated in his own zone and the difference between being a borderline playoff team and having a cushion to work with.
Ottawa Senators – Can Bobby Butler improve on last season's call-up?
Butler is going to be one of the few bright spots on the Senators this season. He scored 10 goals in only 36 games last year and he will get top six minutes and power play time this time around. He is auditioning to be Jason Spezza's main target sooner rather than later. Daniel Alfredsson is turning 39 in December and he had back trouble last season, so there is no telling how much offense he will be able to provide. Butler's ascent as a goal scorer can't plateau or the Sens are in serious trouble.
Toronto Maple Leafs – Will the second line continue to grow?
Nikolai Kulemin, Mikhail Grabovski and Clarke MacArthur all had breakout years last season and will need to up their production to give the Leafs offense a boost. They have to at least match last season's numbers to improve the 23rd best offense. They can't afford a decrease in production as a first line consisting of inconsistent Phil Kessel, injury-prone Tim Connolly and journey-man Joffrey Lupul does not promote thoughts of confidence.
Southeast Division
Carolina Hurricanes – Will Jeff Skinner avoid the sophomore slump? 
It almost seems silly to ask, but realize half of the previous 10 players to lead rookies in scoring recorded fewer points in their sophomore seasons, with the biggest reduction being Alex Ovechkin falling 14 points, from 106 to 92. The Calder Trophy winner likely won't experience a big drop in points, training with Gary Roberts will make sure of that, but increased development is not a guarantee either. He seems to be focused so barring injury, a good bet is an increase in points.
Florida Panthers – Can Jose Theodore still be a starter?
Eleven of the top 20 skaters are new, so there are question marks everywhere. But it will be most interesting to see if Theodore can carry a middling team throughout a full season. He had two solid seasons behind a very good Capitals team, but was inconsistent with Minnesota last year. He will be depended upon to win a lot of games, as is always the case for goalies in south Florida. How he stands up to 30 shots per game for 50 games will be the difference between a third consecutive top-three pick and a step back to respectability.
Tampa Bay Lightning – Has Vincent Lecavalier regained his form?
He had 17 goals and 30 points in his final 28 regular season games, then posted six goals and 19 points in 18 playoff games indicating he is over a series of hand, wrist and shoulder injuries suffered over the past three seasons. His reemergence allowed Tampa Bay to reach the conference final and he will have to be on a point per game pace all season for the Lightning to reach 100 points again. He shouldn't be counted on the reach 50 again, but he should get back into 35-goal range.
Washington Capitals – Will Mike Green be able to bounce back from an injury plagued season?
Yes his production went down because of injury and a shift in team focus, unfortunately when did was healthy his defense didn't improve as much as his loss of offense would suggest. He needs to provide offense from the back end to help the Capitals' power play, one of their few weaknesses last year. A push from the blueline would help the other stars on the team regroup after down years. They may not turn back into the firewagon they were a few years ago, but extra goal support would make for fewer tight-checking games which would help Tomas Vokoun stay fresh for the post season.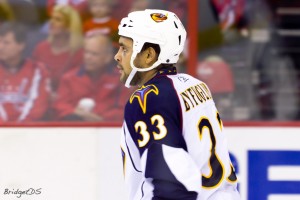 Winnipeg Jets – Which Dustin Byfuglien shows up?
In his first 41 games, Byfuglien lit up the blueline in Atlanta, recording 15 goals, 40 points and a plus-6, guiding the Thrashers to a 20-15-6 record for 46 points, seventh in the Eastern Conference. The rest of the way he went cold, netting five goals, 13 points and a minus-8 as they slipped down to 12th place. He has shown he can be a dominate defenseman and he will have to be over a full season to make the transition that much easier.