It's no secret that one of Calgary's main problems this season was their goaltending. Between Karri Ramo, Joni Ortio, Niklas Backstrom, and Jonas Hiller (dare I say his name), the Flames spent over $12 million for the most goals against in the NHL.
But summer is fast approaching, and with it comes free agency, where Calgary should look to make a splash and acquire a big name starter. Here are four goalies who could be seen in a Flames jersey next season.
Frederik Andersen
Since entering the League in 2013, Frederik Andersen has been splitting time as a starter in Anaheim. Andersen has played in 125 career games, posting an impressive 77-26-12 record and a .918 save percentage.
However since John Gibson has made his way up to the Ducks roster, Andersen has been somewhat overshadowed by the 22-year-old American netminder. Although Andersen has taken the starting role in the playoffs this year after Gibson lost his first two starts to Nashville, Gibson already has his contract in place for another three seasons, and Andersen may find himself pushed out of Anaheim as a result.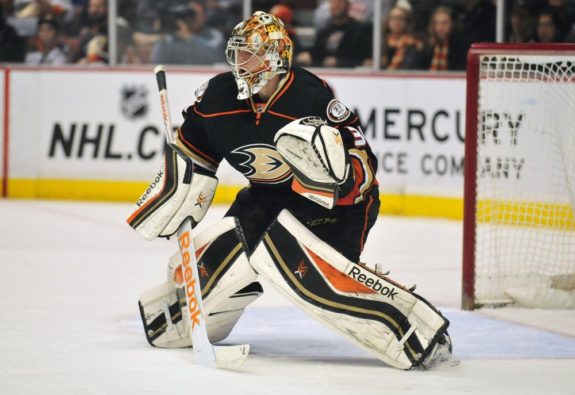 With Andersen becoming a restricted free agent this summer, this would be the ideal time for the Flames' to trade for him, before signing him to a long contract. The downside of picking up Andersen is that unlike other goalies who are set to become unrestricted free agents, Andersen will probably cost a first-round pick in a trade to the Ducks. Plus, everyone knows what happened with the last Ducks' goalie who made the move to Calgary…
Jimmy Howard
With rising star Petr Mrazek taking the starter's job in Detroit, it seems illogical for the Red Wings to keep Jimmy Howard's near $5.3 million cap hit. Howard, who played his first game with the Wings in 2005, was Detroit's starter for six straight years before the 2015-2016 season.
Though his play has been deteriorating since 2013, at 32-years-old, Howard could still have time to make one more push with a new team. Many teams will be looking for a starting goalie when summer rolls around, and Calgary may be a good fit for Howard. Howard's trade value has only been dropping recently, and if the Flames can get him for cheap, he could become the Flames starter until his contract expires in 2019.
James Reimer
James Reimer has simply not been given enough credit. After leading the Leafs to their first playoff appearance in almost a decade, Reimer was shafted by the Leafs, having Jonathan Bernier seemingly handed the starting job after coming to Toronto. After two seasons as a backup, Reimer rebounded this season, playing stellar for the Leafs before being injured. After returning, Reimer was traded to the Sharks, where he's been nothing short of outstanding, posting a .938 save percentage to go along with a 6-2 record, and three shutouts.
In Toronto, James Reimer had 11 shutouts in 207 games played. He has 3 in 8 games with San Jose. Now that's pretty good.

— David Alter (@dalter) April 6, 2016
Reimer is no doubt worthy of a starter's job, the only thing that could weigh him down would be his asking price. It was reported that Reimer asked the Leafs for a six-year deal worth $6 million per year, which contributed to his trade deadline exit, however this rumour was denied by Reimer. Reimer will become an unrestricted free agent this summer, and if the Flames could sign him for less than $6 million, he could be the perfect fit for the Flames. After playing for the Leafs, he's learned to play under pressure, and would be able to handle the demanding environment that comes with playing for any Canadian team.
Cam Ward
After 11 seasons with the Hurricanes, the former Stanley Cup Champion's time in Carolina may have finally come to an end. Like Howard, Ward seems to have already peaked, and his number's haven't been anywhere near what he posted in 2011. That being said, Ward hasn't had a lot of support from the Hurricanes, who haven't made the post-season since 2009.
http://gty.im/71281100
Going into unrestricted free agency, a fresh start could be exactly what Ward needs. However when signing him, teams will be sure to take Ward's injury history into account, as the 32-year-old has only played in 150 of a possible 294 games over the last four seasons. The former Conn Smythe winner won't get the same kind of money he's being paid in Carolina now, but if Calgary could sign Ward for a portion of his $6.3 million cap hit, he could help to speed up the Flames' rebuilding process.
Ben is a journalism student at Ryerson University and covers the Toronto Maple Leafs.