It's been widely reported, and even more speculated that the Florida Panthers are in the mix for KHL superstar, Alexander Radulov, and may even be the front-runners to land his services.
But, the question has to be asked, is signing Radulov worth it for the all of the obvious risks for the Panthers?
My short answer is, "yes, but…"
Let me explain why.
Keeping the Future Intact
A lot of the points in this article will come back to the thought that the Panthers should only offer Radulov a one-year contract, in this case, it's because the Panthers' have a lot of RFA's that need to be signed over the next two seasons.
Jonathan Huberdeau, Reilly Smith, Erik Gudbranson, Vincent Trocheck and Aaron Ekblad will all need new deals within the next two years, and they'll all likely cost $4-million on the low end, but someone like Ekblad could get $7 or $8-million on his first contract.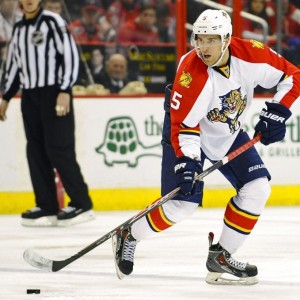 With so much work left to do on the contract front for the Panthers, handing out anything more than a one-year, "prove it" type deal to Radulov could hurt the Panthers in the short-term and in the long-term.
Moreover, the Panthers need to remember that they will have a handful of prospects that could make the roster out of camp this season.
2015 first rounder, Lawson Crouse, is as close to a lock as can be to making the Big Club on opening night this coming October. Rocco Grimaldi will also be gunning for any sort of spot on the Panthers out of camp. Then there's guys like Jayce Hawryluk, Connor Brickley, Kyle Rau and Juho Lammikko, who, if they have a strong training camp, could easily make the Cat's bottom six. We cannot forget veteran Teddy Purcell, who could be re-signed by the Panthers this offseason.
Consider the "Here and Now"
Not only do the Panthers need to consider their future when offering Radulov a contract, but they also need to look at what is in front of them to see if he fits.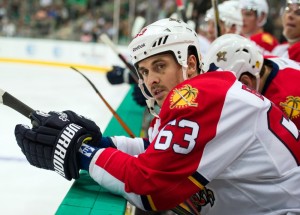 The Panthers have over $9.5-million in dead contracts as of right now.
Dave Bolland, who was signed two offseasons ago, to a five-year, $27.5 million contract by the Panthers, has turned into arguably the worst contract in the league next to David Clarkson, now with Columbus.
The Panthers also acquired the rights to Marc Savard in the Reilly Smith for Jimmy Hayes trade last summer. While this proved to be one of the better trades of the year, Savard carries a hefty $4-million cap-hit that expires after the 2016/17 season, and has not been placed on the long-term injured reserve by Florida.
Then there's the Panthers' veteran defensemen that need to be signed in the near future. First up is Brian Campbell.
Campbell, who will be 37 next season, is reportedly looking to re-sign with the Panthers, which is great news for Florida, considering how consistent he has been since being traded there in 2011. His current cap-hit is just over $7-million, but if he wants to stay in South Florida, he'll have to take a pretty big pay-cut, especially on a multi-year deal.
After the 2016/17 season, Panthers management will also have to make a decision on their longest standing member, Dmitry Kulikov.
The Russian D-man is the only player on the entire roster that is under contract going into next season that was not signed by, traded for or drafted by Dale Tallon (Garrett Wilson, a 2009 4th-rounder is a UFA currently) and will need a contract after next season. He will undoubtedly get a raise on his $4.3-million salary, and is likely to get a contract roughly the same as Jeff Petry did with the Canadiens.
Can Their 'Vets' Keep Radulov on his Game
The Panthers' locker room dons the phrase, "NO EXCUSES" and the players are expected to keep true to that slogan after every game and practice, and from an outside point of view, I'd say that it's working.
Tallon has done an excellent job of assembling a strong veteran core to keep the team accountable, and to mentor the young players brought in through the draft.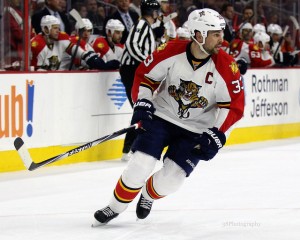 The core includes, Roberto Luongo, Willie Mitchell, Brian Campbell, Jaromir Jagr, Shawn Thornton, Jussi Jokinen, Derek MacKenzie and a few others, and I personally believe that this is why Panthers management is taking a run at landing Radulov.
The Panthers have some of the best, if not the best veterans in the league, and maybe, just maybe, they would be able to keep Radulov on his game, and on curfew.
This is the only reasoning that makes sense in my mind, especially after how Radulov acted during his last NHL stint with the Predators.
If Radulov is signed to a one-year contract by the Panthers, it could pay off big in many ways, and if he does succeed in South Florida, the strong veteran presence on the Cats' roster will play a big part in making it work.
Does He Fit?
Yes he does.
The Panthers have a wide open spot on their third line right-wing. As I mentioned above, there's a glut of prospects that could fill that role successfully, but none of them have the potential to impact the Panthers roster in as many ways as Radulov does.
If he transitioned to the NHL game again, and put the effort in, he would help bolster a very weak Panthers powerplay, and could give them three lines that could score at any point in the game.
So, I do think Radulov fits in Florida, but only on a one-year contract, anything more and it would probably be smarter to just let another team take a chance on him.
I have now graduated the Trent-Loyalist journalism program, as well as an eight-week internship at the Hockey News. I'll be covering the Panthers for THW while continuing to look for full time work somewhere in Canada.