The St. Louis Blues are among the NHL's leaders in almost every category, regardless of if it pertains to defense, offense, or special teams.  However, as of late the team has been trying some different line combinations and playing styles to see how they will adapt to their opponents when the playoffs start (in just over a week), which has caused some miscues from players in various situations.  Will the team be able to get back to their systems and true style of play in the playoffs?  I believe they will, but only if the following players really step their game up and refocus.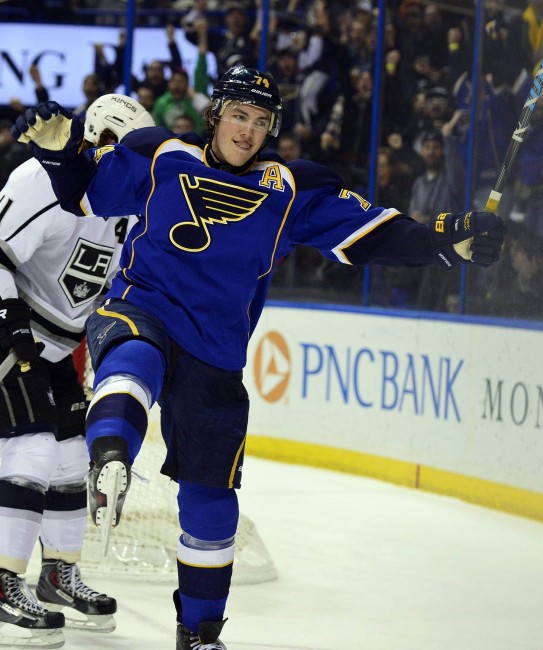 Leading the Pack…In the Wrong Direction
There are a couple of Blues' forwards in particular that really need to be the leaders they were meant to be, to ensure a long and prosperous Stanley Cup playoffs for the team.
Steve Ott
Here's a former captain (of albeit the worst team in the league) who was brought in during a blockbuster trade, and who was expected to round out our forward corps and add a little more "mean" to our game.  What we have seen instead, is exactly the Steve Ott Blues fans were hoping would stay behind.  His back-checking is lax at times, and though he has had some good face-off skills since arriving in St. Louis, for the most part he has cost us more than helped us overall.
His 2 points are both assists, but while averaging a little over 14 minutes of play per game that is simply too low of a number to help support a Stanley Cup winning team in the extremely tough new playoff format.  Add in his ridiculous minus-31 plus/minus rating and there is a big, big problem.  You can't expect someone who plays almost a 4th of a game to help your team win when he is among the league leaders in goals against.  Steve Ott needs to collect his thoughts, focus his play, and realize that there is no room for error in the Blues tight system, especially in the playoffs.  If he can finally put a puck in the net as a Blue his confidence will soar, and he will return to a more refined form we've hoped for.
GIF: So, Steve Ott choked out Ryan Garbutt tonight… http://t.co/i3wczefHZG

— Pete Blackburn (@PeteBlackburn) March 30, 2014
Derek Roy
Ah yes, the curious case of the 4 million dollar man.  Brought in for his face-off prowess, coveted for his play making abilities, past his prime.  These are all thoughts that come to mind when debating the shifty finesse forward.  Although Derek Roy has been a solid player for the Blues this season overall, his lackluster play as of late, and his declining speed throughout the season have made most fans hop off his bandwagon.  While he is still playing a decent brand of hockey for the club, the bottom line remains: you can't pay someone the type of money we pay Roy to give you 4th line stats.  That's like buying a McDonald's Happy Meal for 5,000 dollars, it just doesn't make sense.
Though he boasts 37 points (9 G, 28 A) this season, which marks his best since the 2011-12 campaign, he hasn't had a point since March 17 against the Winnipeg Jets (an assist), and before that he hadn't had any points since the Sochi Olympic break ended.  Add in his minus-2 in the last 5 contests and you can begin to see the negative effect he's been having on the team as of late.  Derek needs to find his rhythm and fight for his spot on the roster to find his scoring touch again.  He hasn't been a total wash as of late though, because he's been barely missing stellar passes that would create sure goals. Hopefully that means things are on the up-and-up with this crafty vet.
Derek Roy took a slashing penalty at the end of the period. The Blues will begin the third period shorthanded. #stlblues

— St. Louis Blues (@StLouisBlues) March 28, 2014
On the Bubble
Though the team is trying to find what combinations of players will work the best in those tight playoff situations, there are a couple of Notes who need to find their game to lift the Blues as a whole.
Jaden Schwartz
Schwartz being on this list surprised even me when I was thinking of who would make it. I love his play, and Jaden Schwartz is going to be the next David Backes with Vldimir Tarasenko being his TJ Oshie, that's not what's in question.  What has become questionable about the young standout's sophomore season is his play over the past month.  He has only recorded 2 points in the past 8 games, and is fighting the puck at the wrong time of the season.
underway in the 2nd period. Jaden Schwartz rings one off the post. Still scoreless #Flyers

— Philadelphia Flyers (@NHLFlyers) April 2, 2014
Luckily for Jaden, he is still creating great plays and playing solid defense to help the team gain points, but he will need to settle down and find his rhythm over the next week to give the Blues a deep run in this year's Stanley Cup playoffs.  I wouldn't be too worried about him once the chase for Lord Stanley's Cup is underway, as he was a point per game player in his Junior playoffs, and successfully battled adversity throughout his illustrious career with Colorado College.
Jaden Schwartz leads #stlblues with six shots on goal, one off his season high. Now up to 61 takeaways, tops on club

— Andy Strickland (@andystrickland) April 2, 2014
 Patrik Berglund
The biggest anomaly of the season outside of Chris Stewart (who is now thankfully elsewhere) would be the big Swede.  His play in Sochi and the first several games back was refreshing, but has since vanished from sight.  Though he's not making the bone-headed plays he was to begin the season, he isn't contributing to the scoreboard enough to be happy with his play.  He has one assist since that March 17th win over the Jets, and has been seeing a different set of line-mates almost every game (to varying degrees) which doesn't help.
Bergy is a playoff vet, and a team leader that should come ready to play after April 16th, or so we fans hope.  One refreshing note about his recent play is that he is using his body more, and not shying away from the corners, where the dirty work is done.  This shows that he is willing to sacrifice for the team, something that wasn't the case early on this season but garners hope for the playoffs.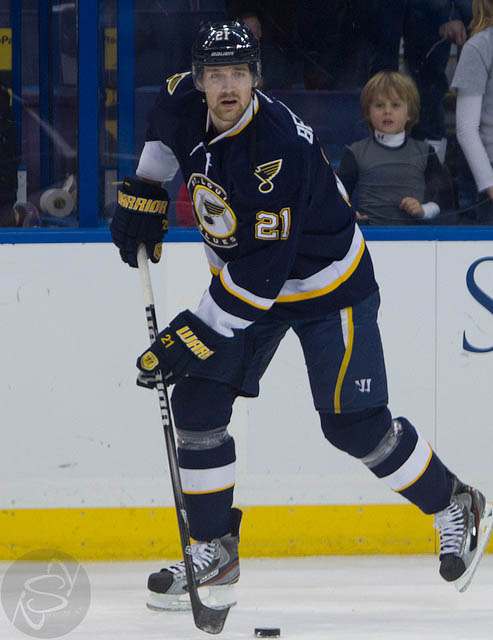 (Dis)Honorable Mention
There are plenty of Blues players aiding this scoring slump (which still sees them gain wins), but one line in particular will need to be the lifeline for the team come playoff time, and it's now they to be ready.
The 4th Line
While trying to narrow down 5 specific players to highlight I realized that the 4th line as a whole has been good, but not the C-P-R line we knew and loved a couple of seasons ago.  That line (C-P-R, Cracknell, Porter, Reeves) was able to inject race fuel directly into the veins of their teammates and the fans alike, and electrify their surroundings to amplify the game for the boys in blue.  That led to the awesome series victory over the San Jose Sharks, and it will be that lifeblood that lifts the team to a Stanley Cup victory in 2014.
Ryan Reeves is an uncharacteristic minus-2 on the season, and has looked as if he's playing a little hurt as of late.  Magnus Paajarvi has seemed sluggish, and not sure-handed as he was earlier in the year, though he is battling constantly changing environments around him.  Maxim Lapierre has been a disappointment from the start of the season, with poor penalties, and missed opportunities galore.  These boys must figure out how to come together and gain those timely points in big games if the team is to succeed moving forward.  The playoffs are far too intense to not have every line contributing to a degree, and if our 4th line falls short, our team may too.  They have more than enough talent to step up, they just need to focus on playing their role and the points will follow.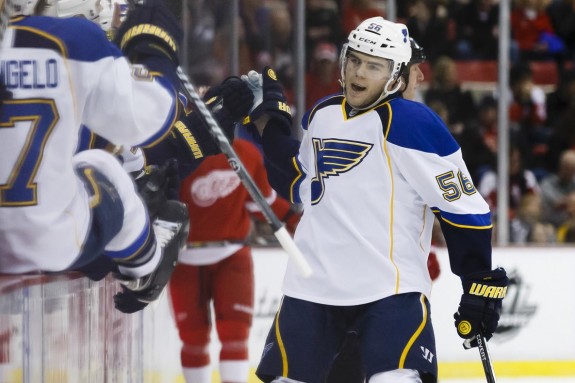 This has been the most exciting season to watch as a fan of the game, and especially as a super-fan of the Blues. They have managed to put together one of the best seasons in the team's storied history, and look primed to make a far run in the playoffs, let's just hope they get their minds ready for the battle that's about to unfold.  I have full confidence they will get it done, as teams don't get this close to a President's Trophy without proving their worth.  Now we must wait and see if this is indeed the year the St. Louis Blues finally bring home the Stanley Cup.
Like what you've just read?  Follow me on Twitter: @pep30