With the fantasy hockey season coming to a close in about a week or so, fantasy managers are probably scrambling to tweak their lineups in any way that they can. Seeing as how many free agent pools have probably been pillaged for the best available skaters and goalies, managers are probably being left with slim pickings at this point in time in terms of roster additions.
While a number of marquis names might be unavailable in many pools at this time of the season, there are certainly a number of lesser-owned options that managers could take a shot on. In particular, if fantasy managers are looking for a low-risk netminding option, then they should look no further than the selections that are available to at least three-fourths of managers in Yahoo! leagues. Of course, not all of the goalies on this list below will be available in one's league, but if they are, then it can definitely help out some managers that are in a pinch.
Goaltending Gifts
Thomas Greiss (Phoenix Coyotes – G)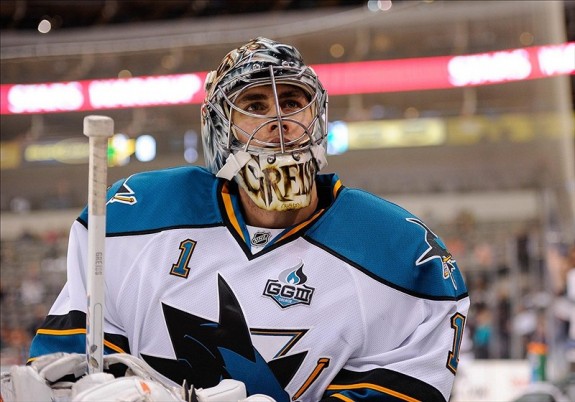 At 22% owned, Thomas Greiss tops the list of available goalies under 25% owned in Yahoo! leagues. With Mike Smith being sidelined because of a leg injury, Greiss will continue to man the Coyotes' crease until Smith feels that he is ready to return.
Ever since Smith injured his leg, Greiss has been there to keep Phoenix's playoff hopes alive as the goalie hasn't allowed more than two goals in any games played since March 24th. Overall, Greiss has been a very formidable back-up to Smith this season as he has compiled good numbers (20 GP, 2.21 GAA, .926 Save Percentage) in a number two role. Fantasy managers should definitely look to add Greiss to their rosters right now as the goalie will likely see a good amount of starts until Smith returns.
Frederik Andersen (Anaheim Ducks – G)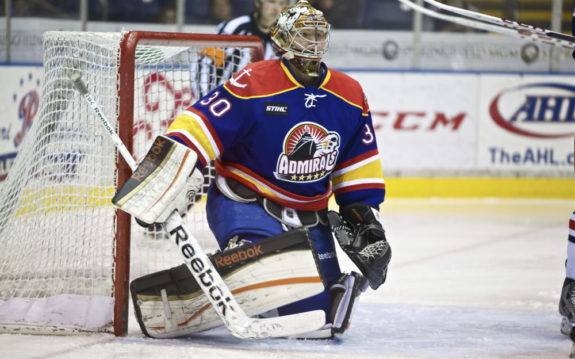 As a rookie netminder, Frederik Andersen has managed to put up some pretty impressive numbers and is only 22% owned in Yahoo! formats. Seeing as how Jonas Hiller will likely receive the majority of the starts the rest of the way for the Ducks, Andersen's stock might not rise as much as Greiss', but that doesn't mean that fantasy managers should ignore the Danish goalie for the rest of the season.
Over the course of the '13-'14 NHL season, Andersen has registered a 2.28 GAA and .924 Save Percentage while recording an 18-5-0 record in 25 games played. Even though Andersen endured some shaky play during the month of March, the goalie is still a very reliable back-up option to Hiller. Fantasy managers should keep a very close eye on Andersen for the remainder of the season as he has the potential to steal a win or help a manager out in different categories if he is able to get at least one more start under his belt before the playoffs begin.
Ilya Bryzgalov (Minnesota Wild – G)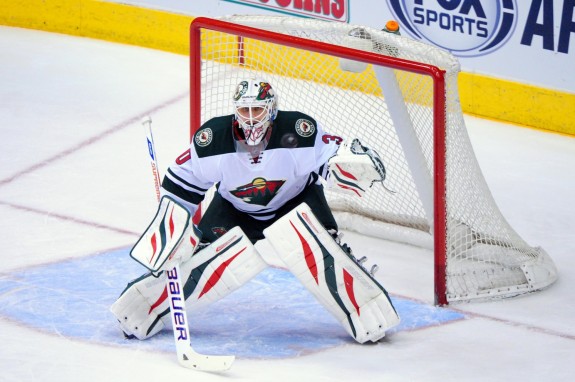 After making his way from the ECHL to the Edmonton Oilers and eventually the Minnesota Wild, Ilya Bryzgalov is only 18% owned in Yahoo! leagues. Despite the fact that many fantasy managers might not have the warmest perception of Bryzgalov, the goalie has been quite serviceable for a Wild team that is riddled with injuries on the goaltending front.
Without the services of Niklas Backstrom, Josh Harding, or Darcy Kuemper, Bryzgalov has been forced to fill some pretty big shoes for Minnesota and has played to the tune of a 4-0-2 record with a 2.16 GAA and .909 Save Percentage. Until Kuemper returns to the Wild, fantasy managers should expect Bryzgalov to get the majority of the starts in goal for Minnesota. For the meantime, fantasy managers should consider adding Bryzgalov – especially those in deeper leagues – as the team will look to keep its spot in the Western Conference playoff picture and can use the Russian netminder's veteran presence in order to keep them in the postseason picture.
Al Montoya (Winnipeg Jets – G)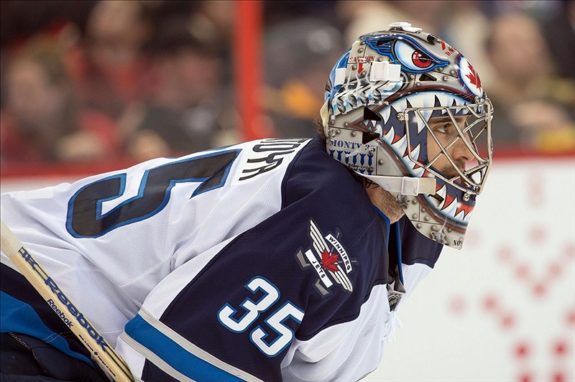 Much like Thomas Greiss and Frederik Andersen, Al Montoya has been a very reliable back-up goalie that has performed well when his number has been called on this season. Seeing as how Ondrej Pavelec has been having a sub-par season (3.01 GAA, .902 Save Percentage), Montoya started receiving a fair amount of starts in Winnipeg's crease during the late stages of March.
Having compiled a 13-8-3 record in 28 games played (2.30 GAA, .920 Save Percentage) this season, Montoya could be viewed as a very good low-risk option for the remainder of the season. Although Montoya is currently hurt and out of the Jets' lineup, fantasy managers should nonetheless keep an eye on the goaltender as he has earned the trust of his coach and team. With the Jets close to being eliminated from the Western Conference playoff picture, Winnipeg should be playing some loose hockey – and fantasy managers could definitely benefit from this if Montoya is healthy as he has had a strong presence in the paint for Winnipeg over the last couple of weeks.