There have been numerous dynamic duos throughout the history of the New Jersey Devils — Muller & MacLean, Gomez & Mogilny, Arnott & Elias, Zajac & Parise. Since the Olympics ended Patrik Elias & Adam Henrique have produced points at such a clip that they are among the NHL's best duos since then, but Jaromir Jagr & Travis Zajac have worked well together since coach Peter DeBoer put them together in late October and they have anchored the team since. The 42-year-old Jagr, who was a late summer signing by GM Lou Lamoriello, has more than exceeded expectations in his first season with the Devils. He has played in every game this season and leads the team in points (64), assists (40), shots on goal (207), plus/minus (+13) and game-winning goals (6); the 64 points is the most he's had in a season since his last campaign with the New York Rangers (71) in 2007-08.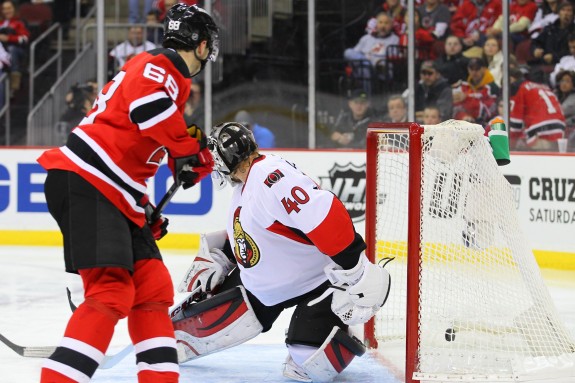 Jagr has been a part of a lot of dynamic duos over his storied career, teaming up with the likes of Mario Lemieux, Ron Francis, Adam Oates and Michael Nylander, so it's no surprise that he has fit in nicely alongside Zajac. "They've been the two guys who have been consistent all year," said DeBoer. "I like them (together) and they like playing together. Jagr has a strong opinion of liking it too," he added with a laugh.
Now in his eighth NHL season, the 28-year-old Zajac has been the setup man for Patrik Elias, Zach Parise & Ilya Kovalchuk before Jagr came along. Although his point totals are a bit low this season due to a bit of bad luck, he contributes in a lot of other ways — including consistently matching up against the opposition's top line, winning face-offs and he's a key cog in their very successful penalty kill unit (1st in the NHL).
As fans have pointed out often this season (and correctly so) Zajac has had some hard luck finishing off scoring chances — but he still has 16 goals this season, nine off his career-high of 25.
Travis Zajac is always in the right spot to make a play. If he had just a bit more finish, he'd be a stellar player.

— Devils Insiders (@DevilsInsiders) March 24, 2014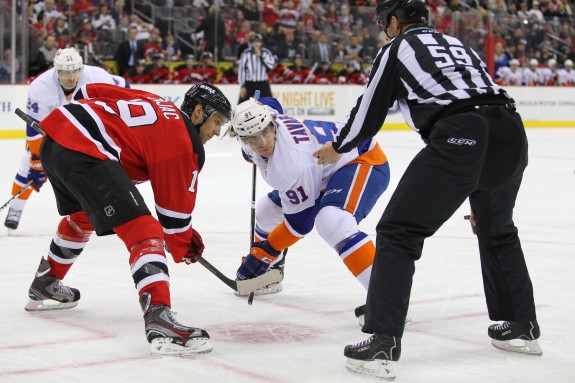 Like any smart player would, Zajac has been soaking up all of the information and knowledge he can from Jagr. The two players sit next to one another in the locker room and Zajac has frequently joined no. 68 in his post-game workouts. "Yeah, as stupid as some of the stuff is I still do it," Zajac told the Hockey Writers with a laugh. "No, seriously though, there has to be a reason he's played this long, he's been successful, he knows what it takes to do it in this league. Any tips you can get from him you take them; you take that info in and appreciate every little tip he gives you."
THW also got Dainius Zubrus' opinion on the duo, as he has played with Jagr in Washington and spent a lot of time on the top line this season. "They're both strong on the puck, they don't get rid of it just to get rid of it — there's no 'hope' plays. When they play is there they make it and when it's not they don't. They read the game well, on the forecheck, when we're on the same line we're usually on the same page; we get the pucks back and keep in the opposition's end. I think there's a lot of good things about them — the list is pretty long."
He also added that Zajac hasn't really changed much since he's been in New Jersey, no matter who his wingers have been. "Honestly I think Travis is kind of, I don't want to say the same guy but, he always plays a responsible, two-way game," Zubrus explained. "I think he knows a lot of times he will be playing against the other team's top lines, or top centers, so that's how he needs to play. There are players like that throughout the league and they are highly-valued, and I think he's a big part of our team."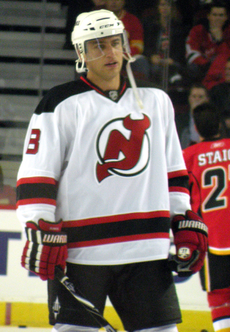 Zubrus also was kind enough to debunk the idea that Zajac was the only player on the team who has been buying whatever it is that Jagr has been selling since he joined Jersey's Team. "It's not like nobody worked out before he came here," he said while laughing. "There are a few things and tips though that Travis has taken and learned from him, the guy's been around for a long time, he knows what he's talking about. Not just him (Travis), myself too; I try to see what he's doing and if it could maybe help my game. That's what's great about having a teammate like Jagr, you try to learn and get better and go on."
Whether it's been Zubrus, Jacob Josefson, Tuomo Ruutu or Ryane Clowe playing as the third member of the top line it hasn't slowed down the production of Jagr & Zajac as they have been able to adapt to whomever joins them. "Jags, Clowe and Roots there at the end, were making some really good plays, they did a lot of the work tonight." said Zajac deflecting the credit after his first hat trick. "Clowe is a big guy, he's physical, he wins a lot of battles and he hangs on to pucks. I think he fits in well there with us."
Travis Zajac potted his first career hat trick against the Florida Panthers on March 31:
http://www.youtube.com/watch?v=L2SQxdSLePk
If Jagr (who's on a one-year contract) re-signs in New Jersey it might be interesting to see if Clowe fits on that top line alongside he and Zajac for a full season considering the brief success they've had in limited opportunities during this season.
Dan Rice can be reached via Twitter: @DRdiabloTHW or via Email: drdiablo321@yahoo.com