It's 2016 and the Nashville Predators know how critical the month of January will be. The Predators find themselves clinging to the second wild-card spot, and they have teams like the Colorado Avalanche, Winnipeg Jets and Edmonton Oilers looking to gain ground on them.
Nashville did get over some injuries and showed some flashes of brilliance in wins over the New York Rangers, Montreal Canadiens and Chicago Blackhawks in December. However, there were some tough stretches with divisional losses to Colorado, Chicago and Minnesota. The team has also struggled with holding leads, scoring goals and in 3-on-3 overtime games.
The Predators did start the New Year with a 2-1 overtime win over the Carolina Hurricanes on Saturday, but there are plenty of other important games for Nashville this month.
Here are the five most important games in January for Nashville.
Jan. 8 at Colorado Avalanche
Time: 9 p.m.
TV: Fox Sports Tennessee; Altitude
Season series: Colorado leads 1-0 (Avalanche won 3-2 on Dec. 12)
Why you should watch: The Predators do hold a six-point lead over the Avalanche as of Jan. 3, but this is a chance for Colorado to draw closer. Last time around, Semyon Varlamov was on his game with 34 saves and Andreas Martinsen provided the game-winner. Nashville did battle back to tie the game at two before Martinsen's deciding goal. The Predators will need these two points to keep the Avalanche at a distance when this game takes place in a few days.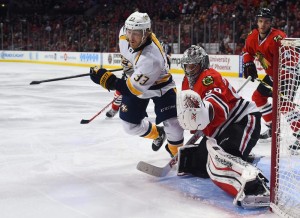 Chicago Blackhawks (Jan. 12 at Chicago; Jan. 19 at Nashville)
Times: 8:30 p.m. Jan. 12; 8 p.m. Jan. 19
TV: Jan. 12 (Comcast Chicago; Fox Sports Tennessee); Jan. 19 (NBCSN; Comcast Chicago)
Season series: Tied 1-1 (Blackhawks won 4-1 on Dec. 8; Predators won 5-1 on Dec. 10)
Why you should watch: Like I've said before, Chicago is Nashville's biggest rival. However, the games this season have been rather one-sided. Chicago scored twice in the first and third periods to win the first game of the home-and-home series. Nashville used a fast start and two James Neal goals to win the other game. If the Predators want an automatic playoff spot, they'll need some points against the defending Stanley Cup champions. The game on Jan. 19 will also be on national TV on NBCSN.
RELATED: Preds Poll: Who is Nashville's Biggest Rival?
Jan. 16 vs. Minnesota Wild
Time: 8 p.m.
TV: Fox Sports North; Fox Sports Tennessee
Season series: Nashville leads 2-1 (Predators won 3-2 on Nov. 5 and Dec. 19; Wild won 4-0 on Nov. 21)
Why you should watch: It will be the last time these two teams face each other in the regular season. Shea Weber has three points in the three games against the Wild. Minnesota's win also came in the middle of Nashville's extended goalless drought. The Wild now lead the Predators in the wild-card standings, but a win here could give the Preds a boost.
http://gty.im/493291546
Jan. 23 at Edmonton Oilers
Time: 10 p.m.
TV: CBC; Fox Sports Tennessee
Season series: Nashville leads 1-0 (Predators won 2-0 on Oct. 10)
Why you should watch: The Predators will be the late-night game on CBC's Hockey Night in Canada. It will also be a spotlight game with Connor McDavid set to return. This game could also be a matchup of potential trade partners as the Predators have inquired about Oilers' center Ryan Nugent-Hopkins before the December roster freeze.
RELATED: 10 Things Nashville Predators Fans Want for Christmas
Jan. 26 at Vancouver Canucks
Time: 10 p.m.
TV: Rogers Sportsnet Pacific; Fox Sports Tennessee
Season series: First meeting
Why you should watch: It will be the first of three meeting between the clubs. The Canucks hold the last automatic playoff spot in the Pacific Division. It's also a chance for Weber to come home as he played in British Columbia during his junior career. A win against a playoff team would be great for Nashville on its Western swing.
What to Make of the Nashville Predators in January?
There are some tough games against Central Division foes, but there are plenty of winnable games for a team that's looking to get into better playoff positioning. The Predators would love to get a shot at hosting a first-round series, where the Bridgestone Arena holds a solid home-ice advantage. However, the Predators need to start picking up points in a hurry.
Is there a game I missed? Let me know in the comments below.
Dan Mount is a Nashville Predators staff writer for The Hockey Writers. You can follow him on Twitter, @DanMountSports.