As the February 29th trade deadline approaches, teams are running out of time to decide whether they are buyers or sellers. The situation is compounded for the Winnipeg Jets as they head into a stretch run of the season with some of their biggest name players without contracts for next season. This makes them one of the most interesting teams to watch leading into the deadline.
As of today, the Jets are dead last in the Central division, but only a couple of points out of the second wild card position. In the next couple of weeks the brass must decide which way they want to go. As of today, most believe the Jets will sell some pieces off, but if they go on a bit of a run in the next week or so, the Jets may become buyers in the hopes of making a run. Either way, the Jets will be a team to watch leading into the trade deadline so let's take a look at some of the players that may draw the most attention.
---
Andrew Ladd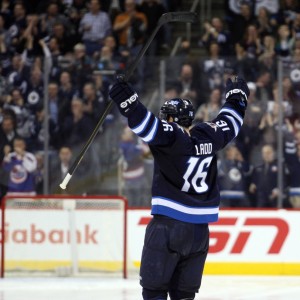 The Jets captain has been the center of attention all season. I previously wrote about my opinion on trading Ladd which you can see here, but the fact of the situation is something has to happen with Ladd. As a player who will become a free agent at the end of the season, the Jets have been surrounded by this distraction all season and Ladd has not been nearly as good as Jets fans had hoped. The man who has worn the "C" in Winnipeg since the move seems to have lost a step this year. Whether it be injury, or age, Ladd has struggled to find his game this year and most fans are calling for a change in leadership of this team. Trading a captain and a face of your franchise is never easy, but Kevin Cheveldayoff must take a long hard look at any offers that cross his desk regarding number 16.
Dustin Byfuglien
The Jets big defenseman who continues to be a fan favourite is also a one of Winnipeg's biggest assets approaching the trade deadline. The Jets are in the same boat with Byfuglien as they are with Ladd as he also becomes an unrestricted free agent come seasons end. Talks between Byfuglien's agent and the Jets have picked up recently and it is believed Byfuglien has become the Jets number one priority over Ladd in discussions to re-sign. Byfuglien is a one of a kind player in the NHL and has become a glue that holds this team together. You would be hard pressed to find a Jets fan that wants to see Byfuglien leave the team, but the fact remains if Winnipeg cannot re-sign him something needs to be done. The Jets cannot lose their most dynamic player for nothing, so if February 29th comes along and the big American defensman is still without a contract the trade option needs to be explored.
Ondrej Pavelec / Michael Hutchinson
The two goalies who came into the year in what was supposed to be a very tough competition for the starting jobs have no both seen themselves become expendable. After both struggled to start the year, neither finding their for from last season that carried the Jets to the playoffs, an injury opened the door for a third man. When Pavelec was injured in a game against the Arizona Coyotes near the end of November, the door was cracked for Connor Hellebuyck. Hutchison saw the ice the next two games before Hellebuyck got his chance on December 2nd against Toronto. Hellebuyck took his opportunity and ran with it making 32 saves in that nights win and he has started nearly every game since. He ranks among the league leaders in save percentage, goals against average, and his 11-7-1 record has pulled the Jets back into the playoff discussion. Sportsnet's Mark Spector has even discussed that Hellebuyck should be the Jets new starting goaltender (see that story here).
It is clear Hellebuyck has leap frogged Hutchinson on the depth chart and the rookie has his eyes on Pavlec's job as well. This situation has complicated life for Jets management once Pavelec becomes healthy. At that point the Jets will have three goaltenders on their roster and one will likely have to go. With the play of Hellebuyck, it is unlikely that he will be returning to the American Hockey League which leave Pavelec and Hutchinson. Both would need to clear waivers to be sent down, and with some very bright spots in their past, they may not be sure things to clear. This opens up the discussion of a trade. There is some value in each of these players and if the Jets can get enough of a return there may be a chance one of these goalies will be moved.
Nic Petan
Plenty is made of the Jets young talent. Their prospect pool is flooded with young skill who are supposed to be the players that will take this team to the next level. Petan was given an opportunity this season to begin this transition. After making the NHL roster out of training camp there were high hopes for the young Canadian. Unfortunately, Petan could not live up to the expectations of the organization and he was sent down to the Jets AHL affiliate, the Manitoba Moose. Now this was not looked at as a negative. In Manitoba, Petan would get the ice-time he needed to grow as a player, something he wasn't getting in the NHL, as well as a role as one of the star players. Though the Jets probably still think they have a diamond in the rough with Petan, some of the shine has likely rubbed off. That being said, Petan is still one of the Jets top prospects, and could be used in a big trade as teams are always looking for high end young talent. The Jets may or may not be interested in parting ways with Petan, but other teams will definitely be mentioning him in trade talks.
Paul Postma
Postma was a bit of a surprise when he came on the scene in Winnipeg, and he made enough of an impression that he earned himself a one-way contract. Since signing though, Postma has not managed to find that next level and has spent most of his last two season in the press box. The Jets signed themselves into a corner however as due to that contract, Postma would need to clear waivers to be sent down. The Jets have not been confident enough in that possibility to try it yet, and that may lead to an alternative for Winnipeg, a trade.
Postma has played just two games this season for Winnipeg, and not a single one since he was victimized by Thomas Vanek in the play above. Recently Postma was sent to the AHL on a conditioning stint but do not be surprised if the Jets try to shop him as some defensive help to a team that needs it. There is still upside to Postma, but it appears his time in Winnipeg may be done and a trade could be the best option for both parties.
Born and raised Winnipeg sports fan and contributor with The Hockey Writers.