Since the Winnipeg Jets franchise moved from Atlanta, Andrew Ladd has been the focus point of fans and media. The only captain that Jets fans have known, Ladd quickly became a fan favorite as a hard-working and tough, two-way forward. As the captain he was always available for the media and embodied what this team was trying to become.
Things began to turn for Ladd this past summer. Entering the final year of his contract the Jets were very open publicly with their intention to re-sign their captain. However, despite both sides claiming to want to get a deal done, the summer break came and went without a new contract. Now mid-way through the season, the face of the Jets franchise is still without a contract for next season, and the tune around the team has begun to shift, from re-sign, to trade.
---
Trade or Sign?
Rumors around a possible contract have been swirling around since early last summer. Coming into the season, the rumor was Ladd had just rejected a six-year, six million dollar offer. This seemed a reasonable offer for the captain of your team, though his numbers may not suggest that kind of money, he does bring plenty else to the table. As the season continued, fans heard less and less about negotiations, the player himself declined to comment, and the team stuck to their line of wanting to re-sign their captain.
In mid-December, a report came out outlining the contracts that three Winnipeg Jets players were looking for, including Ladd. Luke Fox of Sportsnet, reported the figures of Ladd's contract demands at 6 years, 41 million dollars. Working out to about $6.8 million a year, way more than most fans expected.
Read Fox's full report here.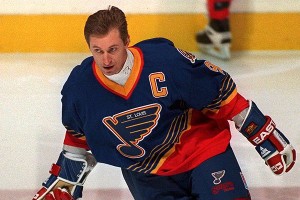 This report really turned up the heat on rumors of the Jets shopping their captain. While not a total rarity in the NHL, it is still something that does not often come up. When it does happen it is huge news. The list of NHL captains that have been traded includes some of the biggest names and news stories in NHL history. Mark Messier, Raymond Bourque, Joe Thornton, even the great one Wayne Gretzky was actually traded twice as a captain. Though Ladd is not as big a name as those players, his pedigree is impressive. Two Stanley Cups, a perennial 20 goal scorer, and still only 30 years old, Ladd has value as a trade target. He brings experience and a little bit of sandpaper to any lineup. Winnipeg may be able to get a big return for the only person who has ever worn their "C."
---
 Change in Attitude
While Ladd has always been the subject of criticism, this contract situation has really cranked up some negative feelings. While there is no question that Ladd has provided many positives over the years in Winnipeg, there are some obvious downsides to his game.
A captain leads by example. Jets Andrew Ladd with another needless penalty to put his team in a hole in a tight 1-1 game vs Coyotes

— Joe Pascucci (@Pascucci015) January 1, 2016
Penalties, which are a major issue for the Jets, have long been a point of criticism for the captain in particular. He is among the league leaders in minor penalties, but the bigger issue is the type of penalties. Of his ten minors this season, only two have been roughing, the majority have been stick infractions, and even more concerning is the amount of penalties that have come in the offensive zone. This is not a new trend, last season Ladd took 31 minor penalties, putting him at 15th in the league. Those 31, included 5 holding, 6 tripping, and 6 slashing. Not the type of penalties you like to see on your team, especially from your leader.
He has also seen a drop in his play this season, whether it be an injury or something else, Ladd has not looked like the same player as he was the last few seasons. The captain appeared to have trouble keeping up with his linemates early in the season. He has now been move down to the third line playing with Adam Lowry and Alex Burmistrov, and his production has dropped. All of a sudden trading Ladd seems like a pretty valid option.
---
Trade Ladd Now!
While the organization would likely still prefer to re-sign their captain, the reality of a trade is coming up fast in Winnipeg's rear view mirror. The Jets cannot afford to lose Ladd for nothing, which makes Kevin Cheveldayoff's job as General Manager very hard as the trade deadline approaches. Cheveldayoff is in a tough position, if he moves Ladd, the return will be heavily scrutinized, if not, the Jets need to sign him, or the backlash could enormous.
At this point losing Ladd almost seems a certainty. That means Cheveldayoff needs to be looking to pull the trigger on a deal now. The longer he waits, historically the lower the return. As the deadline gets closer Winnipeg becomes more and more desperate, and teams will take advantage of that. A draft pick and a prospect likely is not enough of a return to make the Jets happy, but if they wait until the deadline they may be staring that in the face. If the Jets can mange to swap Ladd now, he becomes more than just a rental player. Winnipeg needs a return for Ladd, and they need a player that can play for them now. Trading a captain is rare, and the return is often steep. Winnipeg needs to make this happen sooner rather than waiting for the 2016 NHL Trade Deadline.