The Minnesota Wild had a December to remember as they picked up 25 of a possible 28 points in the standings over the course of the month and rocketed their way up to second place in the NHL's Central Division.
The Wild are right on the heels of the division-leading Chicago Blackhawks with four games in hand and it's not unrealistic to suggest that they could overtake the Hawks for the top spot before the month of January is through. Patrick Kane and company will be appearing smaller and smaller in Minnesota's rear-view mirror if they can maintain anything close to the pace they set in the final calendar month of 2016.
So who deserves the recognition for the team's surprising success?
1. Bruce Boudreau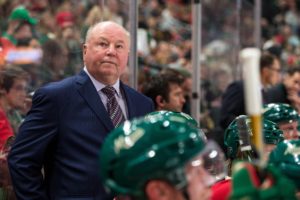 Much of the credit for the Wild's success this season should fall on the shoulders of veteran bench boss Bruce Boudreau who will be behind the bench for the Central Division's entry at the 2017 NHL All-Star Weekend.
Arguably his toughest challenge yet as a head coach in the NHL, Boudreau has taken a middle of the pack roster on paper and transformed it into an efficient and well-oiled machine. Minnesota's 12-game winning streak from Dec. 4 to Dec. 29 set a new franchise record as it bested the team's previous mark of nine set in March 2007.
Boudreau's impact on this roster should not be understated as their new tactics and playing style have his fingerprints all over them. Several key players are outperforming their expectations under his watch and a lot of the team's young veterans are finally breaking through barriers that have held them back in seasons past. Coaching has definitely been a strong point in Minnesota this season.
[irp]
2. Devan Dubnyk
The old saying "build from the net out" certainly applies in Minnesota. While winning games by a score of 7-6 provides plenty of entertainment value, it doesn't necessarily provide a formula for sustainable success in today's NHL. Nowadays teams are only as good as their goaltender allows them to be. Luckily for Minnesota, they have Devan Dubnyk guarding their net.
Dubnyk is back at the top of his game this season and is once again showing the hockey world that he can be an elite goaltender. The 6-foot-6 puckstopper leads the league in goals-against-average, save percentage and shutouts, while also ranking second in wins.
The Saskatchewan native's play has been nothing short of stellar and should make him the early favourite for this season's Vezina Trophy.
3. Ryan Suter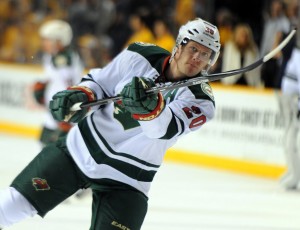 The true anchor on Minnesota's backend, Ryan Suter continues to munch minutes in all situations. The 12-year veteran ranks second among all skaters in ice time per game and is once again on pace to finish the season hovering around the 50-point mark.
Suter is the NHL leader in plus/minus and, along with Dubnyk and Boudreau, was recently named to the Central Division's All-Star Team, marking his third such honour. The rearguard has been a pillar of consistency since signing in Minnesota as a free agent in the summer of 2012 and seems to find chemistry with just about anybody he's paired with.
4. Eric Staal
Veteran centre Eric Staal's resurrected play this season has changed the opinion on him from a questionable offseason acquisition to arguably the best free agent signing of the summer.
Staal leads the Wild in scoring with 38 points which is just one point shy of his season total from a year ago. The former Carolina Hurricanes captain has recorded 20 points in his last 14 games — an impressive run for anyone at any age — as he inches closer to the point-per-game mark.
The 6'4″, Ontario native, now free from the spotlight and the weight of an overpriced contract, has rediscovered his scoring touch in Minnesota. He has shown strong leadership attributes and a contagious work ethic while visibly enjoying his time in the Gopher State — a place where he has proven to be a perfect match.
[irp]
5. The Young Veterans
Fans of the Wild have been waiting anxiously for Charlie Coyle, Mikael Granlund, Nino Niederreiter and Jason Zucker to reach that next level in their development. Well don't look now but all four forwards are on pace for new career highs in points this season and each one of them has shown encouraging progress in their own individual development paths.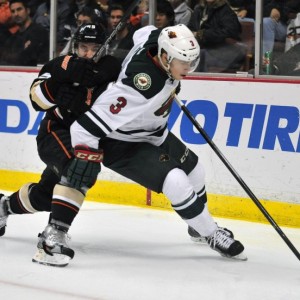 Coyle is showing an increased willingness to use his size and strength to his advantage. He plays hard and does not look out of place when lining up in a prominent role on the power play.
Granlund has earned the trust of his new coach and has seen a jump in his ice time as a result. He has been impressive on both special teams as well as at even strength.
Niederreiter hasn't seen a dramatic increase in his scoring but remains on pace for 53 points while continuing to pace all Minnesota forwards in possession stats.
Zucker has really picked up the pace after a sluggish start to the season which included a run of nine straight games without a point. The Las Vegas native has a history of running hot and cold so it remains to be seen if he's really turned the corner or if he's simply in the middle of another scoring streak. One thing that isn't in question is Zucker's ability to use his speed to create chances.
Overall, the season is young but the Wild have far and away exceeded expectations at the midway point. The team will hope to avoid another midseason collapse as they appear to be well on their way to a fifth straight postseason appearance.