The offseason for the Boston Bruins can be summed up in this age-old cliché: The more things change, the more they stay the same.
The noticeable change came in the form of a new general manager (Don Sweeney), two major trades (Dougie Hamilton and Milan Lucic) and notable acquisitions (Matt Beleskey and Jimmy Hayes). The "more of the same" refers to maintaining the services of head coach Claude Julien and the core of the franchise including Patrice Bergeron, David Krejci and Tuukka Rask.
However, this season for the Bruins is not so much about the big names on the roster. Fans know what they'll get from their franchise players but what about everyone else? There are plenty of unknown commodities on this year's squad that will decide what language will be used to write the 91st chapter in Boston's franchise history.
Here's a look at five players that could be the x-factors for the 2015-16 Bruins.
Brett Connolly
There is no greater unknown on Causeway Street than 23-year-old Brett Connolly.
Last season's deadline day acquisition cost the Bruins two second-round picks and only played in five games due to a freak injury in his first practice with the Black and Gold. Connolly was drafted sixth overall in 2010 by Tampa Bay but struggled to find the form that made him a force with the Prince George Cougars of the Western Hockey League.
The British Columbia native signed a one-year contract worth just over $1 million in the offseason to stay with Boston. Connolly has the ability to give the Bruins valuable depth scoring in a bottom-six role and projects to start the year alongside Ryan Spooner. Can the right winger find the goal scoring touch that made him a top-10 pick five years ago?
Awesome hand eye coordination from Brett Connolly pic.twitter.com/8qkCP3ggwD

— Puckstop.com (@PuckStopUK) October 1, 2015
If this goal is any indication, there's reason to believe the answer is yes.
Zach Trotman
Ask anyone outside of New England about Zach Trotman and you might hear crickets. Lots of them.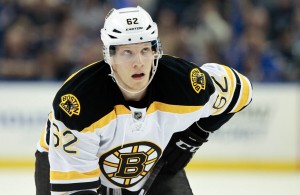 However, the 25-year-old defenseman expects to play a big role on the blue line this season. He projects to start the season alongside Zdeno Chara after an impressive 10-game spell with Boston's captain to close last season, as explained by our very own Cam Kerry.
Trotman has the ideal frame of an NHL defenseman (6'3, 220 pounds) and the intelligence of a veteran with positioning and puck distribution, even though he's played just 29 games. The seventh-round pick in 2010 is a great story and should be commended for working himself into an ideal situation on Boston's blue line.
With Dennis Seidenberg out until late November, Trotman will see significant minutes in all situations. How he responds to the pressure may correlate with where the Bruins stand this season.
Torey Krug
Seidenberg's absence also opens the door for Torey Krug to tackle an increased workload.
The undrafted free agent out of Michigan State is coming off a strong campaign where he scored 12 goals and 39 points while averaging 19:36 of ice time per game. It earned him a one-year contract extension worth $3.4 million for this year to prove he isn't just a one-trick pony as a power-play specialist.
Krug is looking at a place on Boston's second pairing and increased minutes, especially on the penalty kill. The 24-year-old averaged just 11 seconds of shorthanded time on ice per game last year but that is sure to change. The debate on whether he's a top-four defenseman will gain some clarity this season as Krug will start the year in that role.
How he reacts and performs in such a position could be beneficial for both the Bruins and Krug as he is set to hit the open market next summer as a free agent.
Ryan Spooner
Last season, Ryan Spooner made the most of his opportunity after an injury to Krejci in late February.
The 23-year-old center was called up from Providence and turned into one of Boston's best forwards down the stretch scoring 18 points in the final 24 games of the season. Together with then-rookie David Pastrnak, they were a dangerous duo that kept the Bruins afloat in the playoff picture for longer than they arguably should have been.
Now that Spooner earned his place with the big club, his next challenge will be to keep it. Boston's second-round pick in 2010 still has some work to do in the faceoff dot (43.7 percent in his career) and in terms of puck possession. His career Corsi-For at even strength is at 52 percent but with the advantage of having over 60 percent of shifts start in the offensive zone.
With another young center in Alexander Khoklachev chomping at the bit to get his chance in Boston, Spooner will have to continue to progress and perform at a high level to maintain his place with the Bruins.
Zac Rinaldo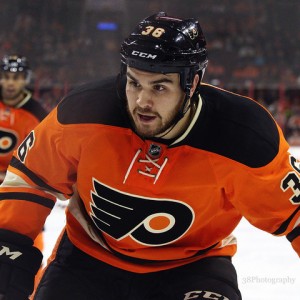 I know what you're thinking. How can a borderline goon in Zac Rinaldo possibly be an x-factor this season?
Think about it. The Bruins were soft last year. They lost their "Big Bad" moniker because they were too timid to get physical and play with the aggression Sweeney wants from this year's bunch. According to hockeyfights.com, Boston ranked 14th with 27 fighting majors last season, tied with the Montreal Canadiens in that category. In 2013-14, the Bruins had the second-most with 46.
Rinaldo adds that element of toughness and a "mean streak" the Black and Gold badly need. The Ontario native may have a growing record with the NHL's Department of Player Safety and a bad reputation but with Lucic and Thornton gone, someone needs to be the agitator and enforcer in Boston.
Provided he can stay out of trouble with the league and play a smart, physical game, Rinaldo can be the type of player that brings back the toughness to a team that was void of it a season ago.