Like a riverboat gambler, Arizona Coyotes coach Dave Tippett is keeping his hand close to the vest. With the wisdom and acumen of those adventurers at the table, Tippett is not tipping his hand on formation of lines or who he would like paired as line mates.
Whether that's because he's waiting for opening night to showcase his players or there is a bit more tweaking to do, Tippett said those who play on a particular line in Friday night's final pre-season game at home against the San Jose Sharks will not necessarily form those line combinations next week. That's when the Coyotes open their regular season a week from Friday against the Los Angeles Kings in the Staples Center.
About the only breathe of news he gave after practice Thursday in the Gila River Arena was that defensive specialist Boyd Gordon would anchor his fourth line at center. Aside from that, Tippett gave no clue as to the centers and their wingers.
With 26 players in camp and the NHL-mandate cut down to 23 by next Tuesday looming, Tippett told reporters that the final three cuts could influence his eventual line construction. With three goalies still in camp, it's likely Louis Domingue, who was 1-2-1 with a 2.73 goals against average in seven games last season with Arizona, would be one to go. Speculation then centers on players like Kyle Chipchura, John Scott, Jordan Martinook, Matthias Plachta and defenseman Stefan Elliott as those remaining on the bubble.
While most teams have essentially six top forwards which constitute their offensive, power players, Tippett said, "we have about nine." That could preclude the Coyotes from generating a sustained offense from predictable players.
Because the Coyotes have that many interchangeable parts, Tippett truly does not know which player may step up on a given night. For that reason, lines which begin the season may last several games, several weeks or simply several shifts.
"For us, we need to find a way to generate more offense, and it's hard to say who fits with whom right now," Tippett said. "Any line combination could be the best line that night."
From a player's perspective, there is no essential or basic criteria on the science of putting lines together. At the start of last season, Tippett put Antoine Vermette in the middle between captain Shane Doan and left wing Mikkel Boedker. That line was eventually broken and Tippett also had to find wingers for Martin Hanzal's line after the veteran Czech center was lost in mid- season because of back surgery.
"You look for certain characteristics," said center Brad Richardson, who signed as a free agent in the offseason. "For me, it's a player who is easy to play with and likes to talk. Communication is important, and I like guys who talk."
In making the Coyotes his fourth NHL team after the Avs, Kings and Canucks, Richardson said his reason for putting up a shingle in the desert was the mix of veterans and energy. Citing the leadership of Hanzal and Doan as well as the enthusiasm of Max Domi and Anthony Duclair, Richardson indicated line formation with these kinds of players should result in production.
"I think this team is ready for a big turn," he added. "I really like the character of guys like (Hanzal and Doan), and that's why I wanted to come here. I've played in this building for a while and saw what Doan, as the captain, does with his team."
Speculation now abounds and a few pundits are playing coach. Some suggest Hanzal with start in the between Boedker and an undetermined right wing. Tippett said he will not reunite Vermette with Doan and Domi, on the right wing and Duclair on the left side need to find a center.
At best, Tippett said he will hold out several players in the pre-season finale for two reasons. First, some are nursing nagging injuries but more important, Tippett said he wants one more look at players whom he believes remain in the bubble.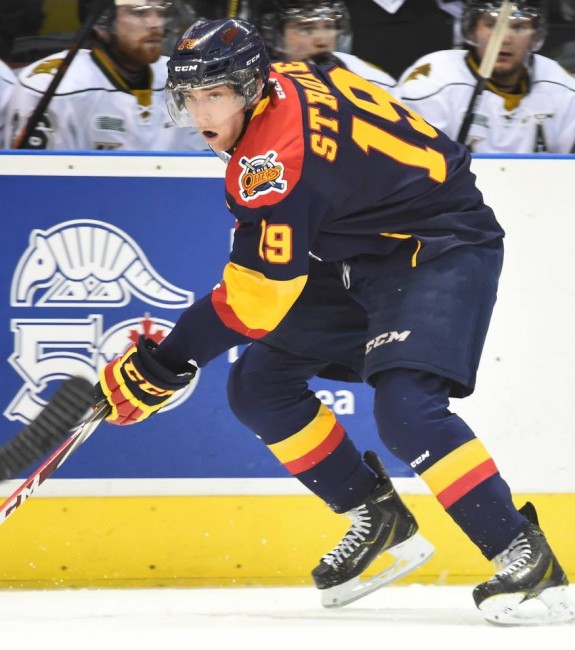 Still Around
Down to the final cut, Dylan Strome, the Coyotes first pick and third overall in this past June's draft, continues to impress.
While the Coyotes may have a plethora of centers and the probability for Strome, at the start of camp, was a one-way ticket back to juniors, his fortunes have changed.
Strome, an 18-year-old out of Mississauga, Ont., remains on the roster because of his energy, hockey sense and intelligent play. When drafted, critics jumped on Strome for his lack of speed but through camp, he proved a speed skater may not be the most effective skater.
"You could have guys who race down the rink and then keep on going," said Tippett. "If you have a player who knows how to skate and gets to his appointed spot, that's the player you want. (Strome) is smart and intelligent and he's all hockey. Hockey is a game of anticipation and being at the right spot at the right time. That's where his smart skating comes into play."
At this point, demotion is not a word in Strome's vocabulary. Excited by playing at the NHL level and primed to contribute, Strome says he hopes to be in the line-up next Friday. That's when the Coyotes open their season against the L. A. Kings in the Staples Center. Not to temper his enthusiasm but the Coyotes are right back home the next night to commence their Gila River Arena season with Sidney Crosby and the Penguins.
"Just continue what I've been doing," Strome said after practice on Thursday. "They wanted to see what I have and I think I've given that to them. I've found there is a fine line between being good and okay. If you're okay, you don't last around here for very long."
If Strome survives the final cut, the Coyotes could benefit from his rapid rise. Though Strome was of the best players in junior hockey a year ago, he is the first recognize that reality of his career remains in the rare view mirror. At the very least, Strome continues to raise the level of his game and counter critics.