When it comes to Edmonton Oilers prospects, there is the understandable tendency to instantly think of the numerous first overall and first round picks the team has enjoyed in recent history.
Current examples of which include 2014 third overall pick Leon Draisaitl and 2013 seventh overall selection Darnell Nurse.
However, high selection in the NHL Entry Draft, whether it be first overall or in the first round, does not guarantee sustained NHL success.
That being said, despite the Oilers' plethora of high round draft picks over the years, there remain other, far less notable Edmonton prospects who continue to develop their games at various levels with hopes of one day playing in the NHL.
Jordan Oesterle
A free agent signing by Oilers in the spring of 2014, Jordan Oesterle is a 6 foot, 185 pound defenseman currently playing with the Oklahoma City Barons.
A native of Dearborn Heights, Michigan, Oesterle, 22, spent one season with the Sioux Falls Stampede of the USHL before enjoying three solid seasons at Western Michigan University.
Characterized as a puck distributing defender, Oesterle is also a great skater with strong hockey sense. A strong player positionally, Jordan is enjoying a breakout season in OKC having already scored 20 points through 44 games, trailing only Brad Hunt in defenseman scoring.
Oseterle's great play could make him a serious contender for a late season NHL call up.
Kyle Platzer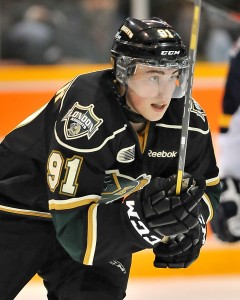 Selected in the 4th round, 96th overall by the Oilers in 2013, Kyle Platzer is a 19 year old centreman playing for the Owen Sound Attack of the OHL.
Now in his fourth OHL season, Platzer enjoyed parts of three seasons with the London Knights before moving on to Owen Sound.
Kyle was a surprising selection by the Oilers in 2013 because he had not proven himself as an elite hockey talent. In fact, Platzer only scored 17 points in his draft year. However, the Oilers clearly saw potential in Platzer, who currently leads Owen Sound in scoring with 22 goals and 59 points in 46 games.
A versatile centre, Kyle plays on both the penalty kill and powerplay while he is consistently reliable in his own zone.
The AHL looks to be the next step for Platzer when his junior career concludes, who is beginning to show the potential of a future NHL player.
Joey Laleggia
A late pick, 123rd overall in the fifth round of the 2012 NHL Entry Draft, Joey Laleggia is a fourth year defenseman playing for the University of Denver.
At 22 years old, Laleggia's hockey career did not follow the typical path of a budding hockey prospect. Joey never played in the USHL or CHL despite being born in Burnaby, British Columbia where he played three seasons with the Penticton Vees of the BCHL.
At 5 foot 8, 185 pounds, Laleggia is a smaller than average defenseman who has tremendous skating abilities and great offensive upside. He scored 82 points in 58 games in his final season with Penticton while he has produced at nearly a point per game pace with Denver this year; 22 points in 24 contests.
Joey was recently named the National Collegiate Hockey Conference co-player for the month of January.
The next step for Laleggia will most likely be the ECHL or even the AHL. The NHL remains far off, but Laleggia has certainly become a stand out player developing within the Oilers' organization.
Jackson Houck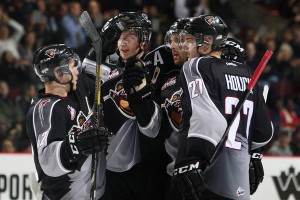 Likely the most notable of the prospects, Jackson Houck was selected in the fourth round, 94th overall in the 2013 NHL Entry Draft.
In his fourth season with the Vancouver Giants of the WHL, Houck is a big bodied winger at 6 foot 1, 195 pounds. A 30 goal scorer this past season, Houck has great hands close to the net and uses his size to create havoc for opposing goaltenders.
One knock on Houck is his struggle finding consistency. He tends to go on major offensive surges followed by scoring droughts. Despite this, Houck's size and skill make him a dynamic and promising player moving forward whose proven success in the WHL could translate in success at the professional level.
Josh Winquist
Josh Winquist is a WHL alumni following four successful seasons with the Everett Silvertips.
A 21 year old winger, Winquist went through major junior undrafted yet was offered an amateur try-out with the Oklahoma City Barons following his final WHL season. The Barons followed this up by offering Winquist a one year deal and he has spent parts of the 2014-15 season between the ECHL and AHL.
In his first professional season, Winquist has been a pleasant surprise for the Oilers. In 18 games in the ECHL, Josh had scored 23 points before he was re-called by the Barons. In OKC, he has played in 16 games scoring 8 points, not bad production for an un-drafted, first year pro.
At 6 foot, 180 pounds, Winquist has average size but is a solid playmaker. He tends to shy away from contact, but makes up for this with his stellar on ice vision, as the majority of his points come via the assist. Winquist can still score however, as he netted 47 in his final season with Everett.
Of these prospects, Winquist is likely the biggest project. A few years of seasoning in the AHL will do some good in determining what type of player Josh truly is and whether he will one day be a strong enough player to play in the NHL on a nightly basis.
Brett Slawson is a four-year veteran of The Hockey Writers who covers the Toronto Maple Leafs, NHL prospects, and the OHL's Mississauga Steelheads.
Contact Brett on Twitter @brettslawson92, or by email at brett_slawson@hotmail.com.