The Minnesota Wild received some sour news on Tuesday afternoon, as they learned they could possibly lose Matt Cooke for the rest of the season.
Cooke sustained a charley horse against Edmonton from a Rob Klinkhammer knee a week ago today. He will require season ending surgery for a lower body injury, suspected to be from the charley horse, as well as from his recent hip injury that sidelined him for 22 games. The previous hip injury was reportedly actually three torn muscles, and this injury may have aggravated that again.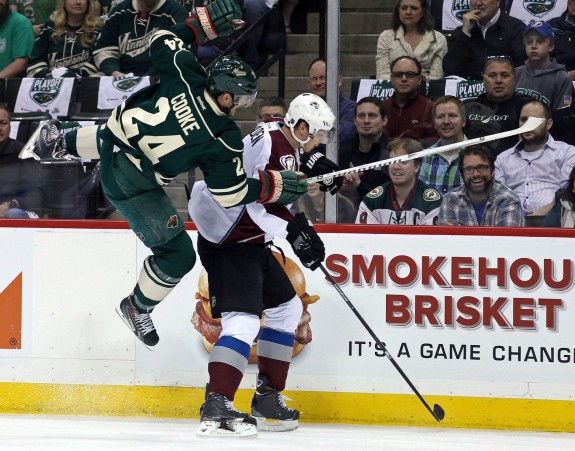 Matt Cooke, a Belleville, Ontario native, has scored four goals and four assists in his 27 games this season, but his ice time has been reduced to 12:33 per game as he deals with his nagging injuries.
The Minnesota Wild have called up Jordan Schroeder from their AHL affiliate, Iowa Wild, in response to the injury. Schroeder, a former first round pick by Vancouver, has scored 10 goals and 18 assists in 35 games with Iowa and has played three games for Minnesota as well this season.
As for the remainder of the season, the Wild shouldn't be affected too much by this blow, as they've been forced to deal with this same situation throughout almost half of the year so far.
Minnesota hosts their division rivals, the Chicago Blackhawks, tonight at 8:00 pm EST. The Wild are looking to remain hot and extend a three game winning streak. They've also gone 5-1-1 in their past seven games, while they remain seven points out of the second wildcard spot in the West.