The NHL season is rapidly approaching and the Anaheim Ducks have plenty of questions heading into this year. In the past several seasons, Anaheim was a favorite to make the Stanley Cup Final. This season has a different feeling, even though it hasn't started yet.
The Ducks have seen several changes including a new head coach, a different roster and an undetermined lineup, which creates questions as to how Anaheim's season will unfold.
1. Will We See a Different Randy Carlyle?
When Bruce Boudreau was terminated by general manager Bob Murray, it wasn't too much of a surprise. But when Randy Carlyle was brought back to Anaheim, then eyebrows were raised. Carlyle did help Anaheim get their first and only Stanley Cup in 2007. When he was later let go during the 2011-12 season, he then joined the Toronto Maple Leafs. Eventually, he only lasted a few seasons before being let go after a 91-78-19 record.
Carlyle has been known for focusing on special teams, playing solid defense and winning faceoffs. These are all ingredients the Ducks possessed last season. Carlyle should be able to continue to be efficient in these areas of the game. The concerns he brings is his relationship with young players and his offensive forechecking style. In the past, he has tried to rely on veteran players heavily and also used the dump-and-chase for his offensive strategy.
Even if Hampus Lindholm and Rickard Rakell are re-signed, the Ducks are still going to have to rely on other young players this season. The departure of players like Jamie McGinn, David Perron and Chris Stewart created more voids in the forward lines. As a result, several opportunities await players still on the Anaheim roster. Forwards Joseph Cramarossa, Michael Sgarbossa and Nick Sorensen are still on the roster. Defenseman Jacob Larsson is also still on the club roster. Carlyle will have to rely on a mix of veterans and young players for Anaheim to have a successful season.
2. Can Anaheim Generate Enough Offense?
The larger concern in Anaheim revolves around the team scoring enough goals, given the lack of forward depth this season. In six preseason games, the Ducks have scored only seven goals. The Ducks have only won one game and have gone 1-4-1 in those contests. The numbers can be a little deceptive, as the Ducks didn't use most of their veterans players in their first five contests.
Carlyle is going to need to find the right line combinations and chemistry amongst the players to get the offense going. He also needs to focus on a puck-possession offense, instead of relying too heavily on the dump-and-chase. If Carlyle can get the players to work on their transition game and improve their outlet passes, then the Ducks have a good chance of establishing a forecheck more regularly throughout a game.
The Ducks are also going to need secondary scoring. Ryan Getzlaf, Corey Perry, Ryan Kesler, Jakob Silfverberg and Andrew Cogliano will lead the way amongst the top-six forwards. However, the bottom-six forwards are going to need to step up. Forwards like Ryan Garbutt, Mason Raymond, Nick Ritchie, Antoine Vermette and Chris Wagner will all need to provide some scoring. If Anaheim can get a balanced attack among all four lines, then they should have success offensively.
3. Can John Gibson Shoulder a Heavier Workload?
During the summer, the Ducks traded Frederik Andersen away to Toronto and later acquired Jonathan Bernier in a second deal from the Maple Leafs. Last season, Gibson and Andersen split their time about evenly. With Bernier coming into Anaheim as the clear No. 2 goalie, Gibson should see a much heavier workload this season. The question is whether or not he can handle it.
Gibson has shown the ability to play well as he did last year in 40 games. He had a 21-13-4 record, .920 save percentage, and 2.07 goals-against average (GAA). This season, the Ducks may look for him to play 50-60 games and if he can stay healthy, he should be able to start in that many contests.
Part of how many games Gibson will have to play will depend on the play of Jonathan Bernier. There have been two sides of Bernier. In Los Angeles, Bernier was 29-20-6 with a .912 save percentage and 2.36 GAA. In Toronto, his record was 59-68-17 with a .915 save percentage and 2.80 GAA. Bernier will be playing with a similar blue line to the one he saw with the Kings as opposed to the Maple Leafs, so he should be able to produce solid numbers. He did just have a shutout in Anaheim's last preseason game against San Jose.
4. Will Lindholm and Rakell be Re-signed?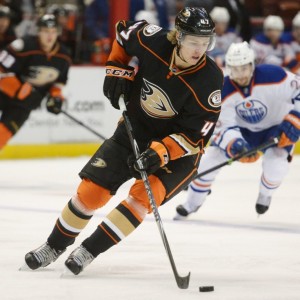 Yesterday, the Anaheim Ducks placed Clayton Stoner on waivers. Today he cleared waivers allowing Anaheim to gain $950,000 in cap space per the CBA. Couple that with placing Nate Thompson on long-term injury reserve, the Ducks could have about $10 million in cap space. Anaheim would be in the neighborhood of where they need to be to sign Lindholm and Rakell.
According to TSN's Bob McKenzie, Lindholm's contract discussions appear to be between $5-$7 million a year. Rakell's contract value is being discussed around $4 million a year. It appears if the Ducks want to re-sign both players, then the cost is going to be between $9 and $11 million.
Since Stoner wasn't claimed off waivers, GM Murray will likely still have to make a trade in order to keep both players. There have been discussions that Anaheim may be looking to trade to an Eastern Conference team.
5. Is Anaheim a Stanley Cup Favorite?
As of today, the Ducks aren't a favorite to win the Stanley Cup. The lack of forward depth and not having Lindholm and Rakell re-signed puts a ceiling on how far the Ducks can go this season. Anaheim does have quality goaltending and a solid blue line, which will keep the team competitive in the Pacific Division.
In order for Anaheim to be a favorite to win it all, they need to re-sign Lindholm and Rakell. If Stoner is not claimed, then a trade for a forward could create room to re-sign both, and at the same time, add some forward depth. If GM Murray can make it all happen, then the Ducks will become a favorite to win Lord Stanley again.