Come April of 2015, the Philadelphia Flyers will be playoff bound. You heard it here first. But before the accusations of, "Homer!" are showered upon my head, at least hear me out for crying out loud. And while it's true that anything can happen that exceeds the scope of anyone's projections, here are five reasons Philadelphia will be back in the post-season again.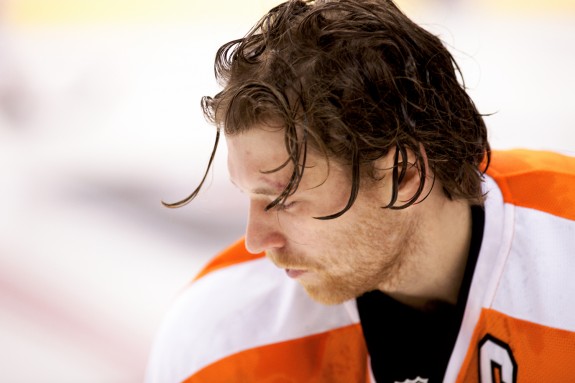 1. Claude Giroux
The Flyers may have scratched and clawed their way into the playoffs last season, but not only did they overcome their worst start in franchise history, they solidified the sixth spot in the East. Philadelphia jumped on Claude Giroux's back to edge out both the Columbus Blue Jackets, and the Detroit Red Wings in the playoff seeding, despite Giroux himself, stumbling out of the gate to his career worst start.
"We're not far off at all," said Giroux last October. "How many points are we out, six? To think of the start that we had and we're that close. We never thought about not making the playoffs. We've got to go game by game and we will make the playoffs."
Never mind the fact that Giroux went the first five games of the season without recording a point, or the first 15 games without a goal. The Flyers were just south of pedestrian when these comments were made on Oct. 21st. Giroux's playoff guarantee was declared while the Flyers had just one win in their first eight games. The rest, as we all know, was history.
While Giroux found his way back into the offseason headlines with the incident involving an Ottawa police officer, the consequences of his actions certainly won't linger like the offseason injury suffered on the golf course the year before. That is, if the imminent jeering at opposing arenas is excluded. Nevertheless, Giroux's finger injury unquestionably played a role in he and his team's abysmal start. But unless he sustained a strain in one of his hands from his most recent episode, don't expect the Flyers' captain to sputter at the sound of the gun this year.
Claude Giroux hits 80-point mark for second time in three seasons. The good ones won't let an early-season slump get them down. #Flyers

— Pete Jensen 🏒 (@NHLJensen) April 9, 2014
"It was a really tough start," explained Giroux. "I think we lost too many games at the start and our confidence went down and we didn't really believe in each other anymore. Then we started winning one, two games, then our confidence started going, [we] played as a team and people started playing better individually, so the team was better and then, when we saw that we could win a lot of games in a row, we started believing we were actually pretty good."
The Flyers will have to continue believing they're a good team; but the good news is, they are. After all, they're led by a player who's 303 points over the last four seasons is the most by any active player in the league. Even if it is just one more than New York's Martin St. Louis.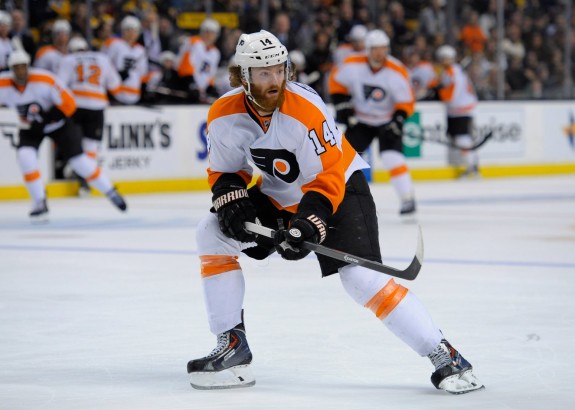 2. Favorable Schedule
Although the NHL schedule is a grueling 82-game schedule for all 30 teams, the Flyers are still reaping the reward of winning the lottery, so to speak. In terms of miles traveled, the 2014-15 campaign will treat the Flyers the best, making them travel the least amount. Philadelphia's 31,272 miles is 1,172 miles less than the Pittsburgh Penguins, who have the second to least frequent flyer miles.
"The Philadelphia Flyers, have the fewest miles to travel, as the New York Rangers go from 29,839 last season to 36,113 in 2014-15. Philly travels just 31,272, which is down from last season. Guess that makes then UNfrequent Flyers, amitrite? Sigh …" — Greg Wyshysnki, Puck Daddy
What's that? The Los Angeles Kings' 48,432 miles traveled last season were the sixth most last season? True, but that's the trend in the Western Conference. Heading into the new season, the Florida Panthers are the only Eastern Conference team within the top 10 of miles to travel. Furthermore, this isn't about the Flyers winning the Stanley Cup, it's about them making the playoffs.
Don't call them the Philadelphia Flyers – this season, they'll travel the least among NHL teams (31,272 miles). Super Schedule coming soon!

— Dirk Hoag (@Forechecker) June 23, 2014
But what about the New Jersey Devils? After all, they traveled the least amount of miles last season – and still missed out on the post-season.
Well, considering the Devils were two points off of eighth-seeded Detroit, it's fair to conclude that their embarrassing 0-13 shootout record came back to shoot them in the foot, no? And while the Flyers aren't exactly world beaters in the shootout (3-8 last season), three victories in the skills competition is six points. I'm not a math genius, nor did I stay in a Holiday Inn Express last night, but had the Devils resembled even the Flyers' mark in the shootout last season, they would've qualified.
Philadelphia's back-to-back total games may not have been reduced from last season, but it wasn't increased either. If you're the Columbus Blue Jackets or Buffalo Sabres, you may have an issue with this. The two conference foes were the only teams in the East to see a bump in back-to-backs. Let's hope Scott Hartnell's been staying up on his conditioning.
All joking aside, all signs point to the Flyers utilizing their favorable travel schedule. And with Claude Giroux leading the team not only in the dressing room, but in the shootout stanzas as well, we can revert back to number one on this list.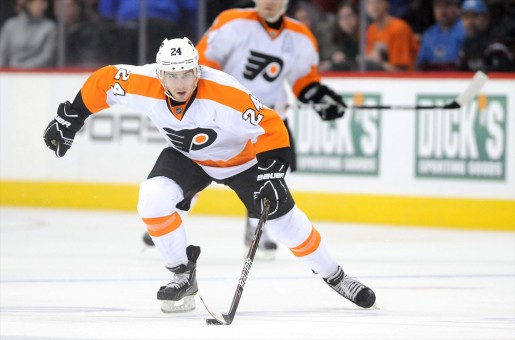 3. Special Teams
The Flyers may be indefinitely without their top defenseman, Kimmo Timonen, but don't expect their special teams to suffer. And while Michael Del Zotto won't even receive the minutes to replace Timonen in five-on-five action, the 24-year-old veteran should use the power play as a springboard to revitalize his career.
"The biggest opportunity for Del Zotto might be the opening Timonen's departure presents on the power play. The veteran Finn was a PP unit staple a season ago — he finished second on the team in PP TOI (3:25 per game) last season, and led all Flyer rearguards with 20 power play points — and if there's one thing Del Zotto was known for in the early stages of his career, it was producing with the man advantage." — Mike Halford, Pro Hockey Talk
Philadelphia's 19.7 power play percentage was not only good enough to land them in the top 10 last season, it was also the Eastern Conference's fifth best man advantage unit. Heading into last season's playoffs with those marks, the Flyers increased their power play production, scoring six times in 21 chances. While many point to the lack of offseason activity in Philadelphia as a reason they'll miss the playoffs, they haven't lost their power play machines in Claude Giroux (37 power play points), and Wayne Simmonds (15 power play goals).
Their penalty kill will be equally effective, no matter what anyone says. The Flyers' 84.8 percent penalty kill was good enough for seventh in the league last season. And considering they led the league in penalty kill time with 542:16, that's a monumental statement. The addition of R.J. Umberger gives the Flyers added versatility, which includes defensive acumen on the penalty kill.
"He's a versatile player, a good skater, a good two-way player," said Flyers GM Ron Hextall after acquiring Umberger for Hartnell. "He plays all three positions and can kill penalties. He is an attractive guy for us moving forward."
With Umberger, the Flyers still have defensive wizards in Sean Couturier and Matt Read. And although Couturier is known more for his shutdown defense, Read's four shorthanded goals accounted for half of Philly's total number of shorthanded goals. In that category, only nine other teams in the league had more shorty's than the Flyers.
"From the day Matt Read signed with the Flyers as an undrafted free-agent out of Bemidji State University it was apparent that he was a good player. He had 13 points in 11 games with the Phantoms to end the 2010-11 season. Most Flyers fans were excited about him finding a place with the big club.

"Since that time, Read has fit like a glove, and the fit only gets better when paired with Sean Couturier. There is only one real weakness of Read's and that's his lack of size. However, his speed, positioning, and hockey IQ rarely make that a problem for him." — Kevin Christmann, Broad Street Hockey
With Craig Berube's emphasis on team discipline, the penalty kill unit should see their efforts reduced. That's not a promise, however. After all, the team gave team penalty leader, Zac Rinaldo, a new two-year deal.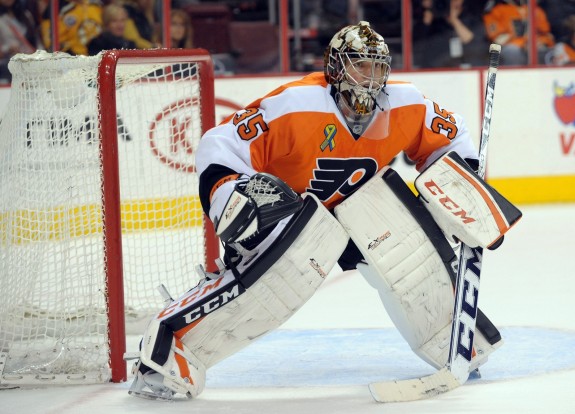 4. Steve Mason
For those who doubt the Flyers playoff chances, many, if not the majority, cite Steve Mason as a key factor. This is based on nothing more than Mason's sophomore slump in Columbus, where he went from a Calder Trophy winner to a below average 35-game loser. The naysayers further their ambush on Mason by pointing to an even steeper collapse after the 2009-10 season.
It's been said before, but apparently, it needs to be reiterated. Steve Mason isn't playing for the Columbus Blue Jackets of the late 2000's. And while Philly's defensive woes are the instant go-to when discussing Mason, it's important to note that he played behind just about the same defense last season. Not even the presence of Andrew MacDonald, or Nicklas Grossmann hindered Mason from matching his career best in wins (31), nor did they prevent him from turning in his least amount of losses (18) in a season with a minimum of 40 games played.
"A lot of people forget he's only 25," said Flyers goalie coach Jeff Reese. "… Everybody looks at Mason and thinks he's 30 years old. He's not. He's a young goalie still and he still has room to grow physically and mentally. That's what we're working on here and it's a process."
It's Reese who seems to have the special anecdote. After working with prospect Anthony Stolarz in the 2013 offseason, Stolarz increased his win total from 13 to 25. Since taking over the goalies in 2009, Reese was given the role of handling the most criticized and unstable position in the entire league: goaltender for the Philadelphia Flyers. Throughout his reign, he's helped career backups and journeymen lead the Flyers to winning records, and even a trip to the Stanley Cup Final in 2010.
"The goalies are the ones making the saves," said Reese back in 2010. "For me, it was exciting to see each of the guys step up when they had the opportunity. I couldn't be prouder of the goalies I worked with last year."
With Ray Emery re-signed to a one-year deal, Mason will undoubtedly receive a bulk of the work. And despite the inevitable up's and down's that a full NHL schedule brings, Steve Mason will be a key factor in why the Flyers will be playoff bound, not the opposite.
If any doubt remains, check out Mason's .939 save percentage, as well as his 1.97 goals against average in his five post-season game appearances last season. A far cry from his 17 goals allowed in four games back in 2009 with the Blue Jackets.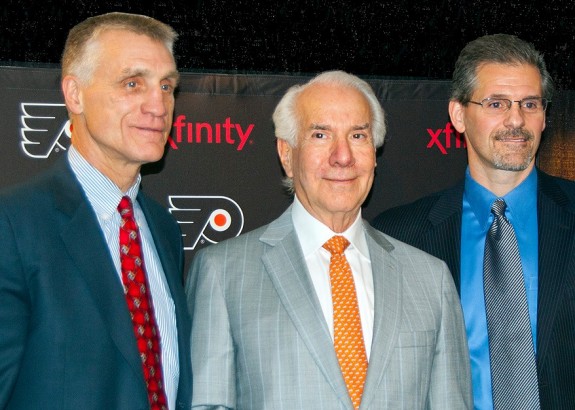 5. Ron Hextall
It's quite simple to illustrate how the Flyers will be playoff bound for quite some time in the future with Ron Hextall as GM. But to propose that the rookie GM will be a component for this season's post-season appearance may be a harder sell. That's not to say Hextall is a no-namer, who hasn't earned anyone's respect. No, it's about a first-year GM taking over a cap-strapped team. But before the Flyers, or Hextall, are to be written off this season, it might be advantageous to explore what he's done to this point.
Along with fueling the farm system with promising prospects, Hextall has used a major trade, along with some minor acquisitions, to begin constructing the organization in the image that was relayed to him from his days as Dean Lombardi's assistant GM in Los Angeles.
"We're not going to stop on 'win now,'" said Hextall to CSN Philly's Tim Panaccio. "We want to win every game. But we're not going to sacrifice our future. And part of our future is developing kids at the right speed.
"So if Player X is going to be better in a year by going down and playing in Lehigh Valley, then they are going to go. If a young player makes our team better, then he is a pretty, damn good player. So that's the player who is probably going to start with the Flyers. You got Player X who is a veteran and Player Y, who is a kid, and they are equal and we feel this kid can be better long term going to Lehigh Valley, then he is going to go. Again, I've said this. These young players will have to beat veterans out of their jobs. They are not going to be handed anything. The biggest part here is we want to do what is right for the kids for their development which in the end, is right for the Flyers. It's as simple as that."
Hextall: "It's not a vision of mine to trade young players for older players."

— Sean Gentille (@seangentille) May 7, 2014
Without a single game in the books, Hextall's philosophy/vision has been tested. When Kimmo Timonen was lost to blood clotting, Hextall could've easily promoted one of his prized prospects like, Shayne Gostisbehere, to the third pairing. Instead, Hextall remained advanced beyond his experience by signing Michael Del Zotto – an experienced, yet young defenseman who's looking to prove the world wrong.
"Hextall took 'don't mess with my teammate' to the next level. Whatever it was you thought you were going to get away with, Hextall ripped that right out from under you. Not only will this resonate with the current Flyers roster physically, but having that sort of mental attitude on top of all the preparations will take this team far.

"In this position of power, you are more likely to pursue athletes that play the way you played. And I can't wait to see it come to fruition." — Bernie Parent, philly.com
With under a month until the beginning of a new season, Hextall's juxtapositioning of the roster appears to be complete. Are there weaknesses, or room for improvement? Sure. If there weren't, this subject is moot. But with Hextall at the helm, you can count on him getting the best out of every calculated move he makes. Even if you're initially left in confusion or shock.
The Flyers are going to the playoffs. Take it to the bank.