Brad Richards, the salary cap crunch and all things Patrick Kane have dominated the storylines heading into the Blackhawks' 2014-2015 season, but what about some of the under-the-radar stories? There's plenty to discuss beneath the surface. Here are five talking points that haven't really received much attention as we head into the preseason.
1. What will the power play look like under Kevin Dineen?
Jamie Kompon oversaw the Blackhawks' power play for the past two seasons, but Kompon has moved on to become the head coach of the Portland Winterhawks of the WHL. That said, change might just be welcome for a team that is full of stars but consistently average with the man advantage.
During the past five seasons the Blackhawks have won two Stanley Cups, but their power play was ranked 16th, 4th, 26th, 19th and 10th, good for an average of 15th. Simply put, that number needs to be consistently better for a unit featuring Kane, Jonathan Toews, Marian Hossa and Patrick Sharp.
Change will start with Dineen, who takes control of the unit. He'll definitely start with putting Richards at the point, a spot Richards has comfortably assumed for most of his career. Any power play needs a good quarterback, and both Sharp and Duncan Keith struggled in the role last season. If he's still around when the season begins, look for Nick Leddy to get a chance at the point as well.
Dineen's been around and overseen a ton of hockey on many levels, so his perspective could be the boost the power play unit needs.
2. Will Marian Hossa's back hold up?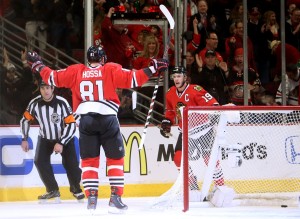 Hossa's back has to be a concern for a guy who will turn 36 in January. It bothered him early last season and hampered his start to the season. Then he tweaked it during the Stadium Series game at Soldier Field against the Penguins in March.
Through it all, he still managed to score 30 goals and tally 30 assists. He was arguably the Blackhawks' best, most consistent player last season. If Hossa can stay healthy and produce, the top line of Hossa-Toews-Sharp is instantly a contender for best line in hockey.
3. Who replaces Michal Handzus on the penalty kill?
Say what you want about Handzus and his concrete skates. He was ill-suited as a line mate for speedy wings like Kane and Brandon Saad; that much was clear. But his penalty killing nearly made up for it.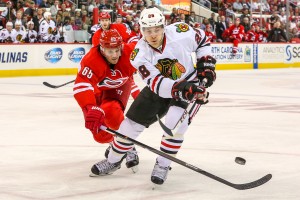 So who joins Marcus Kruger at the top of the second penalty kill unit? Early indications suggest Ben Smith will get the first crack. Richards has been a penalty killer in the past, but Joel Quenneville undoubtedly will resist the urge to use Richards on the kill, with hopes of keeping his second line center fresh for the entirety of the season.
Smith has the quickness and grit a penalty killer needs, but consistency has hampered Smith in other aspects his game. Will that carry over? Or will Smith find his niche?
4. Who will be Quenneville's enforcer?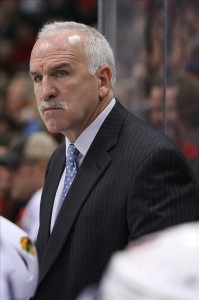 As the game continues to evolve into one that values quickness and staying out of the penalty box, coaches seemingly have begun to devalue the role of the enforcer. Quenneville, for whatever reason, has seemed to ignore that progression. He has always found room for the tough guy in his lineup, as evidenced by the fact that Brandon Bollig always got ice time.
With a bottom six of Bryan Bickell, Andrew Shaw, Jeremy Morin, Kris Versteeg, Kruger and Smith, only the diminutive Shaw borders on playing that tough guy role. Sheldon Brookbank played the part here and there last season on the blue line, but he's gone as well. Bowman recently suggested career underachiever Brandon Mashinter offers some toughness. If Quenneville gets his way, it's easy to see Mashinter cracking the lineup here and there. Perhaps the real question is this: Can Quenneville get past not having a true tough guy? It seems his best lineup is one without an enforcer, but he knows best. He's got the rings to prove it.
5. What kind of contract will Saad deserve after this season?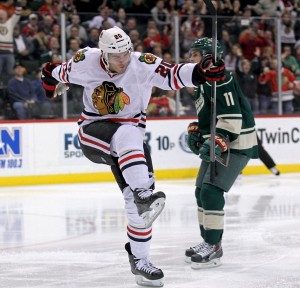 Saad, 21, is next in line as the next Blackhawks star, but he's in the last year of a contract that carries with it a paltry $764,167 cap hit. That number will go up in the future, no doubt, but by how much? Saad will be a restricted free agent next summer, and if this summer's free agency numbers were any indication, it's not hard to foresee Saad receiving somewhere in the $5-6 million-per-season range for the player we've seen the past couple seasons.
However, if Saad has a bigtime breakout season and puts up huge numbers on a line with Kane and Richards, that average per season could go even higher. Bowman and the Blackhawks won't let a 22-year-old power forward with Saad's skill set walk, which would mean other well paid players would have to go — guys like Sharp and Brent Seabrook most likely. The impending contract is definitely something to keep an eye on as Saad gels with his linemates and matures as a player throughout the season.
Michael Szwaja is a Chicago Blackhawks writer and former sports columnist at the Daily Illini at the University of Illinois. Michael follows the Blackhawks and NHL closely, and has held Blackhawks season tickets for seven years now. Follow him on Twitter @ChiSportsTweetr