Every year about this time fans and pundits begin their annual assessments of what's wrong with hockey's major league. This season, as has been the case often in recent times, the call for the abolishment of ties in National Hockey League games is being heard once again. Lou Cauz of the Toronto Globe and Mail examined the issue and came up with some interesting information.
Four Ties Already This Year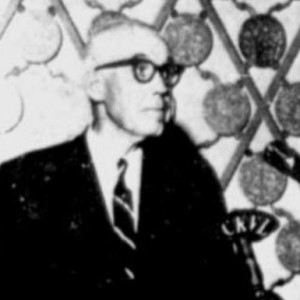 In 18 games so far this season, four have ended in ties. Toronto has been involved in all four of those games, by the way. Last year, 28 games were tied. The record for stalemates in a season is 50, in 1954-55. The most ties in a season by any team is 23, by the Canadiens in 1962-63.
Having an overtime session to attempt to provide a resolution to a contest is not a new idea for the NHL. Extra time was allowed if the score was tied after 60 minutes until the 1942-43 season. At that time, NHL president Frank Calder issued this edict:
Due to wartime travel conditions, games in which the score is tied at the end of the regular 60 minutes will be regarded as draws and no overtime will be played.
The rule change did have a dramatic effect on game results. In 1941-42, only 11 games of the 48-game schedule ended up in ties. That number rose to 32 in the following season, the first without overtime.
While some folks half-jokingly suggest that maybe someone should inform the NHL that World War Two is over, the league itself continues to try to justify maintaining the status quo.
NHL president Clarence Campbell feels that fans do not want overtime in the games. He cites what he calls an extensive survey about the feasibility of overtime play he conducted several years ago. The data collected was not disclosed, but Campbell had this to say:
First of all, a tie is a perfectly legitimate result of a sporting contest. If a racing secretary handicapped horses for a race that ended in a dead heat, he would be complimented..

Soccer is probably the most universal sport today, a sport in which more ties are recorded by some teams than wins or losses. A tie in soccer is a perfectly legitimate result.
Campbell made no mention of two popular North American sports, baseball and basketball, where overtime is used to resolve tie games. He did say that overtime would be a strain on players who would have fatigued themselves during the 60 minutes of regulation time.
Say a team made a tremendous rally in the final period to tie the game and then lost on a fluke goal in overtime, all the fans would remember was the loss, not their team's great rally.
Cauz cites some anecdotal evidence from hockey fans in New York. One fan, who probably deserves a medal not missing game in 14 years of awful Rangers hockey, had this to say:
Hell, we consider a tie a moral victory here. We have hard enough time getting a tie. We tied 18 games last season. If we had to play overtime, I doubt the Rangers would have won five or six of them.
There are those who are opposed to overtime because it would give stronger teams a competitive advantage. Leafs general manager-coach Punch Imlach is one of those. He believes if you give a strong team like Montreal an extra 10 minutes, they are likely to win the game. Weaker teams would be demoralized if they fought to tie a game, only to lose in extra time. He feels that the weak teams would not have the depth to stay strong beyond 60 minutes.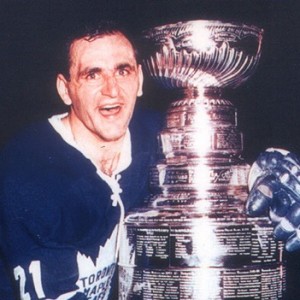 Another argument against overtime is today's travel conditions. Teams now play 70 games in a season, 22 more than the schedule was at the time overtime was ended. Instead of traveling by train, many teams now have charter air flights. That number of flights will increase next season when the league doubles from six to 12 teams, with regular jaunts to the west coast.
The players themselves seem against adding any extra playing time. Leafs Bob Baun was asked his opinion and his response was simple and short:
Not unless they pay us to play more than 60 minutes.
Generals Tie for Second
The Oshawa Generals moved into a tie for second place in the Ontario Hockey Association Junior A standings with a 5-2 win over the Flyers last night in Niagara Falls. Oshawa and Hamilton now each have 11 points.
Bill White was the star for Oshawa with three goals. Goalie Ian Young was a standout as well.
Niagara Falls lost rookie forward Clem Tremblay early in the third period when he was the victim of a thundering body check from Generals defenceman Nick Beverly. Tremblay appeared to suffer an injury to his right knee.
Aces Double Reds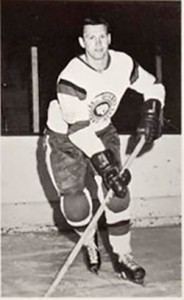 The Quebec Aces increased their first-place lead over the Springfield Indians in the American Hockey League's East Division last night with a 4-2 win over the Providence Reds. Quebec scored four first period goals en route to the victory. Aces now lead the Indians by three points.
Rookie Bobby Rivard scored twice for the Aces, and then left the game in the third period with a leg injury. Gordon Labossiere and Ed Hoekstra also connected for Quebec. Ed Kachur and Gerry Kell had the Reds markers.
In the other AHL match, the Rochester Americans downed the Buffalo Bisons 3-1 at Rochester. Two Amerks goals in less than two minutes late in the final frame decided the outcome in this one.
Stan Smrke, Don Cherry and Eddie Joyal were the Rochester goal-getters. Buffalo's Ted Lanyon ruined Rochester goalie Bobby Perreault's shutout bid.
Nationals Look Good
The Canadian national hockey team certainly looked like a finely-tuned hockey machine last night in an exhibition game at Saskatoon. The Nats bombed the Saskatoon Quakers of the Western Canada Senior Hockey league 14-3 before over 5,000 fans.
Marshall Johnston, Morris Mott and Roger Bourbonnais had two goals each for Canada. Other tallies came from Fran Huck, Ted Hargreaves, Gary Begg, Paul Conlin, Terry O'Malley, Danny O'Shea, Billy MacMillan and playing coach Jackie McLeod.
Dale McDonald, Vern Wildeman and Barry Ross were the Saskatoon scorers. The Quakers were augmented with several players from Yorkton Terriers.
Notes: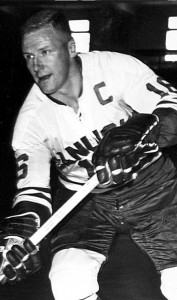 Billy McNeill, F with the Vancouver Canucks of the WHL, has announced his retirement from hockey. McNeill walked out of practice on Monday and informed Vancouver acting general manager Coley Hall he was finished with the game. McNeill had an unsuccessful tryout with the Toronto Maple Leafs this fall.
Detroit Red Wings returned F Ab McDonald to their Pittsburgh AHL farm team. Bryan Watson, out since the second game of the season, is slated to return to the Detroit lineup this weekend.
Jim Proudfoot of the Toronto Star says Chicago goalie Glenn Hall was lured back to the team from his brief retirement by a salary of more than $40,000.
London Nationals of the OHA Junior A Series have lost their trainer. Jim Young has been hired as an assistant trainer by the New York Rangers.
Leafs Marcel Pronovost says his injured knee is better, but the Toronto team physician wants him to sit out until next Wednesday.
Toronto prospect Jim McKenny had been playing right wing for Tulsa of the CPHL, but will be moved back to defence on orders of the Leafs brass.