Life has been a roller coaster for Teemu Pulkkinen during the past few weeks. After being waived by the Detroit Red Wings on Oct. 11, the Minnesota Wild claimed the 24-year-old winger. Pulkkinen scored in his third game with the Wild, but he was unable to record another point, and he found himself on waivers 17 days later after playing in eight games.
This time, however, he cleared waivers and was assigned to Minnesota's AHL affiliate, the Iowa Wild. As luck would have it, Pulkkinen's debut in the AHL during the 2016-17 season would be against his former team, the Grand Rapids Griffins, on Friday night at Van Andel Arena.
Pulkkinen Back in AHL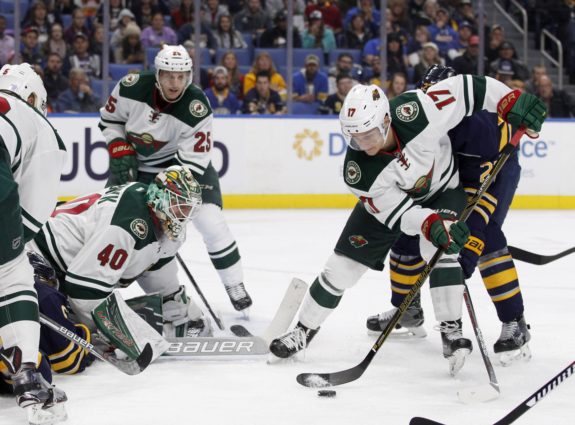 "It's been crazy last three, two weeks," Pulkkinen told The Hockey Writers after a 4-1 loss to the Griffins. "Going to Minnesota and down here now, just changing places all the time and living in a hotel. It's been hard, but now it's good to be here, and my goal is to play in the NHL, and I just have to work hard to get back."
Pulkkinen saw a lot of power-play time against the Griffins, as Grand Rapids was called for seven penalties. But the Griffins limited his offensive chances, as Pulkkinen recorded one shot and Iowa went 0 for 7 with the man advantage.
Despite the lack of success against his former team, Pulkkinen, who helped the Griffins win a Calder Cup during the 2012-13 season, said it was great to see his old teammates and be back at Van Andel Arena.
"Actually, it was fun," he said. "It was fun to play against those guys. I know all of the guys. It was good to be back. Great building, I have great memories here with the boys."
Video: Teemu Pulkkinen talks about his time with Detroit Red Wings. https://t.co/lZHoHNmra7

— Pete Wallner (@petewallner) November 5, 2016
Injuries Limit Pulkkinen
Pulkkinen saw a lot of success in the AHL, scoring 65 goals and 121 points in 119 games. Pulkkinen led the league in goals during the 2014-15 season with 34, despite playing in 46 games after being called up to the Red Wings.
He didn't see quite the success in the NHL, recording 11 goals and 20 points in 70 games with the Red Wings. He suffered a shoulder injury last season that limited him to 36 games and had surgery this summer. Pulkkinen said everything went downhill after the injury.
"I think everything was going great last year before I got hurt," he said. "That was the turning point in my last season and my time in Detroit. After that, I didn't play too much and had to go for shoulder surgery. It's been hard the last nine months with injuries. I will be back, I just got to work hard."
Pulkkinen admitted he didn't play great during his time with Minnesota but said getting ice time in Iowa will be a big step toward returning to Minnesota.
"I just have to play hockey," he said. "I haven't played a lot of hockey lately. Last year, I played 35 games only, and this summer, I had surgery — a couple exhibition games, not too much ice time in Minnesota. I just need to get ice time now and get back to my game and feel comfortable out there and get shots and get some goals."
Captain Hoggan Returns
The Griffins had another familiar face return to Grand Rapids in former captain Jeff Hoggan. After the Griffins opted not to re-sign Hoggan this summer, the 38-year-old signed with the Iowa Wild, where he has one goal in five games.
The Griffins honored their former captain, who also was on the 2012-13 Calder Cup-winning team, during the game's first stoppage of play.
"Yeah, that was cool. I knew it was coming, so (I gave) a good wave and got on with the game," Hoggan told THW. "It was awesome (to be in Grand Rapids)."
Hoggan said he continues to talk to his former teammates.
"Yeah, sure, four years is a long time playing in one place, to be able to build friendships with — (Nathan Paetsch) and (Brian Lashoff)," he said. "Make sure I see as many people as I can. We'll see them again this year, I'm sure. It's part of the game."
Pulkkinen said it's great having a familiar face in the Iowa locker room in Hoggan.
"It's nice to have Hoggie here," he said. "He has great leadership for this team too, like with the Griffins. It's good to have Hoggie here. When we have those guys here, we just got to work hard every day."