With no games on the schedule last night, the big news in the National Hockey League today is the date.   Up until December 1, NHL teams have been allowed to dress 18 skaters for each game.  As of today, that number shrinks to 16 skaters, plus goaltenders.  This change leaves most of the teams with extra bodies, some of which will either be traded or sent to the minors.  Trade rumours are circulating everywhere.
Bruins, Habs and Hawks talking 3-way deal?
In Boston, coach Milt Schmidt was bewildered by news that his team had already pulled off a three-team deal with Montreal and Chicago.  According to reports in both Boston and Chicago, the Bruins were sending winger Ab McDonald to Montreal, with the Canadiens dealing forward Bill Hicke to Chicago.  The Hawks would in turn swap defenceman Wayne Hillman to Boston.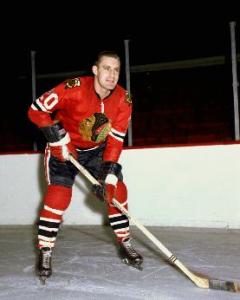 Schmidt said that if a trade had taken place, no one had bothered to tell him.  This was the second three-way deal rumoured to be involving the Bruins in recent weeks.
"I hears rumours of a big three-way deal when we were in Montreal.  But they had New York in the picture.  The bigger and better rumours all develop in Montreal.  My guys have played very well of late and I haven't heard of any club offering us a man who would strengthen our present lineup."
Even the players are commenting about all the supposed trades that are taking place.  Boston forward Murray Oliver weighed in on the rumours, "I've heard nothing but trade rumours for the past week. One had Hawks' Stan Mikita moving to Montreal  – but I wouldn't hold my breath until it happens."  Oliver is no stranger to trade rumours and actually being dealt. He came to Boston in late January, 1961 from Detroit along with Gary Aldcorn and Tom McCarthy  in an exchange that saw veterans Leo Labine and Vic Stasiuk head to the Red Wings.  Stasiuk is still with the Red Wings organization, serving as player-coach for their Pittsburgh farm club in the American Hockey League.
Hawks farm out Dennis Hull
Chicago is another team feeling the pinch caused by the roster reduction.  This morning they announced that Dennis Hull, younger brother of superstar Bobby, has been dispatched to St. Louis of the Central Professional Hockey League. And in Montreal, the Canadiens have sent young centre Garry Peters back to Omaha of the CPHL as well.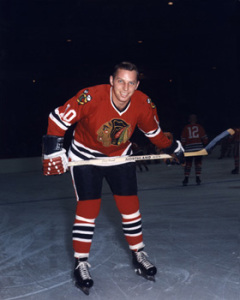 Habs will cut one more
Canadiens general manager Sam Pollock says that the Habs will make one more deletion, rather than having an extra man getting paid for sitting around.  "We haven't decided on the other cut yet.  I'm going over the performance charts with coach Toe Blake and and we have several things to consider before making that decision. It is safe to say we are not overjoyed with the play of three or four fellows."
Leading candidates to be moved are forwards Bill Hicke and Claude Larose.  Hicke has just not had it this season, and has never really lived up to the wonderful potential he displayed as a junior with the Regina Pats.  Larose has been scoring, with five goals so far, but his defensive work has been suspect and Blake may feel he needs more seasoning in the minors.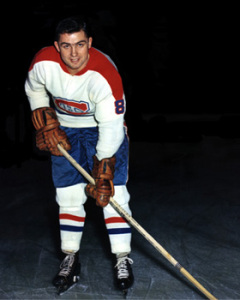 One player for Canadiens who needn't worry is rookie rearguard Ted Harris.  In recent games he has supplanted veteran Jean-Guy Talbot and is threatening to take over Talbot's regular job on defence.
Injuries worry Wings' Abel
Detroit manager-coach Sid Abel isn't worried about making cuts, but rather is hoping to be able to soon field a full slate of regulars.  Injuries have kept various veterans out of the Wings' lineup, and youngsters Eddie Joyal and Larry Jeffrey are still on the mend and not playing.  Jeffrey's loss particularly hurts, according to Abel:
"Jeffrey had his knee operated on and we hope to have him back in four weeks."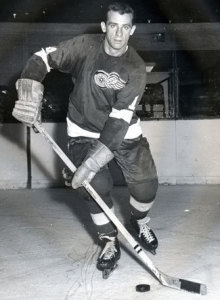 Earlier this week the Wings brought in Hamilton Red Wing junior Jimmy Peters and the youngster took a few shifts at centre between Gord Howe and Ted Lindsay.  Peters' father Jim Sr. held that very same spot between the two legends seventeen years ago.
Big M at practice today
In Toronto, rumours are also rampant that the Leafs will trade one or two of their extra skaters for help on the forward line.  General manager – coach Punch Imlach doesn't see anything cooking right now, and says that with Frank Mahovlich still unable to play and Dickie Moore's knee not yet up to strength, he'll likely keep the extras on hand until those two are fully healthy.
Mahovlich is at practice with Toronto this morning.  Dr. Hugh Smythe says that they are taking a wait-and-see attitude with the Big M.
"If everything goes well, and he feels up to it, he will continue on a regular practice program until he is ready to return to the lineup.  If not, we may have to prescribe further treatment.  He will probably return to the hospital after the practice anyway."
Universal amateur pool?
An interesting piece of news from Lionel Fleury, president of the Canadian Amateur Hockey Association came out of their meetings yesterday.  Mr. Fleury said that a proposal has been made to the National Hockey League that all amateur players in Canada would remain free agents until they reach the age of 20.  At that time they would be in a general pool.  There were no details on how the players in this pool would be distributed to the NHL clubs.
Presently, NHL teams may obtain rights to a player as soon as he turns 18.  Many feel this is detrimental to a young man's development, as this causes him to move from city to city, often to the detriment of his education.
Many Junior A players are encouraged by their teams to quit high school to concentrate on their hockey careers.  Pat Quinn of the Tulsa Oilers of the CPHL left the Hamilton Tiger-Cubs part way through the 1959-60 season because coach Eddie Bush insisted that he leave school.  Quinn transferred to the Edmonton Oil Kings, where he was allowed to continue his education.  While Quinn has some potential as a pro, he feels that he needs an education to fall back on, and he continues to take university courses in the off-season.
According to Mr. Fleury, the proposal was "well-received" by the NHL team representatives and president Clarence Campbell.