In early September, prior to training camps even opening, I tackled a four-part Big List series previewing potential Comeback, Bust, Breakout and Rookie Sleeper candidates, providing a Top 10, My 10 and The Rest. I later tacked on a fifth segment predicting the Top 100 Fantasy Defencemen in terms of scoring leaders.
With every team having now surpassed the 20-game mark — or the quarter-pole of their season — I figured it was as good a time as any to update these Big Lists, tracking their progress to date with all of the players listed in their original order and sub-categories. In total, there are 480 players represented, so these updates will be primarily stat-based with brief descriptions provided wherever appropriate. I had planned on revisiting these Big Lists again after 40 and 60 games, but this project was a bit more time consuming than I remembered during those dog days of summer. So chances are I'll do more condensed versions at those intervals — likely just Big Hits and Big Misses — then do another complete recap following the regular season after every team has played their 82nd game.
I've also added some Noteworthy Omissions to the end of each Big List, but feel free to add your own in the comments below. I should note that some omissions could have qualified for more than one Big List, but I kept them to one each, so if you don't see somebody on the Comeback list, they could be on the Breakout list for example.
Without further a do, let's start things off with the Comeback Candidates: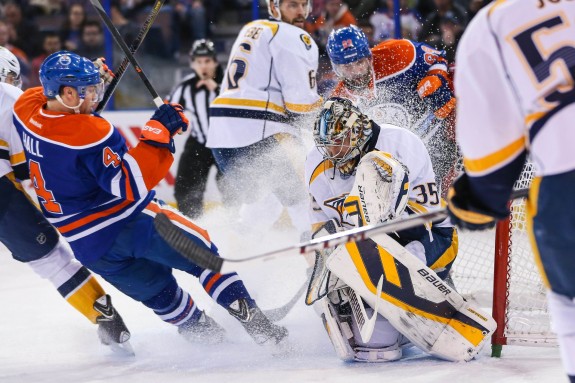 Top 10
1) Nathan Horton (F Columbus) — 0 GP, 0 G, 0 A, 0 PTS = Yikes, swing and a miss here. He's closer to retiring than returning from a chronic back injury that might require career-ending surgery. A sad fate for a promising player who could've been a big part of the Blue Jackets' playoff push this season. Without him, and with a whole whack of other injuries, Columbus is buried at the bottom of the standings.
2) Pekka Rinne (G Nashville) — 17 GP, 13 W, 1.92 GAA , .930 Save% = Thankfully, this one is closer to a home run so far. He's healthy and in the top-five in all statistical categories for goaltenders, a sure-fire Vezina finalist if the ballots were cast after 20 games. This is only the quarter-mark, so there's still a LONG way to go for Rinne and the Predators, but the early returns have been great.
3) Loui Eriksson (F Boston) — 20 GP, 3 G, 8 A, 11 PTS = Not bad, but not great statistics. He was expected to replace Jarome Iginla on the top line but didn't develop chemistry with David Krejci and Milan Lucic. On the plus side, he's been healthy and reasonably productive while pairing mostly with Carl Soderberg.
4) Nail Yakupov (F Edmonton) — 20 GP, 3 G, 4 A, 7 PTS = He's been playing "better" and he's "only" minus-7 so far this season, but his goal and point totals leave a lot to be desired, especially for fantasy owners. It's doubtful he gets to 30-plus goals or 50-plus points, which was sort of my expectation by including him on this Big List.
5) Henrik — 20 GP, 5 G, 15 A, 20 PTS and Daniel Sedin (F Vancouver) — 20 GP, 4 G, 16 A, 20 PTS = They are back to being point-per-game players and among the league's top 20 scorers. Blame John Tortorella and some rough luck with injuries for their off-year last season, but expect them to continue leading the Canucks towards a playoff berth.
6) Michael Del Zotto (D Philadelphia) — 19 GP, 2 G, 6 A, 8 PTS = Pretty impressive numbers for a guy that was bought out and went unsigned all summer. He was a late addition for the Flyers, who were desperate after being depleted by injuries, but despite having to play catch-up with his new teammates and also deal with some off-ice distractions, Del Zotto has been quite effective on the ice. He could still find another gear in his next 20 games.
7) Dany Heatley (F Anaheim) — 4 GP, 0 G, 0 A, 0 PTS = Believe it or not, there was reason for optimism in the pre-season, with him scoring twice in as many games before hurting his groin. That caused him to miss the start of the regular season and has him back on injured reserve now. He got into a few games but couldn't keep up with projected linemates Ryan Getlzaf and Corey Perry, and was soon displaced, then made a healthy scratch. He's facing an uphill battle now, both to get healthy and to establish a role on this deep roster.
8) Martin Havlat (F New Jersey) — 10 GP, 2 G, 3 A, 5 PTS = He got off to a decent start and looked like a good fit next to his countryman and close friend Patrik Elias, but then — surprise, surprise — injuries struck. That has been the story of Havlat's career in recent years and this season is playing out much the same. He took an awkward hit into the boards, resulting in 50-plus stitches to his face, but it was actually an undisclosed lower-body injury that kept him out of the lineup. He's back now and is seeing top-six minutes plus power-play time, so he could pick up the pace over the next 20 games.
9) Mike Green (D Washington) — 19 GP, 3 G, 9 A, 12 PTS = He's in the top 20 for defence scoring, tied with the likes of Shea Weber and Duncan Keith, so I'd say that constitutes a bounce-back campaign. He had also reclaimed his spot on the Capitals' top power-play unit, but Green got hurt in Washington's 20th game and is now sidelined indefinitely with an undisclosed upper-body injury, which is concerning considering his history of concussions.
10) Brad Richards (F Chicago) — 20 GP, 3 G, 9 A, 12 PTS = He was pointless in his first four games with the Blackhawks, but more recently had a four-game point streak. He's bounced around the depth chart a bit, but has seemingly found some chemistry with Patrick Kane on the second line, which was the initial plan when Chicago signed him. If he sticks there, that would obviously bode well for Richards going forward.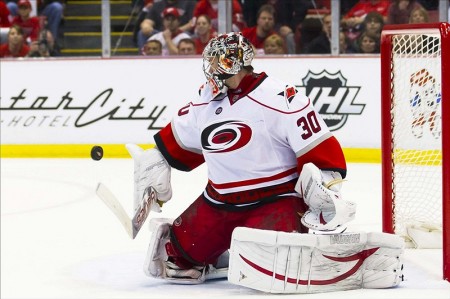 My 10
1) Cam Ward (G Carolina) — 14 GP, 6 W, 2.71 GAA , .903 Save% = Those aren't great numbers, not even on a bad team. But Ward has solidified himself as Carolina's starter again, wresting the No. 1 role from Anton Khudobin, which is more than some expected. Ward also backstopped a 5-game winning streak and has posted a .920 or better save percentage in 7 of his starters. That's only half the time he's played, so he'll need to eliminate the stinkers in order to win over his critics. All things considered, he's healthy and playing better than the last few years.
2) Sam Gagner (F Arizona) — 20 GP, 2 G, 6 A, 8 PTS = He hasn't been an offensive dynamo by any means. He's on pace for 33 points, which would be a career low. But after going pointless in his first 6 games with the Coyotes, he was on a 3-game point streak and had 5 points in as many games at this cutoff. So there is hope that Gagner can pick up the pace over his next 20 games.
3) John-Michael Liles (D Carolina) — 13 GP, 1 G, 3 A, 4 PTS = He's been pretty dreadful again this season, getting both hurt and healthy scratched early on. But Liles did have 3 points, including his only goal, in his team's last 2 games prior to this cutoff. Unlike Gagner, I can't see Liles building too much momentum off that little outburst, but stranger things have happened.
4) David Clarkson (F Toronto) — 20 GP, 6 G, 1 A, 7 PTS = Those stats don't jump out at you, but he's actually exceeded his goal total from all of last season (5 in 60 games). So Clarkson is enjoying a slight resurgence and Leafs fans seem to be happy with his efforts and contributions, which is more than can be said for a lot of his teammates. If he can score 25 goals, which is the pace he's on, I think everybody woud consider that a success.
5) Nikolay Kulemin (F N.Y. Islanders) — 20 GP, 4 G, 7 A, 11 PTS = He's been very good for the Islanders, even earning a promotion to the top line alongside John Tavares and Kyle Okposo. He only had 9 goals in 70 games with the Leafs last year, so if he can stick with those stars, he should easily double that total.
6) Adam Larsson (D New Jersey) — 12 GP, 1 G, 1 A, 2 PTS = It's been a struggle for the former fourth overall pick, just to get into the lineup because of the emergence of Damon Severson and development of fellow youngsters Jon Merrill and Eric Gelinas. But Larsson has been earning his ice time of late, logging more than 22 minutes in his team's 20th game. Don't count on him for offensive contributions this season, but don't write him off just yet either. He could be another Swedish late bloomer like Victor Hedman and Anton Stralman.
7) Brooks Laich (F Washington) — 6 GP, 0 G, 1 A, 1 PTS = This poor guy just can't stay healthy for the life of him. Injuries have continuously derailed what was once a promising career.
8) Ryane Clowe (F New Jersey) — 13 GP, 1 G, 3 A, 4 PTS = He's sidelined with another concussion and it's unclear when (or even if) he'll return. The stats don't really show it, but Clowe was looking pretty good prior to getting his bell rung again.
9) Derek Roy (F Nashville) — 20 GP, 1 G, 9 A, 10 PTS = He's provided some decent secondary offence on a team carried by its top line. He's on pace for 41 points, which is about average for him over the last few seasons. Roy isn't totally washed up, but he's far removed from his days as 60-plus-point player.
10) Keith Ballard (D Minnesota) — 9 GP, 0 G, 1 A, 1 PTS = This guy might be done, which is surprising having just turned 32 years old. Injuries haven their toll and he's been past on the depth chart by superior younger players, so it'll be tough for Ballard to re-establish himself in Minnesota — certainly not the homecoming he was hoping for.
One-Year Wonders
David Booth (F Toronto) — 0 GP, 0 G, 0 A, 0 PTS = He's set to make his season debut in Toronto's 22nd game after breaking his foot during training camp. Booth can't seem to stay healthy, so he's a big-time fantasy risk despite having decent talent.
Steve Downie (F Pittsburgh) — 20 GP, 3 G, 7 A, 10 PTS = He's leading the league in penalty minutes (79) by more than 20, so if you drafted him for that reason, Downie has delivered the goods. If you drafted him for secondary scoring, you have to be pleased with those returns as well. He's on pace for 41 points and 324 penalty minutes, but most would be happy if he hit 35 and 200. Downie is certainly off to a solid start.
Christian Ehrhoff (D Pittsburgh) — 20 GP, 0 G, 6 A, 6 PTS = To the contrary, if you drafted Downie's teammate for offence from the back end, you are probably a bit disappointed at this point. But Ehrhoff has been solid for the Penguins as evidenced by his team-leading plus-13 rating (next-best is plus-7). It should only be a matter of time until he scores his first goal and he should pick up the offensive pace from here on out.
Andrej Meszaros (D Buffalo) — 14 GP, 0 G, 3 A, 3 PTS = He's been a bad player on a bad team, even spending time in the press box as a healthy scratch. Since getting back into the lineup, Meszaros has been better and has even logged more than 25 minutes of ice time on a couple occasions. He's also been seeing some power-play time, paired with Tyler Myers, so his point production could start to improve as a result.
Bigger Investment
Mike Richards (F Los Angeles) — 20 GP, 2 G, 6 A, 8 PTS = He's been OK so far this season, but just OK. He's serviceable but a far cry from the player he used to be.
Dave Bolland (F Florida) — 4 GP, 0 G, 0 A, 0 PTS = Injuries just keep holding this guy back. He certainly isn't earning his $5.5 million this season. The Panthers likely gave Bolland that contract, which runs for another four years after this one, based on his reputation as a playoff performer, but it would be nice if he had some (or any) impact in them getting to the post-season.
Nikita Nikitin (D Edmonton) — 17 GP, 1 G, 3 A, 4 PTS = It didn't take him long to land in Dallas Eakins' dog house and become a whipping boy amongst Oilers fans. He's already been a healthy scratch, which speaks volumes considering his $4.5-million contract.
Tyler Myers (D Buffalo) — 20 GP, 1 G, 4 A, 5 PTS = Nobody on Buffalo's roster is putting up good numbers, so you have to look past that. His play was mediocre at the very start of the season, but he's been gradually getting better and better even if his stat-line doesn't show that. Myers has went from trade bait to a likely keeper for the Sabres.
Dmitry Kulikov (D Florida) — 16 GP, 0 G, 6 A, 6 PTS = Not bad, but not great either. Just another average start to the season for a former first-round pick who has (or had) potential to be much more than average. On the bright side, he's plus-1 thus far after being a team-worst minus-26 last season, so that's a marked improvement.
Kyle Quincey (D Detroit) — 16 GP, 0 G, 1 A, 1 PTS = I guess this guy just doesn't have much offensive upside anymore. He seems to do an adequate job defensively, but it's time to stop associating his name with scoring potential. He's kind of in the same shutdown role with Detroit that Anton Stralman was in with the Rangers.
Ryan Miller (G Vancouver) — 15 GP, 12 W, 2.74 GAA , .900 Save% = His overall statistics aren't great, but the only number that matters to the Canucks is the number of wins, and Miller was leading the league in that department through 20 games. He's been really good on most nights and is one of the biggest reasons for Vancouver's resurgence.
No-Brainers
Steven Stamkos (F Tampa Bay) — 20 GP, 12 G, 10 A, 22 PTS = He's not dominating to his full potential, but it's hard to rag on a guy who's on pace for 49 goals and 90 points. If he hits those marks coming off a mostly lost season due to a broken leg, then I think everybody would be happy with Stamkos' efforts.
Evgeni Malkin (F Pittsburgh) — 20 GP, 10 G, 15 A, 25 PTS = Gino is on pace for 103 points and he's tied for the team lead in goals, so it's safe to say he's returned to form as expected.
Pavel Datsyuk — 10 GP, 5 G, 6 A, 11 PTS — and Henrik Zetterberg (F Detroit) — 20 GP, 4 G, 13 A, 17 PTS = These guys aren't quite as attached at the hip as the Sedin twins, but their production tends to go hand-in-hand. Datsyuk continues to battle injuries, but he actually has a better point-per-game total that Zetterberg, who is leading the team in scoring. If they can both stay in the lineup, then the Red Wings will have a real good chance of prolonging their record playoff streak.
Kris Letang (D Pittsburgh) — 20 GP, 3 G, 12 A, 15 PTS = Stroke, what stroke? He's put that medical mishap behind him and is back among the top 10 defence scorers in the league. Letang is on pace for 62 points, which would be a new career high (previous best is 50).
Bobby Ryan (F Ottawa) — 19 GP, 5 G, 8 A, 13 PTS = He might not be a point-per-game player and may have trouble earning his $7-million salary, but Ryan is putting up respectable numbers — call them average at this point.
Ryan Nugent-Hopkins (F Edmonton) — 18 GP, 5 G, 8 A, 13 PTS = He's tied for the team lead in scoring with Jordan Eberle, mainly because Taylor Hall missed a couple weeks with a knee injury, but Nugent-Hopkins has noticeably taken his game to another level this season. He should be a good bet to break the 60-point barrier for the first time in his career, which would be a bright spot for the Oilers in what is already shaping up to be another dim year.
Healthy At Last
Zach Bogosian (D Winnipeg) — 19 GP, 0 G, 8 A, 8 PTS = His offence is lacking, but Bogosian has been a workhorse on Winnipeg's back end, a real minute-muncher. The Jets are a low-scoring team in general, so his stats aren't as weak as they may appear and, much like Ehrhoff, there's still some decent upside going forward.
Pascal Dupuis (F Pittsburgh) — 16 GP, 6 G, 5 A, 11 PTS = This poor guy can't catch a break. The Penguins seem to have all sorts of strange injuries and illnesses and Dupuis has fallen victim to a blood clot in his lung that will sideline him for at least the next six months, meaning his season is likely over. He had major knee surgery last year for a torn MCL and ACL, so this is more bad news for a genuinely good guy who had gotten off to a pretty stellar start.
Joffrey Lupul (F Toronto) — 9 GP, 2 G, 1 A, 3 PTS = Speaking of guys with no luck if not for bad luck, Lupul stepped on a stick in practice, fell and broke his hand, causing him to miss a month. He's a guy that could produce a 25-25-50 stat-line if healthy, but that's been a huge IF throughout his career. It'll be interesting to see what kind of impact he has now that he's returning to the lineup.
Stephen Weiss (F Detroit) — 1 GP, 0 G, 0 A, 0 PTS = I'm going to cheat here and mention he scored two goals in his second game of the season, which was Detroit's 21st of the campaign. That makes Weiss an intriguing follow, but he has a wonky groin these days, so just staying in the lineup long-term would be considered a success.
Lubomir Visnovsky (D N.Y. Islanders) — 14 GP, 1 G, 5 A, 6 PTS = His back was giving him grief to start the season, but he's a pretty key cog for the Islanders' blue-line when healthy. If he can stay in the lineup the rest of the way, Visnovsky's got good offensive upside and could still top 30 points.
Paul Martin (D Pittsburgh) — 20 GP, 1 G, 4 A, 5 PTS = With Letang healthy, he's been cast in more of a shutdown role this season. He's doing his job in that capacity, but he should no longer be counted on for offence.
Alex Tanguay (F Colorado) — 20 GP, 7 G, 4 A, 11 PTS = This team has yet to hit its offensive stride, but Tanguay was leading the Avalanche in goals at this cutoff. That's good for him, but not great for Colorado, considering some of the young talents they have up front who are capable of producing more.
Darren Helm (F Detroit) — 20 GP, 2 G, 5 A, 7 PTS = He's been healthy so that's a plus, but he's also been a team-worst minus-6 on the season. That might not be totally reflective of his efforts to date, but Helm isn't going to light up the stat-sheet any time soon either.
David Jones (F Calgary) — 10 GP, 3 G, 2 A, 5 PTS = When he was healthy, he was playing pretty good, but that was shortlived. He's out with an upper-body injury but could be back sooner than later.
Tomas Kopecky (F Florida) — 20 GP, 0 G, 3 A, 3 PTS = He's had stints on the top line, but you'd never know it based on those stats. Granted, the Panthers are the league's second-lowest scoring team, but he probably belongs in a checking role going forward and therefore should remain off your fantasy radar.
Niklas Backstrom (G Minnesota) — 5 GP, 3 W, 2.28 GAA , .906 Save% = Expected to compete for the starting job, Backstrom lost that battle before it ever really began because Darcy Kuemper earned back-to-back shutouts over playoff rival Colorado in a season-opening home-and-home. Backstrom is now officially a backup, but he's won two of his last three starts, both with a .960-plus save percentage, so that is an encouraging sign.
Dennis Seidenberg (D Boston) — 20 GP, 2 G, 4 A, 6 PTS = When Zdeno Chara went down to injury, the Bruins really leaned on Seidenberg for his veteran leadership and he's been a solid complement to young Dougie Hamilton in Chara's absence.
Jordan Leopold (D St. Louis) — 11 GP, 0 G, 1 A, 1 PTS = Struggling to find a role with the Blues, he was traded to the Blue Jackets after 7 pointless games. He has since been paired with David Savard and even scored a power-play goal in Columbus's 21st game of the season, but don't expect too many more of those any time soon.
Viktor Fasth (G Edmonton) — 7 GP, 2 W, 3.38 GAA , .891 Save% = The Oilers fired their goaltending coach, Frederic Chabot, following their 21st game, so that should give you an idea just how bad Fasth and Ben Scrivens have been thus far. Fasth missed some time with another groin injury as well, but that's no excuse for his atrocious numbers to date.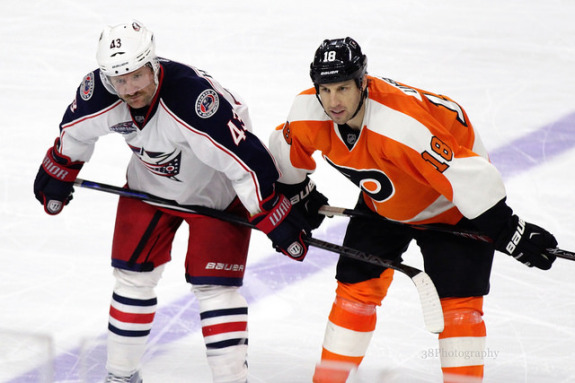 Fitting In
Scott Hartnell (F Columbus) — 20 GP, 5 G, 9 A, 14 PTS = He's been a good fit for the Blue Jackets and his role has been bigger than initially expected because of Columbus's laundry list of injuries. Hartnell's on pace for 21 goals and 57 points, which sounds attainable.
Mike Cammalleri (F New Jersey) — 14 GP, 7 G, 4 A, 11 PTS = He missed some time with a jaw injury, but has otherwise been very productive for his new team. He could score 30 goals at this rate, something he hasn't done since 2008-09.
R.J. Umberger (F Philadelphia) — 20 GP, 1 G, 2 A, 3 PTS = Traded straight up for Hartnell in the summer, Umberger isn't giving Philadelphia nearly the return that Hartnell is giving Columbus. It appears there was a reason Umberger fell out of favour and was ultimately a healthy scratch with the Blue Jackets.
Kris Versteeg (F Chicago) — 16 GP, 6 G, 7 A, 13 PTS = He's been really good as of late, riding a 4-game point streak at this cutoff with 3 goals and 7 points over that span after recording just a single point through his first 5 games. Versteeg tends to be a bit streaky, but he's got the hot hand for now.
P-A Parenteau (F Montreal) — 20 GP, 5 G, 4 A, 9 PTS = He got off to a hot start with 5 points in his first 5 games, but has cooled off considerably with only 1 assist in his last 5 games leading up to this cutoff. It's tough to say whether he'll pick up the pace again or continue slumping.
Daniel Briere (F Colorado) — 13 GP, 3 G, 1 A, 4 PTS = He was traded straight up for Parenteau in the summer and had been a disappointment with the Avs, resulting in a lengthy stretch of healthy scratches. But he's back in the lineup now and just scored the overtime winner in Colorado's 22nd game. Similar to Parenteau, it's anybody's guess as to where Briere goes from here.
Martin Erat (F Arizona) — 20 GP, 4 G, 5 A, 9 PTS = Considering he had 3 goals all of last season, including just 1 in 53 games with Washington prior to getting traded to the Coyotes, Erat is enjoying a much more productive season. He used to be good for about 50 points annually, but Arizona would probably be content with his current pace of 37.
Steve Ott (F St. Louis) — 20 GP, 0 G, 3 A, 3 PTS = He's played up and down the lineup because of injuries, but Ott hasn't had much impact offensively. He's settled into a fourth-line role for the time being again, so don't expect those numbers to spike. Ott has yet to score a goal for the Blues in 50 combined games, counting his post-trade stint with St. Louis last season.
Devin Setoguchi (F Calgary) — 11 GP, 0 G, 0 A, 0 PTS = Bustity, bust, bust. He's one of the only Flames not playing up to expectations (or over their heads). Somewhere along the way, Setoguchi lost his magic touch, much like Heatley or Jonathan Cheechoo.
Teddy Purcell (F Edmonton) — 20 GP, 3 G, 6 A, 9 PTS = His stats are above average on an awful team. Those numbers probably outshine his actual impact, though, as Purcell has been every bit as mediocre as everybody else in Edmonton.
Brad Stuart (D Colorado) — 14 GP, 0 G, 0 A, 0 PTS = He's out with a hamstring injury but hadn't produced a single point before getting hurt. That's not to say he's been terrible with the Avs, but he's a defence-first guy nowadays with no real offence left in him.
Rob Scuderi (D Pittsburgh) — 20 GP, 0 G, 2 A, 2 PTS = He's a plus-3 which is a positive sign for a guy who has been a minus player the previous 3 seasons. His role is to keep the puck out of his own net and the Penguins have been doing an excellent job of that thus far, having allowed the least in the Eastern Conference (46).
Devan Dubnyk (G Arizona) — 5 GP, 4 W, 2.25 GAA , .925 Save% = He's been an underrated success story to this point in the season. With the way Coyotes starter Mike Smith has been struggling, it wouldn't be shocking to see Dubnyk get closer to 10 starts over the next 20 games.
Martin Brodeur (G free agent) — 0 GP, 0 W, 0 GAA , 0 Save% = No news is bad news in this case. There hasn't even been a mention of him in mainstream media for weeks, so most are starting to assume we've seen the last of the sure-fire Hall of Famer. Then again, Brodeur did say he didn't mind waiting until after Christmas to catch on somewhere, so a retirement announcement probably isn't imminent. UPDATE : It sounds like Brodeur might sign with the St. Louis Blues after starter Brian Elliott went down to injury.
Roberto Luongo (G Florida) — 17 GP, 7 W, 2.33 GAA , .927 Save% = He's definitely been a bright spot for the Panthers and has stole them several points despite only having seven wins on his record. His save percentage speaks to how good he's been since the change of scenery from Vancouver. Luongo did suffer an upper-body injury in Florida's 20th game, but he's not expected to miss much time.
Jonas Hiller (G Calgary) — 13 GP, 9 W, 2.33 GAA , .920 Save% = The Flames are blowing everybody away with their sustained success after a surprising start and Hiller definitely deserves his share of the credit. If he can keep it up, Calgary might just make the playoffs, but there is a long way to go.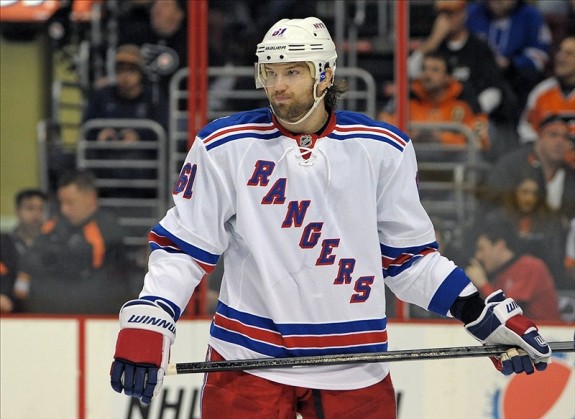 Can't Get Worse — Or Can They?
Eric — 15 GP, 6 G, 7 A, 13 PTS — and Jordan Staal (F Carolina) — 0 GP, 0 G, 0 A, 0 PTS = Jordan broke his leg in a pre-season game and is expected to miss a minimum of 3 months, but Eric has been scoring at a near point-per-game pace since coming back from an upper-body injury. Eric is second only to Riley Nash in team scoring and will likely overtake him sooner than later.
Drew Doughty (D Los Angeles) — 20 GP, 1 G, 10 A, 11 PTS = He scored his second goal of the season in L.A.'s 22nd game, but Doughty hasn't been the offensive dynamo that some expected after his 59-point sophomore season. He's on pace for 45 points this season, which would be the second-best total of his 7-year career.
Alex Edler (D Vancouver) — 20 GP, 3 G, 5 A, 8 PTS = He's not putting up huge numbers, but he's playing much better than last season. Edler was plus-2 through 20 games this season and was up to plus-5 after 22, which is a huge step in the right direction after being minus-39 in 63 games last season. The offence should start to come around too, just like Ehrhoff and Bogosian.
Evander Kane (F Winnipeg) — 12 GP, 2 G, 3 A, 5 PTS = He hurt his knee in a collision with teammate Mark Scheifele and hadn't quite got up to speed at this cutoff. Kane did score twice, including an empty-netter, in Winnipeg's 23rd game. Don't be surprised if he goes on a bit of a tear now and inches closer to point-per-game territory.
Dustin Brown (F Los Angeles) — 20 GP, 3 G, 1 A, 4 PTS = The sport takes its toll on power-forward types and Brown seems to showing the effects of some hard miles. The Kings captain isn't scoring like he used to and intangibles mean nothing to fantasy owners.
Alex Burrows (F Vancouver) — 16 GP, 4 G, 5 A, 9 PTS = He scored his 5th goal of the season in Vancouver's 22nd game, which matched his total from all of last season (in 49 games). Burrows, like most his teammates, have improved drastically under Willie Desjardins and hasn't shown any signs of slowing down or going into an epic drought like he endured last season.
Rick Nash (F N.Y. Rangers) — 20 GP, 14 G, 7 A, 21 PTS = He's already proved a lot of doubters wrong by rebounding in a big way this season. That makes me glad that I stayed a believer in the big man's ability to put the puck in the net. He's probably not going to score 57 goals (his current pace), but 40 seems well within his reach at this point.
Vincent Lecavalier (F Philadelphia) — 13 GP, 2 G, 4 A, 6 PTS = This is a guy that I probably had too much confidence in. He's been a letdown and perhaps Philly just isn't the place for him. Ron Hextall is probably shopping Lecavalier again, but I'm not sure if there will be any takers.
Rene Bourque (F Montreal) — 13 GP, 0 G, 2 A, 2 PTS = After a strong playoff run, Bourque bombed out in Montreal to start this season, resulting in a demotion to the minors before a trade to Anaheim. He picked up his 3rd assist of the season and 1st point as a member of the Ducks in their 23rd game. Bourque has been seeing some time on the top line with Ryan Getzlaf and Corey Perry, so while I don't suggest you take the bait just yet, he's worth keeping an eye on again.
Michael Grabner (F N.Y. Islanders) — 0 GP, 0 G, 0 A, 0 PTS = He's been sidelined by a sports hernia but is nearing a return to the lineup, which will mark his season debut.
Viktor Stalberg (F Nashville) — 5 GP, 0 G, 0 A, 0 PTS = He was sent to the minors for a conditioning stint and suffered a lower-body injury that will keep him out at least another month. Given Nashville's forward depth and winning ways to this cutoff, it's tough to tell what the future holds for Stalberg. He's a big body with pretty good speed and a decent shot, but he might not get another chance with the Predators.
Brandon Sutter (F Pittsburgh) — 20 GP, 6 G, 5 A, 11 PTS = He's on pace to nearly double his goal (13) and point (26) totals from last season. It's doubtful that Sutter will get to 50 points, but he could very well finish in the 40-something range.
Sergei Gonchar (D Dallas) — 7 GP, 0 G, 3 A, 3 PTS = He had 2 assists in his first 4 games with Montreal after getting traded from Dallas for Travis Moen. Gonchar is 40 years old, but he still knows how to distribute the puck and quarterback a power play when needed. That said, 30 points will likely be his top-end potential for this season and he'll be hard-pressed to reach that total.
Henrik Lundqvist (G N.Y. Rangers) — 16 GP, 8 W, 2.51 GAA , .914 Save% = He's been better than he was at the start of last season, but he's been pretty inconsistent again. He has a league-leading 4 shutouts, but his overall numbers are middle of the pack for starting goalies. Lundqvist's latest blanking came in the Rangers' 20th game, so it's possible that he'll get on a Vezina-calibre roll going forward.
Youth Movement
Sven Baertschi (F Calgary) — 7 GP, 0 G, 3 A, 3 PTS = He didn't make the team out of camp and hasn't been a standout since his call-up, so it's possible he'll be headed back to the minors if the Flames get fully healthy. There is big offensive upside to him, but who knows if he'll ever realize that potential — this doesn't appear to be the year.
Pay-Day Pending
Marc-Andre Fleury (G Pittsburgh) — 16 GP, 12 W, 2.09 GAA , .926 Save% = He already got paid, inking a 4-year extension with an annual cap hit of $5.75 million, thanks in no small part to his strong start this season. Fleury has always been an above-average goalie in the regular season, but he has had his problems in the playoffs. For fantasy purposes, he's a great guy to own from Game 1 to Game 82.
Antti Niemi (G San Jose) — 14 GP, 7 W, 2.61 GAA , .917 Save% = He's kinda sorta bounced back from a humiliating first-round playoff loss, having blown a 3-0 series lead to the eventual champion Kings. He's at least secured the starting job over Alex Stalock (now injured) and posted above-average numbers, so he seems to be trending in the right direction. But because of his contract situation and the Sharks' ongoing inconsistencies, Niemi's name is still surfacing in trade rumours.
Tomas Fleischmann (F Florida) — 18 GP, 1 G, 1 A, 2 PTS = He's been pretty useless to start the season, resulting in some healthy scratches and trade rumours. He'll likely be moved eventually, but the return will be minimal and there's no guarantee his stats will improve with his new team.
Chris Stewart (F Buffalo) — 20 GP, 1 G, 1 A, 2 PTS = The Sabres are bad, but those stats are brutal. He put up a good fight against Milan Lucic, but aside from that Stewart has been a dud this season. Despite that scrap, he only has 18 penalty minutes too, so he's not even making an impact in that category. As a pending UFA, Stewart is likely to be traded at some point and that move could really boost his value and production.
Curtis Glencross (F Calgary) — 20 GP, 2 G, 8 A, 10 PTS = He got off to a slow start but has really heated up as of late, recording points in 4 of his last 5 games at this cutoff, then three straight since, including two goals in Calgary's 22nd game — that gave him 8 points in as many games. If he can keep contributing offensively, he'll probably earn a lucrative extension to stay with the Flames.
Jiri Tlusty (F Carolina) — 20 GP, 8 G, 2 A, 10 PTS = He's on pace for 33 goals, which would be 10 more than his career high of 23, but he posted that number in just 48 games during the lockout year, so 30 goals really isn't a stretch. Tlusty should tack on some extra assists and finish up in that 50-point range, which would again be a career high (previous best 38).
Michael Ryder (F New Jersey) — 20 GP, 4 G, 6 A, 10 PTS = He had 3 points in the Devils' season opener and also scored twice on Nov. 6 but has otherwise been pretty quiet. He's kind of in a third-line role and on pace for 41 points, which sounds about right and would be just a slight improvement over his 34 points last season.
Erik Cole (F Dallas) — 19 GP, 4 G, 3 A, 7 PTS = Aside from scoring twice on Oct. 21, he's been a disappointment again. He's on pace to match his 29-point output from last season.
Tyler Kennedy (F San Jose) — 7 GP, 1 G, 1 A, 2 PTS = He was hurt to start the year and is just hitting his stride now. But it appears he'll remain in a depth role rather than a scoring role, so a big rebound seems unlikely.
Deep Sleepers
Dmitry Orlov (D Washington) — 0 GP, 0 G, 0 A, 0 PTS = His wrist still hasn't fully recovered from off-season surgery, although he's reportedly close to making his season debut. That will likely happen in the AHL on a conditioning stint.
Luca Sbisa (D Vancouver) — 15 GP, 2 G, 1 A, 3 PTS = He's logging more than 17 minutes a night in an increased role from recent years in Anaheim, but there has been mixed results to say the least. Sbisa has been great some nights and awful the next, so consistency is something he really needs to work on. His offence won't likely improve a whole lot this season regardless.
David Rundblad (D Chicago) — 9 GP, 0 G, 2 A, 2 PTS = He's struggled to stay in the lineup, getting passed on the depth chart by youngsters Trevor Van Riemsdyk (now injured) and recent call-up Adam Clendening. Rundblad's role is far from defined going forward.
Jonathan Blum (D Minnesota) — 1 GP, 0 G, 0 A, 0 PTS = He's producing in the AHL again, but with Mathew Dumba producing in the NHL, it seems Blum will only get another shot in the big league if injuries occur. Even then, he might be behind Christian Folin in the call-up order.
Cory Conacher (F N.Y. Islanders) — 14 GP, 1 G, 2 A, 3 PTS = Those numbers are even more disappointing than they look, considering he had a lengthy run on the top line with Tavares and Okposo before Kulemin stole that spot. Conacher has been a healthy scratch more recently, which is quite the fall from grace.
Matt Frattin (F Toronto) — 6 GP, 0 G, 0 A, 0 PTS = His second stint with the Leafs didn't go as planned. He was a healthy scratch for long stretches as Toronto dressed 7 defencemen rather than him on some nights, then plugged the fourth-line hole with AHL call-ups over him before finally demoting Frattin to the Marlies. He'll need to light it up down there to get another look.
Blake Comeau (F Pittsburgh) — 19 GP, 5 G, 5 A, 10 PTS = Here's a guy who has taken advantage of his opportunity and secured a top-six role with the Penguins, which has resulted in decent offensive numbers. He's equaled his goal total from 61 games with Columbus last season and should be good for a 20-20-40 kind of season.
Peter Mueller (F St. Louis) — 0 GP, 0 G, 0 A, 0 PTS = He failed to crack the Blues' roster out of training camp and opted to head back overseas rather than play in the AHL. He might be gone for good now.
Daniel Cleary (F Detroit) — 6 GP, 1 G, 1 A, 2 PTS = He's having a hard time staying in the lineup due to Detroit's glut of talented younger forwards. Cleary is no longer fantasy relevant.
Jordon Schroeder (F Minnesota) — 1 GP, 0 G, 0 A, 0 PTS = He's put up 12 points in 15 AHL games and earned a brief call-up, but the Wild are deep up front too, so Schroeder will be hard-pressed to stick in the NHL.
Patrick Kaleta (F Buffalo) — 1 GP, 0 G, 0 A, 0 PTS = He was minus-2 in his only game prior to this cutoff, but the fact he's back in the league is a huge accomplishment in itself. That was his first game since October 2013, having been demoted to the minors last year where he suffered a season-ending torn ACL. He took a puck to the face in pre-season action, which kept him out another month. Piling it on, Kaleta was snowed in during the Buffalo storm and missed some games for that reason. He used to be a big source of penalty minutes, but he'll likely try to tone down that aspect of his game as well, rendering him useless from a fantasy perspective.
Unemployed With Upside
Pierre-Marc Bouchard — 0 GP, 0 G, 0 A, 0 PTS = He's playing in Switzerland and lighting it up with 9 goals and 29 points in 24 games, so some team might take a chance on him next season.
Ville Leino — 0 GP, 0 G, 0 A, 0 PTS = He had a tryout with Boston but didn't make the cut out of training camp. He's now playing in the KHL, with 1 goal and 3 points in 7 games. We've probably seen the last of Leino in the NHL.
Jordin Tootoo — 9 GP, 1 G, 0 A, 1 PTS = He made the New Jersey Devils on a tryout and has been decent in an energy role, racking up 17 penalty minutes and a plus-3 rating as well. But he missed some time with a bruised foot from blocking a shot and has been in and out of the lineup since as a healthy scratch.
Tomas Vokoun — 0 GP, 0 W, 0 GAA , 0 Save% = Veteran goalies have been left out in the cold this season, with Vokoun, Brodeur, Tim Thomas and Ilya Bryzgalov all remaining unsigned. St. Louis may be warming up to Brodeur, as mentioned.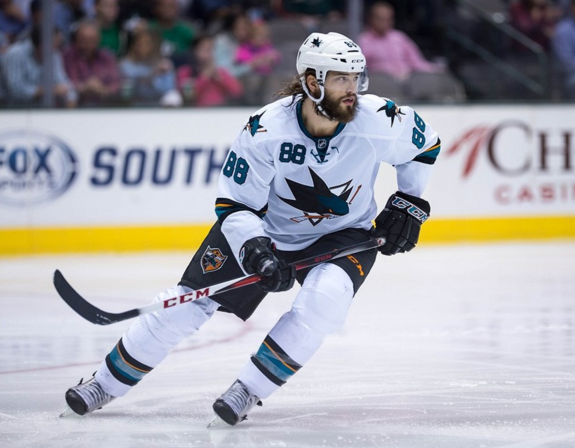 Noteworthy Omissions
Brent Burns (D San Jose) — 20 GP, 6 G, 11 A, 17 PTS = It looks like he'll put up more points (and possibly more goals) as a defenceman this season than he did as a forward last season, with 22 goals and 48 points in 69 games. That's pretty darn impressive if he can pull it off, but Burns is one of those rare dual-position threats and he's living up to his fantasy potential this season.
Mike Ribeiro (F Nashville) — 20 GP, 5 G, 12 A, 17 PTS = He hit the ground running in Music City, striking an instant chord with rookie sensation Filip Forsberg and former Pittsburgh sniper James Neal on Nashville's thrown-together top line. Whatever was getting him down in Arizona no longer seems to be an issue, or at least is no longer affecting his on-ice performance.
Johan Franzen (F Detroit) — 14 GP, 6 G, 7 A, 13 PTS = Most of Detroit's team could have made this Big List based on how many injuries the Red Wings endured last season. The Mule was among that group, but he's been healthier and much more productive this season. It's unlikely that he'll keep up this near point-per-game pace, but there's a chance he could eclipse the 60-point plateau for the first time in his career (previously topped out at 59 in 2008-09 but only had 39 last season).
Tomas Plekanec (F Montreal) — 20 GP, 7 G, 8 A, 15 PTS = He got off to a real hot start with 4 goals and 7 points in his first 5 games, but has since tailed off a bit. He's still on pace for about 60 points, a benchmark he hasn't hit since his career year of 70 points back in 2009-10. He had just 20 goals and 43 points in 81 games last season, so Plekanec should definitely better those totals this season.
Chris Higgins (F Vancouver) — 20 GP, 4 G, 8 A, 12 PTS = He's part of Vancouver's surprisingly productive second line with newcomer Nick Bonino and former top-line winger Alex Burrows. Higgins was up to 5 goals and 15 points in 23 games, which is a 53-point pace and a potential career high for him (topped out at 52 in 2007-08).
Simon Gagne (F Boston) — 15 GP, 1 G, 0 A, 1 PTS = He obviously doesn't have the best stats on this Big List, but who even had a clue he would attempt a comeback this season? Gagne's name showed up on Boston's training-camp roster out of left field and he beat out fellow invite Ville Leino for a lineup spot. He's still getting back up to speed after sitting out last season altogether, but he's only 34 years old, so it's possible that Gagne could have a second wind left in him and maybe a bit more offence as the season continues.
Shawn Horcoff (F Dallas) — 20 GP, 3 G, 4 A, 7 PTS = He only had 20 points last season in his first year with the Stars, but he's on pace for closer to 30 this season, which is a decent jump in production but still far from his career-high of 73 in 2005-06 with Edmonton. Those days are a distant memory and definitely seem like an aberration in hindsight.
Tuomo Ruutu (F New Jersey) — 19 GP, 4 G, 1 A, 5 PTS = He's since scored again to match his total (5) from 57 games with Carolina last season, so it's safe to say the Devils have been a better fit for him. He's still playing a checking-line role, but Ruutu should hit double-digits in goals this season, something he hasn't accomplished since 2011-12.
Boyd Gordon (F Edmonton) — 20 GP, 3 G, 2 A, 5 PTS = He's on pace to reach double digits in goals for the first time in his career, having since scored his 4th. Like Ruutu, Gordon is stuck in a checking role, so don't expect that pace to improve much as the season progresses.
Chris Neil (F Ottawa) — 20 GP, 3 G, 2 A, 5 PTS = He's not putting up big numbers, but he's showing significant improvement over last season when he only scored 8 goals and 14 points in 76 games with a minus-10 rating. He's up to plus-4 this season and has added another goal and an assist to his total since the cutoff, putting him on pace for 15 goals and 26 points, which would be an improvement over the last couple seasons.
Dennis Wideman (D Calgary) — 19 GP, 7 G, 4 A, 11 PTS = He's up to 8 goals in 23 games, which is double his total (4) from twice as many games (46) last season. He should also easily cruise past the 21 points he put up in 2013-14. There are no shortage of success stories on the Flames' roster this season and Wideman is certainly one of them.
Ondrej Pavelec (G Winnipeg) — 16 GP, 7 W, 2.14 GAA , .923 Save% = The Jets were in a playoff position at this cutoff and he's been one of the biggest reasons for that. Pavelec is proving to be an above-average starter this season, silencing his critics after struggling to a 3.01 GAA and .901 save percentage in 57 appearances last season. His rookie backup, Michael Hutchinson, has even better stats, so there's still a chance Pavelec could be supplanted at some point, but right now they are both playing above expectations.
Jason LaBarbera (G Anaheim) — 2 GP, 2 W, 3.10 GAA , .893 Save% = I didn't expect to see him between the pipes for the Ducks, let alone going undefeated thus far. His numbers are nothing special and he's sure to be sent down to the minors once John Gibson's groin is healed up, but LaBarbera's presence in the NHL warrants mention on this Big List — last and least.
Larry Fisher is a sports reporter for The Daily Courier in Kelowna, British Columbia, Canada. Follow him on Twitter: @LarryFisher_KDC.
Larry Fisher is a senior writer and head scout for The Hockey Writers, having been an at-large contributor for THW since August 2014. Fisher covers both the NHL and the WHL, specializing in prospects and NHL draft content, including his annual mock drafts that date back to 2012. Fisher has also been a beat writer for the WHL's Kelowna Rockets since 2008, formerly working as a sports reporter/editor for The Daily Courier in Kelowna, British Columbia, Canada from 2008-2019. Follow him on Twitter: @LarryFisher_KDC.