The National Hockey League intra-league draft was held yesterday, and as usual, Toronto Maple Leaf general manager Punch Imlach provided some unexpected drama.
Three goalies, only two spots
Imlach went into the draft with a problem. His Leafs owned three NHL-quality goalkeepers, an embarrassment of riches that most teams under normal circumstances would envy. Unfortunately for Imlach, the NHL has decreed that only two goaltenders may be protected by a team from being taken in the draft. For Imlach, this meant he had to make a choice from among Johnny Bower, Terry Sawchuk or young Gerry Cheevers as to whom he would expose to the other five NHL teams. His preference, of course, was to keep all three netminders. And, he had a plan.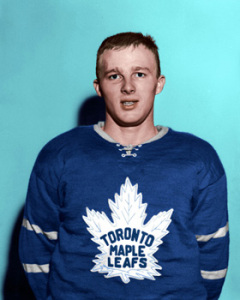 Imlach apparently tried to trade one of his three goalies, without success. So, when the deadline arrived to submit the Leafs' list of 18 skaters and two goaltenders, Imlach dutifully filed the roster with president Clarence Campbell.
Campbell, upon perusing the list, immediately raised his eyebrows and summoned Toronto president Stafford Smythe. The next thing to be raised was Smythe's voice as he and Campbell engaged in a noisy argument.
Imlach, you see, had listed Sawchuk and Bower as his goalkeepers, and had added Cheevers to Toronto's list of protected skaters. The Leafs argued that nowhere in the NHL rules does it state that goaltenders could not be included among the 18-players protected list.  Campbell, of course, disagreed with the Toronto interpretation, and the fight was on.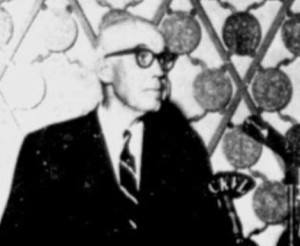 Smythe demanded that Campbell produce the section in the NHL by-laws that stipulated that goalies could not be included on the normal reserve list. The president was not able to produce such a clause in the rules, but wasn't fazed by that fact. He simply told Smythe that he was unilaterally making an executive decision that Cheevers' name would not be included on Toronto's normal 18-player list and that Imlach had better make sure what his plan was going to be regarding his goalkeepers.
Bruins grab Cheevers
Imlach and Smythe, clearly dismayed at this turn of events, decided to protect both of their veterans Sawchuk and Bower, and left Cheevers available for selection. The Boston Bruins, owning the first pick by virtue of their last-place finish last season, did not hesitate to make Cheevers their choice. The Leafs will receive the $30,000 draft price from the Bruins.
Imlach defended his actions:
"I think Bower and Sawchuk are my two best goalkeepers. That's why I protected them. I know what they can do. If I'm wrong, I'm wrong. But that's how I feel about it. Two birds in hand are better than one in the bush."
Boston general manager Hap Emms was very happy he was able to grab the 25-year-old Cheevers, who was an all-star with Rochester of the American Hockey League last year.
"I'd have taken any goalkeeper the Maple Leafs dropped from their list. But I'm glad it was Cheevers.  He's young, ambitious, talented and a bargain at the $30,000 waiver price.
"But this doesn't mean he's got the job locked up. He'll have to battle Bernie Parent, a Niagara Falls Junior A grad, Ed Johnston and Jack Norris for the job."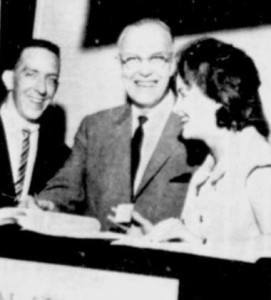 Leafs lose Stapleton
The Leafs also lost Pat Stapleton, the centre-defenceman they had picked up from Boston in the Ron Stewart trade. He was selected by Chicago.
The rest of the draft was largely uneventful. The Blackhawks lost defenceman Bryan Watson, who had been acquired the previous day in a trade with Montreal. The Hawks removed Watson from their protected list when they picked Stapleton from Toronto, and Detroit snatched him for their club.
Earl Ingarfield, traded to Montreal by the Rangers the previous day, returned to New York as their first choice. The Canadiens could not find room for Ingarfield on their list, leading some to speculate that the move was pre-arranged by Ranger general manager Emile Francis and Montreal's Sam Pollock.
Had the Rangers not taken Ingarfield, Punch Imlach was ready to add him to Toronto's list.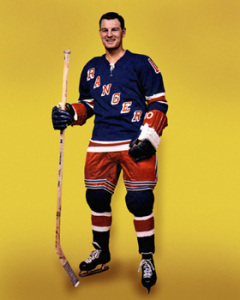 Boston picked up three players at the $30,000 draft price, all minor leaguers. They took Paul Popiel, a Danish-born forward-defenceman from Chicago, forward Norm Schmitz from the Montreal organization, and Keith Wright from the Rangers. Wright had been acquired from Montreal by the Rangers earlier.
New "Reverse Draft" a success
The newly instituted Reverse Draft was a surprising success according the activity it generated. In this exercise, the six NHL teams made 60 players available to American and Western Hockey League clubs at a price of $10,000 each. Among the conditions for player availability was that each man had to have played at least one professional season.
A total of 29 players were picked up by the minor league clubs. Most of these players are relative unknowns, but there were a few familiar names on the list.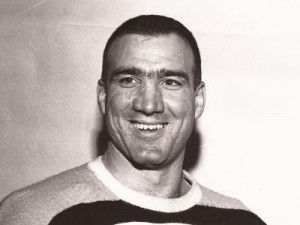 Dave McComb, who had been traded on Tuesday from New York to Montreal, was taken by Cleveland.
Howie Menard, former captain of the Hamilton Red Wings, went to Springfield from Detroit.
Goalie Carl Wetzel was taken by Quebec from Detroit.
Quebec also took defenceman Moe Mantha from Montreal.
Rochester took forward Bob Barlow from New York.
Los Angeles selected forward Jerry Toppazzini from the Detroit organization.
San Francisco took forward Harry Sinden from Boston.
Victoria picked up goalie Bobby Perreault from Boston.
Vezina Rule changed
The National Hockey League Board of Governors yesterday approved a rule that will enable more than one goaltender to have his name engraved upon the Vezina Trophy for any given season. The $1,000 prize money can be split by the goaltenders from the winning team, but that will have to be arranged by the players themselves.
Criteria for the goaltenders receiving the award is that they must have played at least 25 games for the team that has the lowest goals-against average at the end of the season.
The governors made the rule change retro-active to this past season so that both Johnny Bower and Terry Sawchuk of the Maple Leafs will have their names inscribed on the award.
Special expansion meeting to be held
The NHL Board of Governors will hold a special meeting later this month to review expansion applications for a second six-team division.
President Clarence Campbell said that all applications will be reviewed and assessed before the meeting. The hope is that the applications will give the governors a firm idea of where the six new teams will be located, and give the new team owners enough time to prepare for National Hockey League competition.
No new teams next season
Campbell stressed that there is much work yet to be done, and it would be impossible to expect that the new teams would be added before the 1965-66 season. He refused to speculate on when the new division would begin play.
The governors will make their choices under a previously listed set of criteria.  These include:
Applicants should be from a major-league city.
They must have a building (preferably owned or long-term leased) comparable to present NHL rinks.
They must have financial resources necessary to operate an NHL team.
Twelve applicants so far
Campbell said that 12 applications have been received. He refused to name the locations from which the applications have come, but did say that nine were from the United States and three from Canada. He hopes that six applicants will be chosen and accepted on a provisional basis.
Among the cities known to be seeking expansion franchises are Los Angeles, San Francisco, Minneapolis, Baltimore, Quebec City, Vancouver, and Winnipeg.
Red Burnett of the Toronto Star listed the odds for each centre's chances of receiving an NHL team:
LOS ANGELES: 2-3
SAN FRANCISCO: 2-3
ST. LOUIS: 2-1
MINNEAPOLIS: 3-1
BALTIMORE: 4-1
VANCOUVER, QUEBEC CITY, PITTSBURGH: 20-1
WINNIPEG, SEATTLE, PORTLAND: 25-1.
Burnett described Baltimore as the best chance of any eastern city.
Campbell was asked where players will come from for the new teams.
"The governors feel each of the present clubs could give six players – a pool of 36 bona fide big leaguers – and then build the new clubs up through preferential draft treatment.
"There would be a limited interlocking schedule at the start, but no playoff formula has been worked out."
Smythe: No Vancouver
Toronto president Stafford Smythe told Milt Dunnell of The Star  that he was disappointed that Vancouver will not be receiving a franchise, even though no decision has allegedly been made.
"Vancouver is the city everybody wanted in the league.  They won't be ready.  It will be at least another generation before they do get in."
Smythe and Harold Ballard, you may remember, approached the city of Vancouver with an offer to build an NHL-quality facility in the downtown area.  All the city had to do was gift the Toronto executives the land upon which the arena was to be constructed. The issue was put to the voters and soundly defeated.
Retired police detective, involved in hockey at all levels for over 50 years. Member of Society for International Hockey Research and presently a video analyst for the leader in advanced hockey analytics (we work exclusively for 2 NHL clubs, and provide advice on an ad hoc basis to many other clients). Currently the Assistant General Manager for the Pelham Pirates of the Greater Ontario Junior Hockey League. Previously owned the Faceoff computer hockey simulation and also provided all player ratings for the EA Sports series of NHL computer games from the late 90's into the mid 2000's.